Control a TV With a Cell Phone: Learn How to Download and Use Free Apps
We are not yet at the level where we can control everything around us with just one device but we are getting close. Now you can easily control a bunch of devices via your mobile phone.
Your phone can turn into a remote control for things like your TV, PC, media center, and certain smart appliances. That means no more fumbling around under the couch cushions looking for the remote control.
Here are some of the best apps to control your TV from a cell phone.
Android TV Remote Control
Yonomi
Mi Remote
SURE- Smart Home and TV Universal Remote
Roku
Universal Remote Control- Lean Remote
Universal TV Remote- Twinone
Anymote Universal Remote + Wifi Smart Home Control
Yatse- Kodi Remote Control and Cast
TV Remote for Sony TV
Smart TV Remote
Android TV Remote Control
As a universal remote for Android TVs, the Android TV Remote Control app offers a simple D-Pad, touchpad, and gamepad control. The app is free. The software also provides support for voice commands and the use of the virtual keyboard of your phone or tablet to enter text.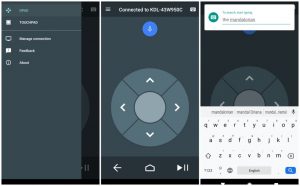 The app connects via your local network or Bluetooth to your Android TV. According to some reviews, the app is also compatible with Chromecast and GoogleTV.
The remote that comes with the unit is too small and too smooth for channel/movie browsing to use comfortably. Perhaps that's why developers decided to come out with a remote control app. Whatever the reason, it is definitely a handy tool for your Android TV.
Yonomi
The Yonomi app functions as an all-in-one smart home and device automation center app. It uses a triggered routine mechanism to automate and control more than a hundred different devices from a variety of manufacturers.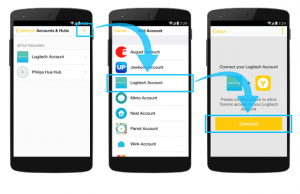 Yonomi is a strong draw as an agnostic framework that can work with various systems and automatic device discovery through wi-fi.
The inclusion of suggested protocols for specific devices allows it to be a little more user-friendly to set up. To operate with Google Home and Amazon Alexa, you can also set up Yonomi, triggering Yonomi routines from the popular smart speakers.
Mi Remote
Although the Mi Remote is produced by the company that makes the Xiaomi phone, you don't need the phone to use the Mi Remote app. The phones in fact are not available in many countries like the US.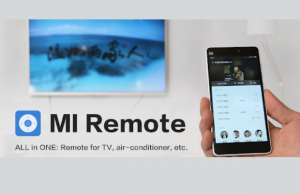 You may use the Mi Remote with any Samsung, HTC, or Huawei smartphone that has an infrared blaster. Mi Remote is an all-in-one IR remote app that works with a broad variety of IR-controlled electronics, including TVs, air conditioners, set-top boxes, DVRs, projectors, and digital cameras.
For smart TVs that accept orders over standard WiFi protocols, you can also use this as a remote control. With the Peel Mi Remote extension, you can get a TV guide and customized show reviews too.
SURE – Smart Home and TV Universal Remote
This app is a virtual remote app that enables your phone to power a variety of smart TVs. You have the option of using voice control from within the app for ease.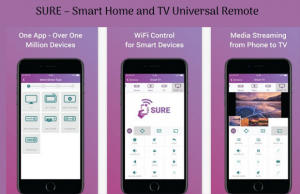 Additionally, you can stream photos and videos from your phone to your TV via the app.
You can also use this same app to control your air conditioner, smart lights, and media center. You should note that if you've got an Infra-red blaster on your phone, then this device will work better for you.
Roku
Roku makes a smartphone app version of its physical TV remote like the other major players in the streaming market.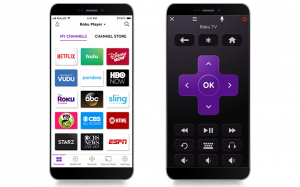 The digital equivalent of the actual remote controls in every way. The Roku Channel, Netflix, and all of your other installed apps all have dedicated on-screen controls. The use of headphones allows for discreet listening as well.
The app also supports voice search so all you've got to do is tell your phone (remote) what you want to watch and it'll find it for you. You can also cast content using the mobile app directly from your Android or iOS device.
Universal Remote Control – Lean Remote
Universal Remote Control developed by Lean Remote is an all-inclusive remote control package, available for both iOS and Android. Apart from TVs, it can also be used to control ACs, DVDs, AVRs, Home Theatres, Set-Top Boxes, and much more!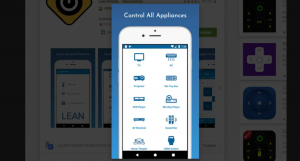 This app is based on infrared remote control technology. It can be accessed using built-in IR blasters on some devices and WiFi to IR converters in others. Even better, this remote control allows Smart TVs and IR Devices to be accessed separately.
The app offers round and radial navigation in addition to the standard linear option, and it has round-the-clock support to boot. This app has been praised by users so much that it has received 4.4 stars on the Google Play Store and hundreds of positive reviews.
Universal TV Remote – Twinone
The Universal TV Remote developed by Twinone is completely free but only available for Android devices. This app works for a host of different devices, but only limited to those enabled with IR blasters.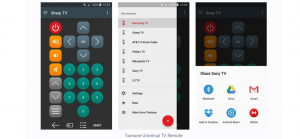 The app is easy to access, with all buttons available on one screen. Other great features include a simple and accessible interface, the ability to save more than one device, and the ability to customize your own remotes.
The best feature of this app (the one that users just can't stop talking about) is that it does not spam the user with full-screen ads that disrupt activity. Instead, it displays a small ad banner at the bottom of the screen, making it a win-win situation for everyone!
Anymote Universal Remote + Wifi Smart Home Control
This Anymote software isn't just for TVs; it also works with DVD players, air conditioners, Blu-ray players, VCRs, amplifiers, DSLR cameras, and more. It works with both Apple and Google's mobile platforms. This program may be used to automate a variety of operations, and it works with both infrared and WiFi-based devices.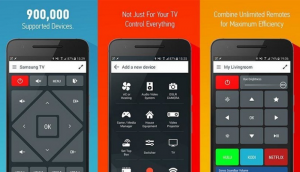 Other features include adding, editing, and customizing remotes and functions. One unique feature that makes Anymote stand out is its ability to completely exploit all the features of a smartphone as a remote. For example, it allows air gestures from Galaxy phones.
The app supports floating remotes that can be used over other apps in use. While the free version serves the basic purpose, the paid version of the app comes with a load of other features. It includes unlimited remotes, the facility to backup remotes, and personalized customer support.
Yatse: Kodi Remote Control and Cast
This remote control app called Yatse, developed by Tolriq, allows you to control many devices like Fire TV, Roku TV, other smart TVs, Chromecast, and so on. It is available only for Android. One of its biggest flexes is the complete integration that it provides of Kodi, Plex, Emby, Jellyfin, and your local device.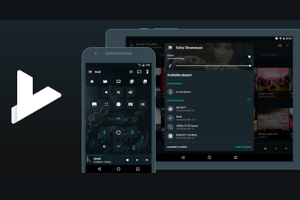 Some top features include a powerful internal audio player, unlimited custom commands, and a cloud backup for saved remotes and settings. It comes with multiple plugins for notifications, Dashclock extensions, a great degree of customization, and voice command recognition.
The app makes searchability easier by providing smart filters and global search. The free version contains most app features, with a few advanced ones in reserve for the paid version.
TV Remote for Sony TV (Wifi and IR Remote Control)
This remote control app specifically helps you to control your Sony Smart TV without a remote. It is available only on Android and supports both IR blasters and Wi-Fi-based device control.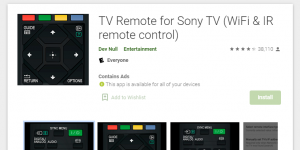 The app also comes with a sleep timer, automatic pausing/muting during incoming calls, customization of buttons configuration, and backup of favorite channels.
The app's UI is straightforward, it's incredibly intuitive, and it's free. The app's strongest suit is its near-perfect replication of the Sony Remote. With just one more click, you may completely eliminate the need for the physical remote control of your Sony Smart TV.
Smart TV Remote
The Smart TV Remote app is one of the most famous remote control apps for smart TVs. It has been downloaded more than 10 million times from the Google Play Store.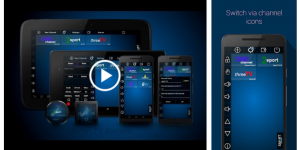 Developed by Android, this app is available only on Android and supports a free as well as a paid version. Some of its best features include voice recognition of commands, currently supporting German and English.
It also contains a large number and variety of widgets and a Smart Action Bar, to control various devices. Another helpful feature of the app is a list of detailed tutorial videos for each aspect of the app and even better customer service.
SmartThings
SmartThings by Samsung Electronics is one of the most reliable, easy, and intuitive remote control apps, available on both Android and iOS. It can be used to control Samsung Smart TVs, appliances, and all other devices that are compatible with SmartThings.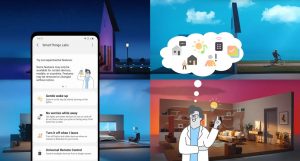 Key features of the SmartThings app include the ability to remotely control and monitor the status of connected devices. Done through a WiFi AP, you can customize and configure settings of devices such as time and operating conditions.
The app also allows users to group multiple devices into a unit called Mode that can then be worked with simultaneously. It boasts over 50 million downloads on Google Play Store.
Conclusion
The days of sitting in front of your couch watching something horrid because you can't find your remote are over. You can download one of the apps above and stay connected via your phone.
Some of the TV remote apps also allow you to connect other devices in addition to your TV. That essentially means your phone is kind of like the operations control of your home.