It can be expensive to create a logo for your company. That's especially true if you don't have the staff with the know-how to create one. However, your businesses need a logo. It defines your brand's visual identity and is the memorable emblem of who you are.
The good news is that to create a logo that captures someone's attention for all of the right reasons; you don't need to be a branding expert. You also don't need to pay a small fortune to a designer. You can make a logo on free logo websites.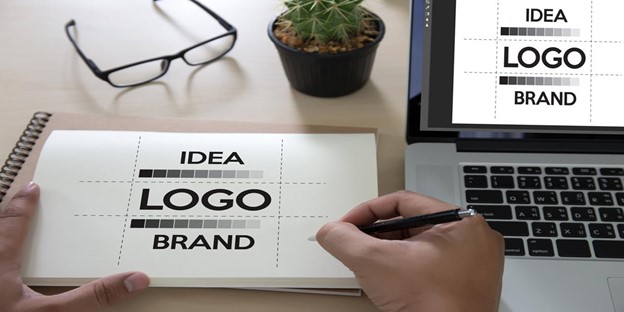 Image Source: Online Logo Maker
Wix Logo Maker
Wix logo maker makes it very easy to create a logo. All you have to do is answer a few simple questions, and it will create a logo prototype for you automatically.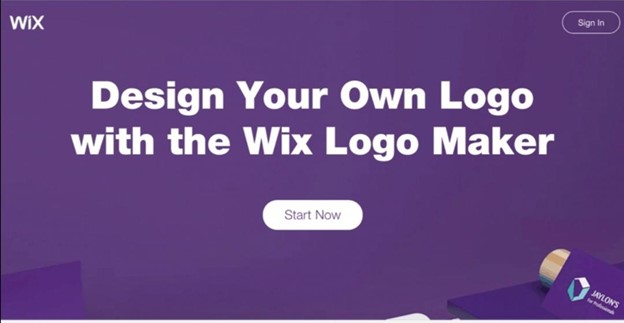 Image Source: Wiki Shopping Server
Then you're free to alter or customize nearly every single element based on your personal preference – from colors to font, text, and size.
You can also download your logo's source files (in SVG format) so that you can use them for everything from business cards to t-shirts. To access the logo builder, you'll have to create an account with Wix.
But the silver lining is that Wix will also give you access to their full website development tool. So for a brand new company, it's the ideal one-stop-shop.
Tailor Brands
Tailor Brands is a versatile all-in-one graphic design platform that will help you create your company with a personalized and exclusive logo. You will have to respond to questions about your brand, field, and preferences to build your logo.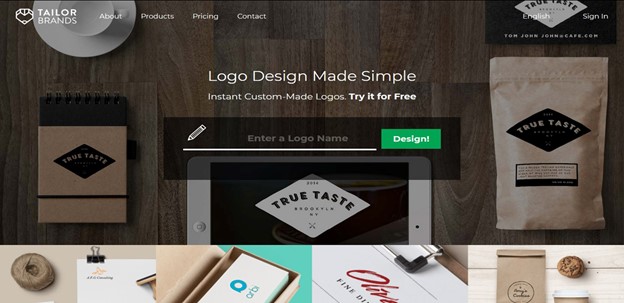 Image Source: Alternatives
Tailor Labels will provide you with a few alternatives, so you can pick which you like best. And you can also modify your logo until you're satisfied with it.
Other than that, for social media and advertising, you'll get ready-to-use graphics. Finally, you can download high-quality vector, SVG, or EPS files when you're finished, which you can use for your website, business cards, or products with full trading rights included.
Logomakr
The free version of the Logomakr service enables you to select from thousands of stock icons and use hundreds of available fonts.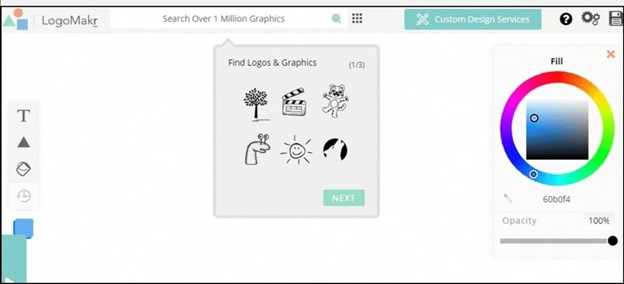 Image Source: Green Geeks
The color choices are abundant and flexible, and for a fully personalized experience, all the items used can be resized and rearranged.
Once you design a logo, you can save it to your device for free. For those who would like technical assistance to create (or redesign) a logo, paid services are also available.
Zyro
Zyro is a free logo maker that is serious about simplicity. To get started, you won't need to build an account or take any extra steps.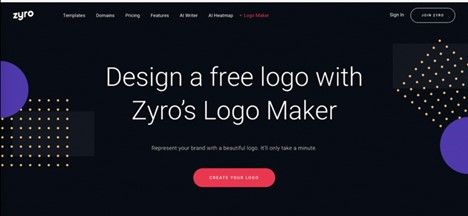 Image Source: Hostinger
Initially, type in the name and tagline of your brand. Second, pick the shape that you want to form the base of your logo. From thousands of choices, you can choose; type in a keyword and get going.
You can finally change the logo. Set the name and tagline to change the font, color, and scale of the form's words. Download the PNG when you're done and use it everywhere, from your web to your business card.
Canva
Canva has been in the free design market for quite some time now. The website provides free and paid templates for photos, flyers, invites, business cards, and more for social media.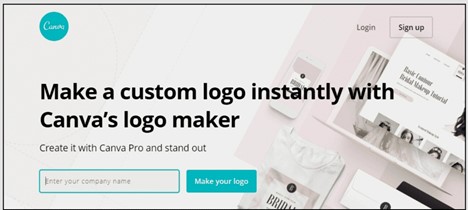 Image Source: Green Geeks
There is a wide range of free and paid logo choices in their impressive lineup of templates. Begin with one of their free templates, then modify your brand's text, colors, fonts, and more to fit.
Upload your graphics, or select a simple-to-use drag-and-drop feature from Canva's extensive catalog of free elements to add to the logo design.
As a PNG, JPG, or PDF, download your design. Use the web to use your free logo to make letterheads, business cards, and more.
FreeLogoServices
With FreeLogoServices, you can create a logo online in minutes. What makes them unique is their method of design-selection. After you've indicated your industry, business name, and slogan on their website, their system suggests a logo design.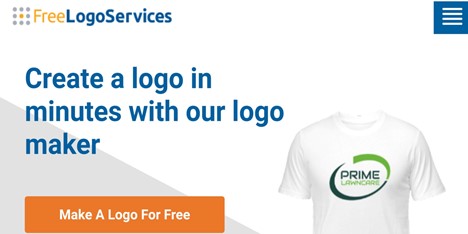 Image Source: Free Logo Services
They use custom-built search algorithm technology to suggest designs from their library only related to your industry. If you have an idea for your logo design but are not sure of the final logo design, you can design as many logo ideas as you want via the website.
And all these designs are completely free. Once you're satisfied with the look of your logo, you can save it. You can edit your saved logo anytime. If you purchase your logo, FreeLogoServices provides you with high-resolution files such as PNG and EPS.
They can also help you use your logo on business cards, promotional products, and your website.
Looka
Looka Logo Maker uses Artificial Intelligence to help you create a custom logo you'll love. All you have to do is make a few clicks with your mouse, and within minutes, your logo is designed.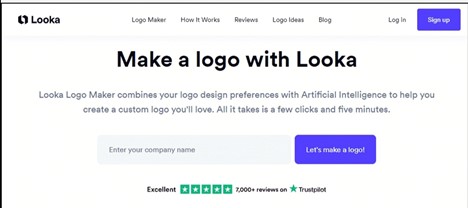 Image Source: Green Geeks
It is not only easy to design your logo on their website, but the process is designed to be fun also. The fun part is when you've finalized the basic logo and have to play around with colors, fonts, and layouts to get the logo perfect.
When everything is finalized, and you are satisfied with the logo you've created, Looka delivers. They provide everything a manual logo designer would have delivered.
These things include a royalty-free high-resolution logo, vector files, social media templates, and post-purchase editing. They also provide you with black-and-white and colored variations of your logo. The third logo with a transparent background is convenient.
NameCheap
NameCheap offers PNGs and SVGs in all colors and layouts, without hidden costs or catches. You create via their website a business logo that's yours to keep.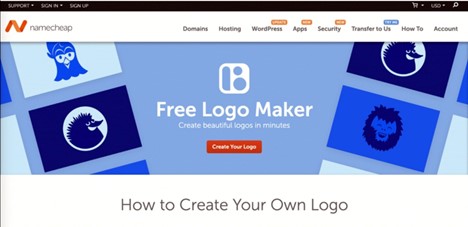 Image Source: Hostinger
The logo is designed to be suitable for websites, signs, and print. It works on all devices and operating systems and is an easy-to-use design tool. With NameCheap, you get unlimited fully customizable logos for free.
Their color combinations are the same as the colors used by the world's large companies. You can also rest assured that your details and unique logos are safe and secured with NameCheap's systems. Website security is a priority for them.
Although you create your logo online and on their website, NameCheap has a support team available 24/7. You can contact real people anytime when you encounter any problem with your designing process.
Design Evo
You can browse through DesignEvo's more than 10,000 templates or use keywords to see only relevant templates. When you find a template you like, you customize it to make it your own.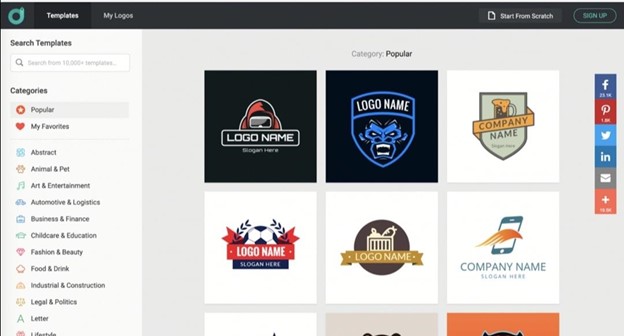 Image Source: Hostinger
With templates and millions of professionally designed icons, and stylish fonts, you can create a very professional and unique logo. All their logos can be customized, and thus you can easily create a unique logo.
The website and the logo maker tool are free and simple to use. No downloads are required. Suppose you want to save time, energy, and money, you have to use Design Evo. Your logos are saved in the cloud, and you can make unlimited edits to the logo.
Even your high-quality SVG and PDF logo vector files are free. They can also be scaled to any size without pixelating. A logo provided by Design Evo is ideal to use in print, online, and anywhere else.
GraphicSprings
There are many reasons why GraphicSprings is one of the best logo design tools to use. If you don't want to create a logo from scratch, their huge library of templates helps you create your logo. They provide logos for all industries.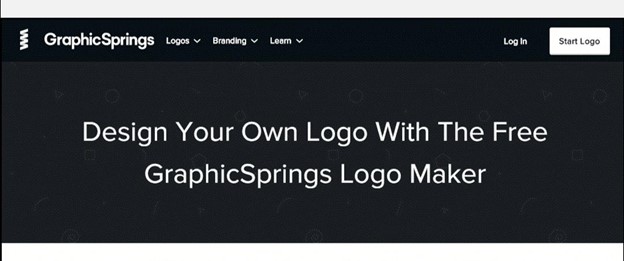 Image Source: Green Geeks
You can create a logo for your business in seconds. The logo can be used immediately, or you can customize it as much as you want to. The creating of logos is free. If you want to save your final logo, a one-off small amount is payable.
Once you have paid for your logo design, you will then have unrestricted access to it whenever you need it.
Hatchful
One of the features offered by Hatchful is a fully-loaded branding package. You can download brand assets for YouTube, Pinterest, Linkedin, Facebook, Twitter, and Instagram.

Image Source: Hatchful.Shopify
This feature is handy if you want to brand your business on social media.  This feature is part of the logo-making process and thus free of charge. More than 140,000 businesses have already used Hatchful to create their logos.
These businesses are in virtually every field of business. If you have a special niche you want to brand, you can do it with Hatchful as they have hundreds of templates.
As with most logo maker websites, you don't have to have any graphic design experience to create your business logo. The logo generator makes it easy.
Conclusion
We are living in an exciting time. These days, you can build your whole business by yourself by using simple online tools. You no longer have to worry about hiring experts to help you.
With any of the free logo websites above, you can create your logo with a few simple clicks. All the logo-making websites have, in principle, the same basic features, but there are differences.