I make an effort to be selective about what I post and how I respond on social media. Some problems, like cyberbullying, are, nevertheless, beyond our control. It can happen via any kind of social media or even through regular SMS texting.
Most of the time, all we can do is offer solace to the victimized and warnings to the perpetrators. The ReThink app is more than just a warning system. It puts an end to cyberbullying before any more young people are harmed by it online.
The ReThink app doesn't intend to control a child's internet usage. It encourages children to seek, join, and build trusted networks of responsible and caring people online. If you believe in normalizing healthy conversations on social media, find out how the ReThink app can help us.
About ReThink
ReThink's Users
How ReThink Works
Navigating the ReThink App
Using the Shortcuts
ReThink's Privacy Policy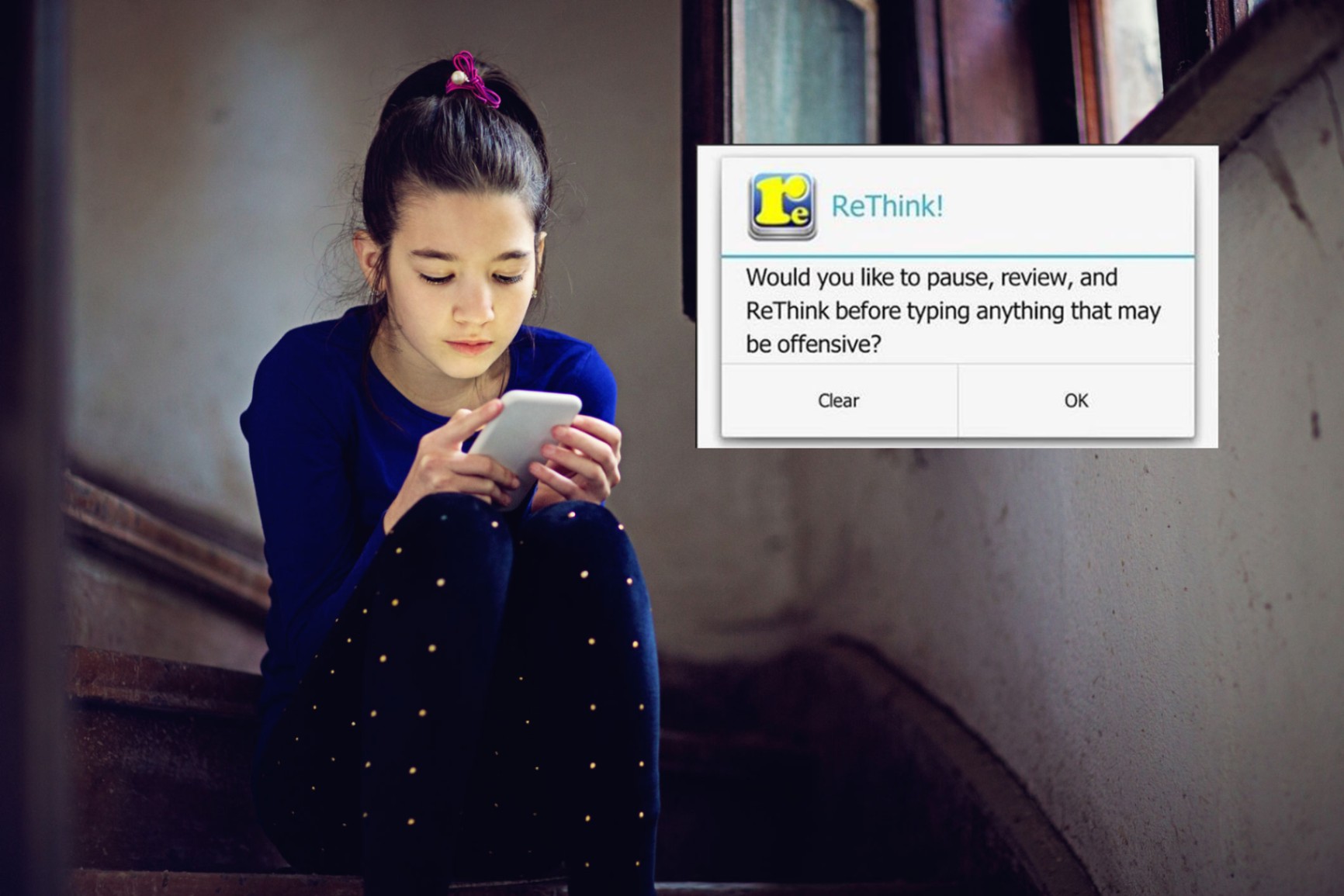 About ReThink
ReThink is an app designed to prevent cyberbullying by detecting it before it spreads online. The app is a patented technology that is available for both Android and iOS.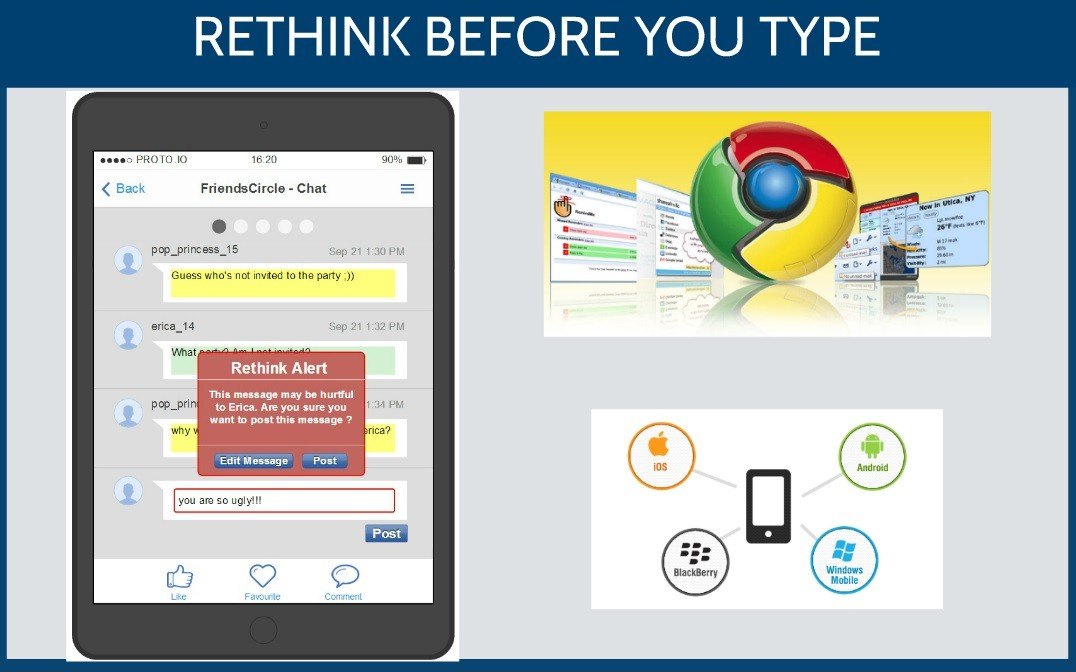 ReThink's system evaluates and compares texts with the contents of its database consisting of derogatory language. If the app detects that the words you will use match those in their database, it will send you a warning.
While ReThink may not be able to delete those offensive words, it will give you a chance to reflect on the hurtful lines you are planning to post on social media and messaging apps. ReThink operates in real-time and across all apps, from text to mail.
I consider ReThink as a behavioral tip-off. It targets the source of cyberbullying instead of reacting to its consequence to the victim. In real life, ReThink acts like a parent or a teacher instead of police or judge.
Effectiveness
Is ReThink effective? According to ReThink's own research, the app's system is able to change the decision of teenagers to share their original offensive post over 93% of the time. The results are validated by Google, MIT, and the White House.
ReThink has been received several national and international awards, including Google Science Fair – Global Finalist, MIT Inspire Aristotle Award, WebMD Health Hero Award, International Diana Award, and the University of Illinois Urbana-Champaign Innovation Award.
ReThink's Users
I'm in awe of ReThink's marketing campaign. Instead of settling with targeting individuals, ReThink is reaching out to schools and institutions. Promoting the app to groups is what will actually make its concept effective.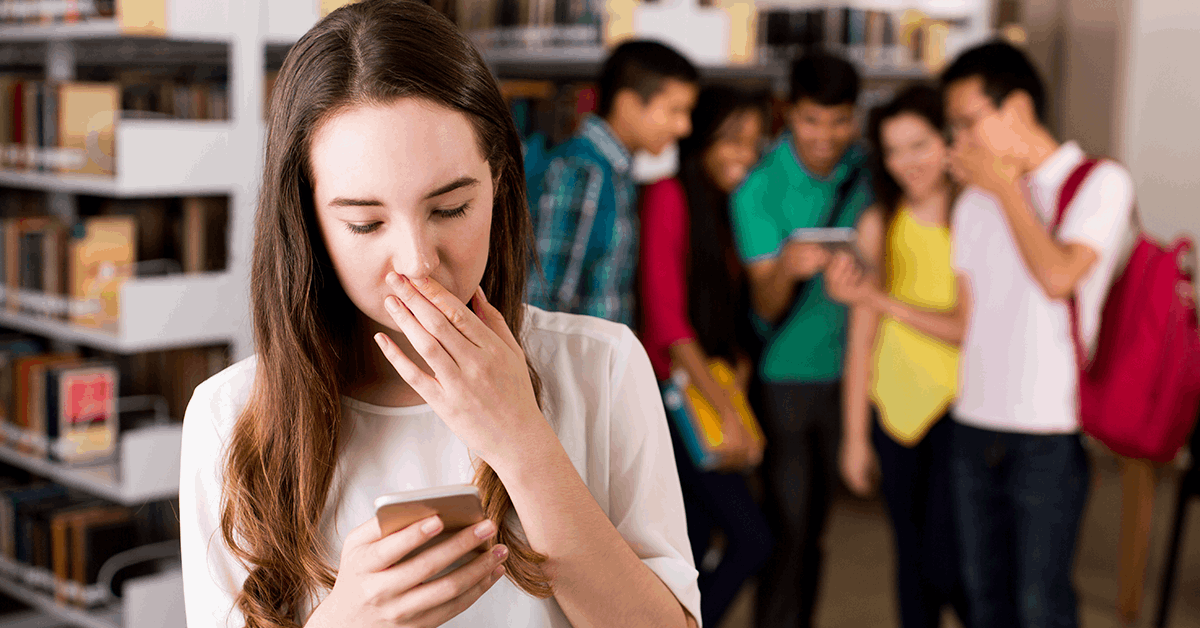 The WeThinkReThink program provides an educational curriculum that is customized for different grade levels. Their goal is to help students become responsible digital citizens.
ReThink also encourages students to become ambassadors of their schools and communities. In return, they will get incentives and opportunities. Faculty members can nominate students to the ambassadorship program.
Rethink Summer School Program
One of ReThink's programs for schools is the ReThink Summit School Program (RSSP). It is a year-long program for schools and academic institutions to fight cyberbullying, online hate, and online abuse.
ReThink aims to equip schools with its anti-harassment technology tool, student-led educational programs, and educational materials.
RSSP Schools can participate in the one-day ReThink Summit, which features thought leaders, renowned speakers, and founder Trisha Prabhu.
How ReThink Works
ReThink's ability to detect derogatory language is truly innovative. What are the types of language that the app opposes?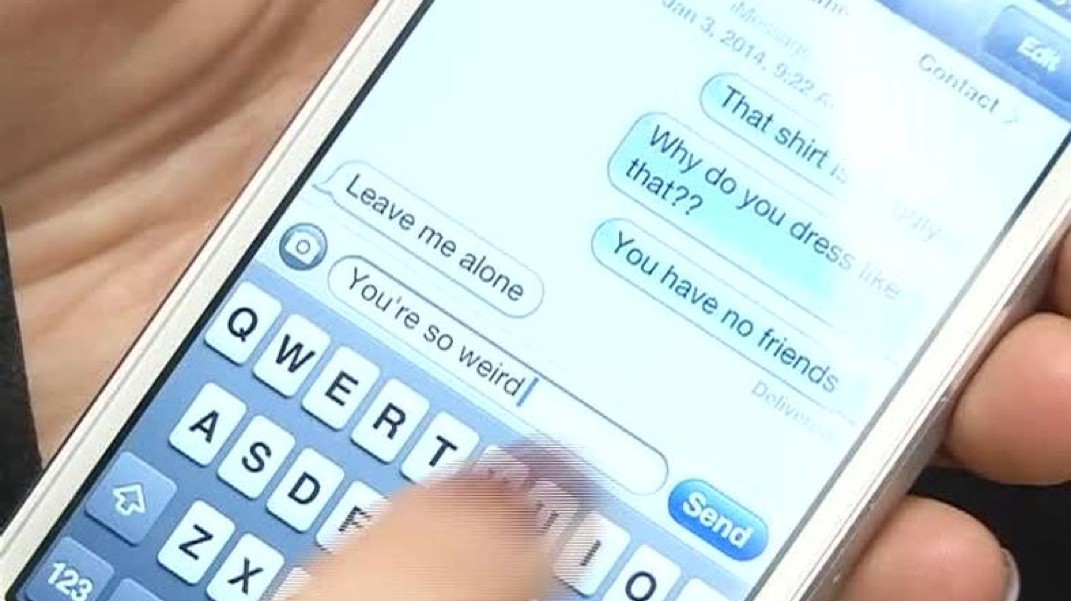 The ReThink app can distinguish racist slurs, homophobic insults, words that degrade women, terms that discriminate against people with disabilities, and other hostile lines. In general, the app is rooting out the grounds of cyberbullying: discrimination and exclusion.
I believe that ReThink can still expand its scope. It can improve its algorithm to also detect physical aggression and recognize more structures and contexts of sentences.
The ability to prompt the user with "Would you like to Re-word this?" or similar inquiries when they type something potentially inappropriate is fantastic. Teens and young adults have a moment to rethink their typing before sending it.
How to Download the ReThink App
By installing the ReThink app, you can stop your online friends from sharing harmful comments and threats. Just head on over to the Google Play Store if you're an Android user. Open the app, and then select "Install" after you have searched for "ReThinkTM – Stops Cyberbullying."
For iPhone users, go to the App Store. Search for "ReThink – Stop Cyberbullying". Once you see the app's name, tap the 'Get' button. ReThink is a free app and is now available in English, French, Spanish, Italian, Hindi, and Greek.
The keyboard in the ReThink app is full of different emojis. Your interpretation of the emojis is entirely up to you. The option to search for emojis by tag and display an emoticons popup on long press may be found in the Quick text keys section.
Once you have the ReThink app on your phone, the keyboard can now be integrated into your system. You will be welcomed by a message about enabling the ReThink Keyboard in Android Settings pages. You can also view ReThink's privacy policy on the first page.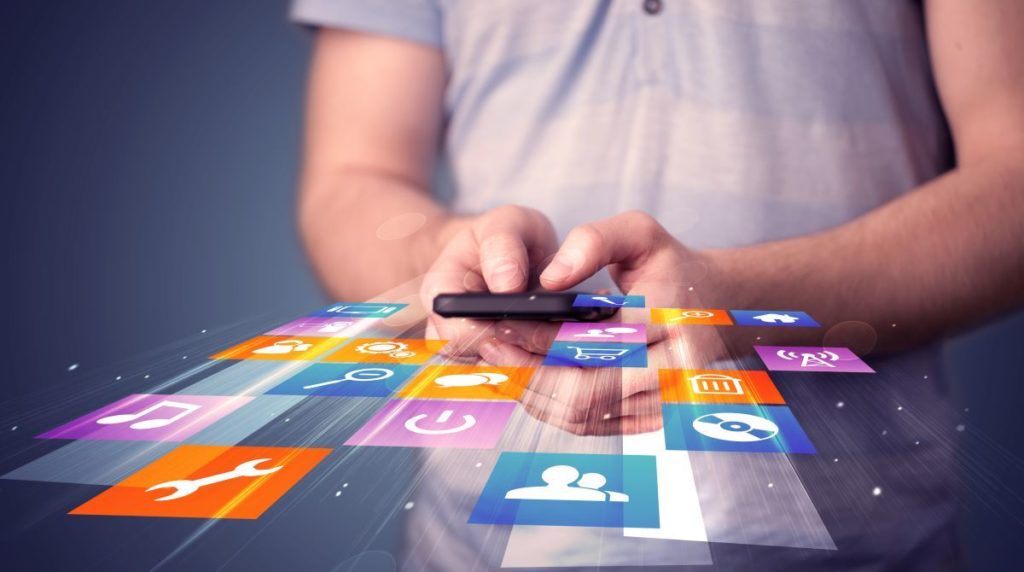 After reading the welcome message, you will be directed to the Language & Input settings. This will allow ReThink to run on your device. On the "Available virtual keyboard" setting, enable Gboard, Google voice typing, and ReThink Keyboard.
After activating ReThink presents options that allow me to customize the keyboard to my preference. Tap "Setup languages" and several icons of keyboards will appear. You can choose from the different languages displayed on the screen, such as Italian, Dutch, English, Hindi, and French.
App Themes
If you go to the app's settings and then press "Select theme," you can alter the way it looks.
One option is to automatically pattern theme colors after those of the used app.
ReThink also has several themes, including Yochees Dark, Yochees Light, AOSP Dark theme, AOSP Light theme, Plain light theme, Simple black glow, Lean Dark – Large, Lean-Dark Gray, and Power-Saving mode.
Using the Shortcuts
On the homepage, a navigation bar appears at the bottom of the screen. There are a total of five symbols showing different options. Selecting the home icon takes you back to the app's starting screen.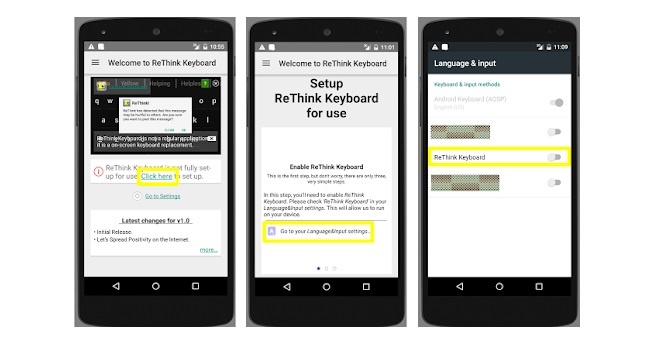 The world icon is for the Language section, which will offer language-related features like user-dictionary, words editor, suggestions, and grammar. Under grammar, you can enable auto-capitalization, quick fixes and abbreviation, and auto-select suggestion aggressiveness.
The paint board icon allows you to modify keyboard effects and experience, with adjustments for vibration, sounds, animations, power-saving settings, and even night-mode settings.
Brushstroke Icon and Smiley Icon
The brushstroke-like icon is for gestures, which will allow you to enable gesture-typing and adjust the swipe velocity threshold and swipe distance threshold.
Lastly, the smiley icon is for my favorite, the setup emojis. You can activate emojis on your keyboard under different topics, such as people, nature, office, occasions, flags, and transport.
ReThink's Privacy Policy
At first, I was concerned about my privacy when using the ReThink app since its main task is to detect hateful language. Its privacy policy seems fair and reasonable.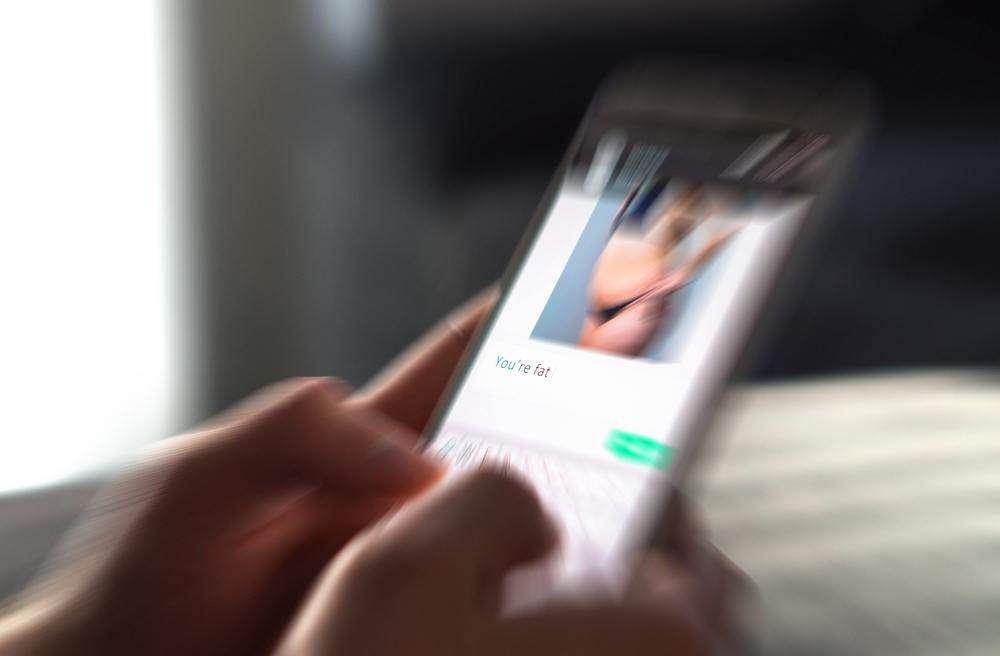 When it comes to registration, ReThink will be able to learn your name, e-mail address, unique identifier in your organization, or other contact details, such as phone numbers. With this information, ReThink may send you notifications through text message or email.
When you visit ReThink's website or use its app, you are automatically disclosing your IP address, browser information, operating system, general location, URL, activities on the website or the app, and other logging information.
Information such as when you accessed our sites or used our apps is gathered. Logs, web beacons, clear GIFs, and cookies are only some of the tools that ReThink uses for this purpose.
ReThink's Cookies and Analytics
ReThink uses cookies to recognize your computer or device when you visit its website to, for example, recall your login details and to monitor statistical information related to website usage.
ReThink assures its users that the personal information they collect will be used to improve their websites and apps. ReThink may also share such information with service providers that help them with their operations, but all of them are expected to protect the privacy of user's information.
Moreover, ReThink performs analytics on actions made through its app, but these are not the same with general website analytics services.
Conclusion
With its textual warnings and navigable interface, the ReThink app truly exhibits a proactive philosophy. Its system still has the potential to expand and evolve as it eliminates the root cause of online hate.
As social media networks grow and users forget there are humans behind profile pictures, ReThink is working hard to serve as an instrument of kindness and decency.