Since text messaging is such an important aspect of our phone use, every mobile comes with a built-in SMS app. Although all phones come with native messaging applications, they can be excruciatingly painful. Any native text message applications don't manage MMS as much as we'd like, while others are poorly designed or feature-deficient.
Fortunately, there are a plethora of third-party SMS apps available for Android, one of which is Textra SMS. Textra SMS adds +800 unique emoji and a cool little drop-down message box to reply to texts straight from your alerts bar, capable of blowing your run-of-the-mill, standard messaging experience out of the range.
Textra also allows us to configure the whole app fully. We can choose from over 20 different color schemes. Choose between a dark mode (by default) and a lighter interface to fully update the messaging interface. It is a basic but effective SMS app that offers everything we'd want from a messaging app and a lot more. Learn more about the Textra SMS app in this article!
About Textra SMS
Messaging Features of the App
How to Download Textra SMS
Tips for Using the Textra SMS App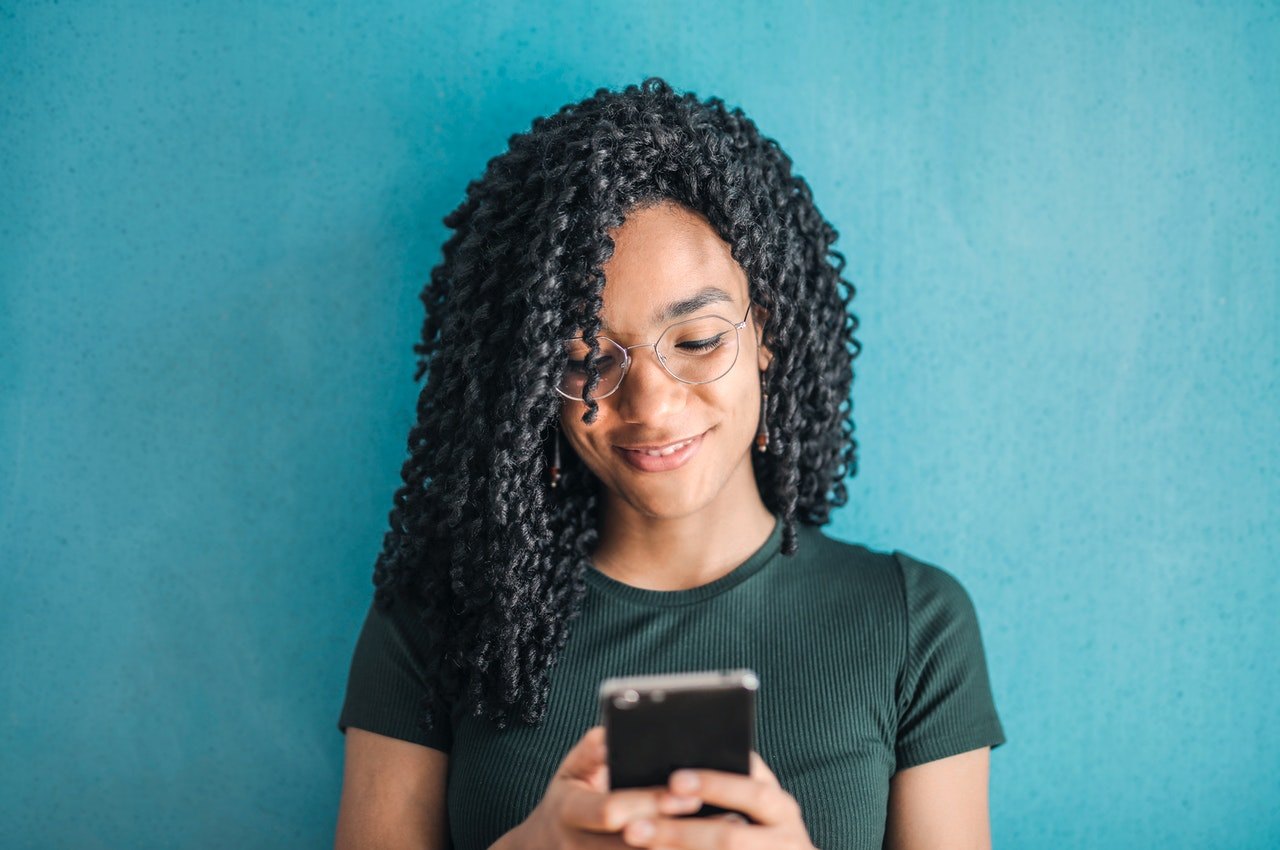 About Textra SMS
Textra SMS is my long-time favorite messaging app. It is a simple-to-use SMS app with plenty of powerful user options. It's not only a substitute for Android's default SMS app but a considerable upgrade, with its advanced functionality and customizable interface and notifications.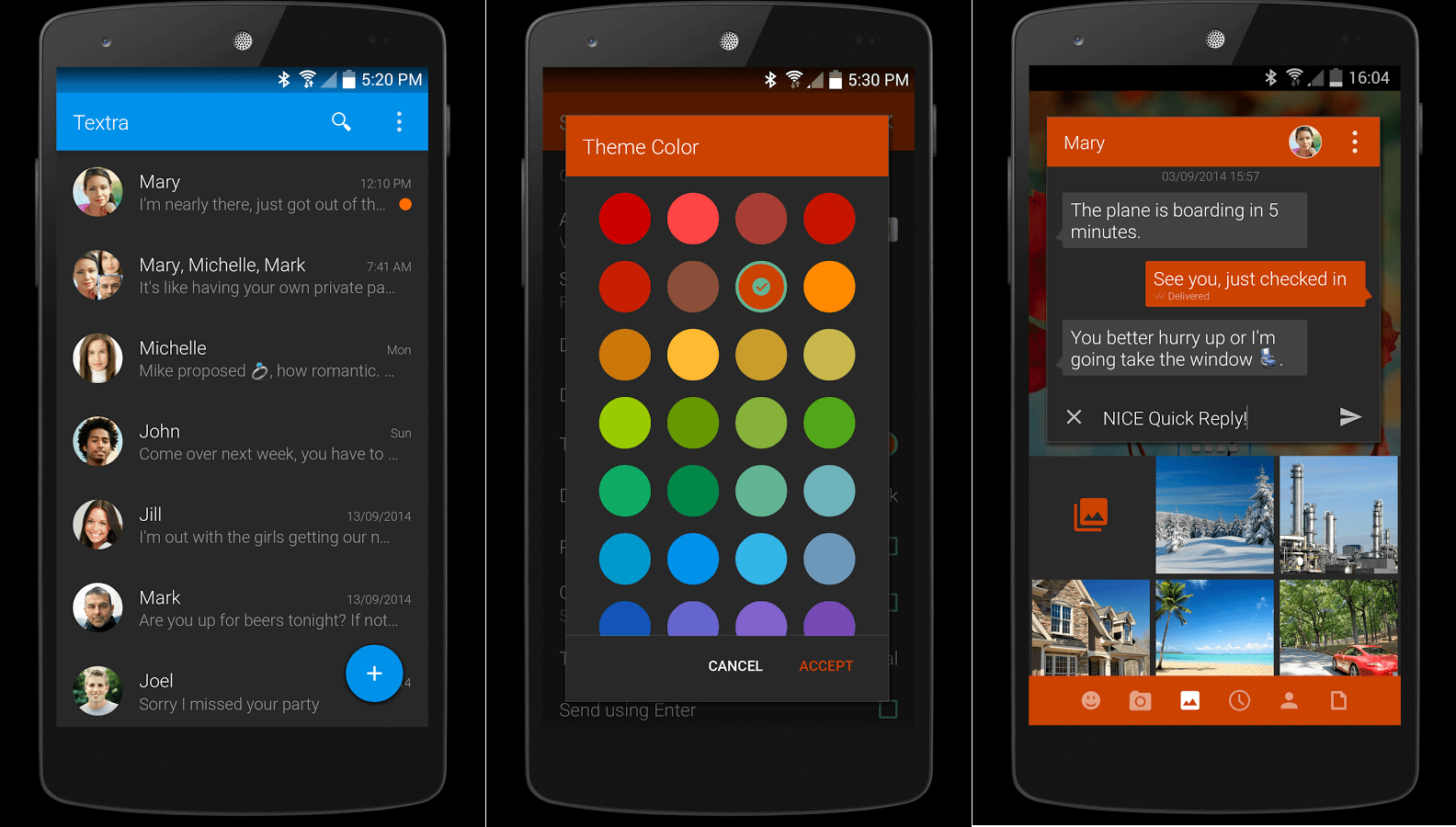 With different theme colors, alerts, and per-contact settings, Textra provides a plethora of customization choices. SMS scheduling, fast responses, better community messaging, SMS blocking, and more are all included.
Textra SMS has a lot of customizable features for a messaging service. Background color, red, gray, and black are all options in the customization slot.
There are also a variety of theme colors that regulate the color of the navigation bar and accent color and the color of the bubbles in the chat window and the color of the app icon. On an AMOLED projector, the dark backdrop with green and blue variations looks fantastic.
Customization
Textra SMS uses its own font instead of the system font by default, although we can adapt it to the system default. Those interested in customizing their device font should take a look at that choice. The software also allows us to customize our font further by allowing us to adjust the text size using a sliding bar.
The personalization doesn't end there. The theme of the message bubbles and the Emojis can also be modified. We have six bubble choices to pick from, all of which are only slightly different from one another. Emojis, on the other hand, are a different matter. The device default, Android type emojis, Twitter, Emoji One, and iOS are all available alternatives.
Since Apple emphasizes emojis, the iOS style appears to be a popular choice. Textra SMS frequently upgrades emojis, meaning we don't have to wait for a Google app upgrade to get the latest ones.
Messaging Features of the App
Textra SMS, similar to other SMS apps, is focused on a structured chat list. It is unique in the way that it allows us to swipe messages left or right for further acts. When we swipe left, we'll see a trash bin icon, which can be used to erase the line.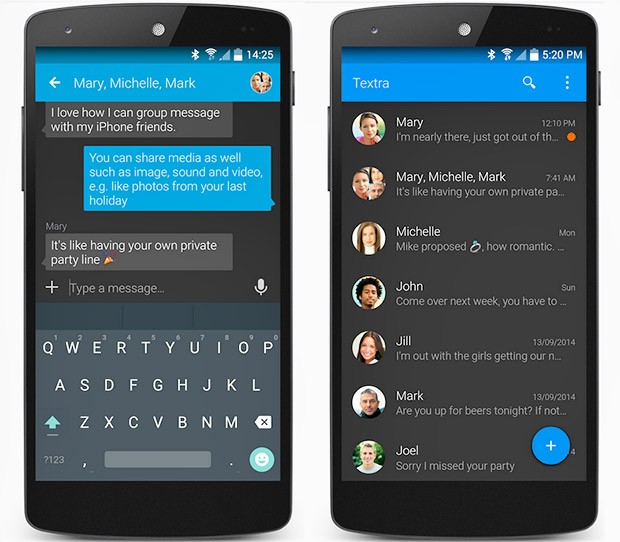 When we swipe right, we'll see a phone symbol, which can be used to contact anyone directly from our phone directory. The visual presentations are fantastic, and the functionality is flawless.
Textra SMS becomes extremely strong within our chat. Once we click the user photo found in the upper right corner, it brings up their contact information, where we can call them or look up their phone number in our contacts list.
When we tap the plus symbol found in the upper part of the keyboard, a slew of options will appear. The app also allows us to take photos, select emojis, and send a picture from our phone album to our friends. We can also select to delay a post, exchange a mobile number, send an animated image or GIF to our friend. Textra SMS app allows us to use GIPHY to search and email gifs.
Other Key Features
Textra SMS's ability to arrange conversations to be sent at a given time is very useful. Scheduling a message eliminates the human mistake of forgetting to return to the messaging app to send out crucial information.
Textra has a built-in feature called Quick Reply. When we receive a new message, clicking it brings up a short answering prompt with a brief detail chat and the whole keyboard.
This functionality is one of my favorites because it allows us to remain in another app we're currently using and quickly respond to a post.
How to Download Textra SMS
Currently, Textra is only available for Android devices. To download the Textra SMS app, visit the Google Play Store and search for 'Textra'. From the list of search results, choose the correct app to go to its app store page.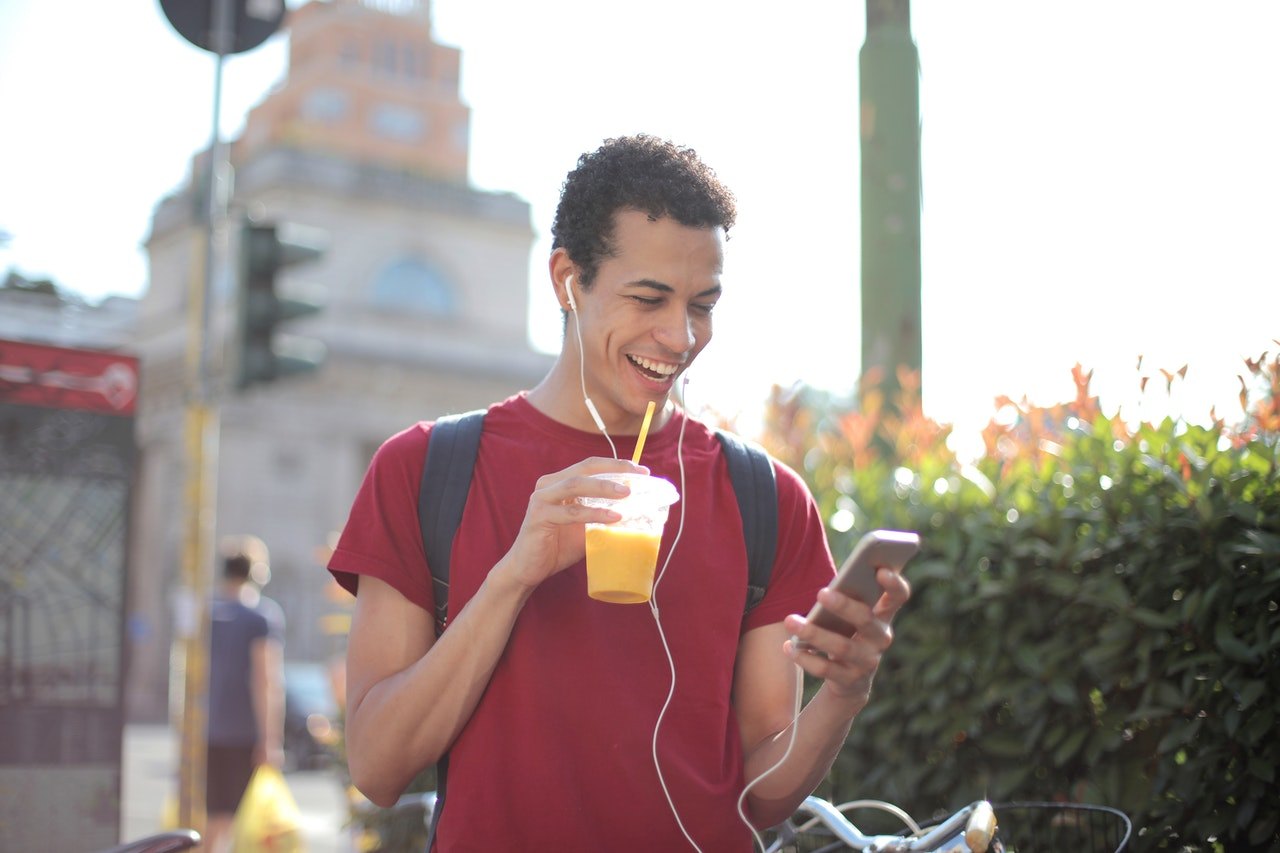 Then, tap the 'Install' button to start the transfer to your mobile gadget. Clicking "Open" in the app store or on your phone's app screen will launch the app after installation is complete.
Textra SMS is free, although you can see ads from time to time. Many of the features are included in the free edition, except for the adblocking option. Because Textra is my messaging app of choice, I upgraded to the premium edition to get rid of the ads.
The app size of Textra SMS is 22MB and is offered by the developer, Delicious. It also requires Android versions 4.4 and up.
Notifications
Textra SMS's notification configuration is a key feature that allows us to personalize the experience. As I've mentioned earlier, the Textra SMS app features a quick reply and it is indeed essential in alert customization.
We have three different choices whenever we click on a text message in the notification bar. Either it'll redirect me to the full app, let me reply with a keyboard, or instantly send back a message without a keyboard. Textra SMS app allows us to choose to reply without a keyboard to see more details of the message they received.
Textra SMS enables us to customize notifications and the phone's reaction whenever it receives a message. We can choose the longevity of the alert, the icon, LED color, and ring tone. We can also select our preferred vibration pattern and whether we want our mobile screen to light up or not.
Tips for Using the Textra SMS App
After downloading the app from Google Play Store and installing it on our device, open the app and tap "Make Default App". Textra SMS allows us to pick several texts in a single chat and delete them all at once. There are often several helpful messages in a thread, as well as useless messages.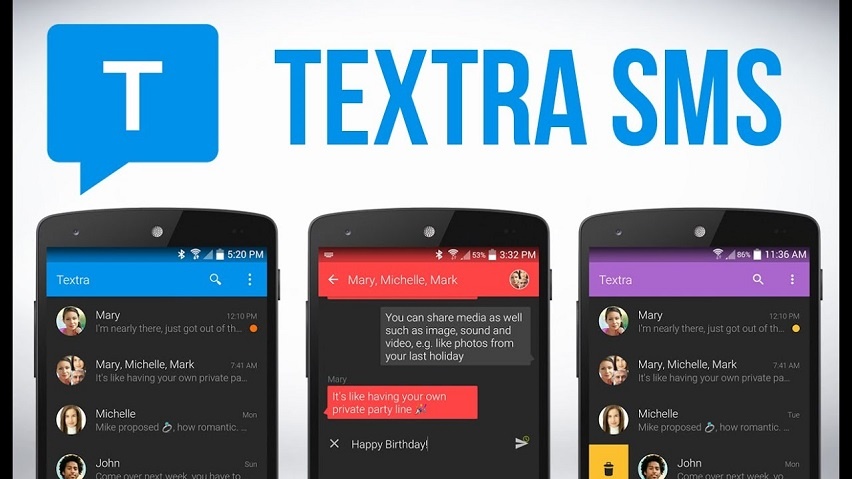 It may look similar to other default SMS app, but only Textra SMS allows us to delete multiple messages in a single line. We may want to exchange messages in a conversation with another person at times. Normally, snapshots of the whole conversation will be taken and shared with others.
Textra SMS is accompanied by very helpful gestures. By swiping left on the chat thread, we can call the individual directly. The right swipe erases the note.
The Textra SMS app, on the other hand, allows us to post the whole chat thread as a text file. We can pick and exchange several individual messages from a thread using the multi-select function. We can send the file via email or via a third-party service like WhatsApp.
Pin SMS and Adding Signatures
Message pinning is one of those great features that we may not consider much use for at first, but once we do, it feels impossible to go back to using the app without it.
Conversations can be sped up by pinning a specific chat to the top. Instead of scrolling through multiple chat threads to reach the one we use most, the pinned chat will stay at the top.
We can add notes at the end of all our messages, just as we can for emails. It's known as the signature, and it will be immediately attached to any message we send. Textra also allows us to create different signatures, using one signature for personal messaging and another for formal texts.
Conclusion
When we set up a new mobile and download the Textra SMS app, it may significantly replace the stock phone SMS messenger. The blend of stability and options is a winning combination that can satisfy the needs of everyone who installs it.
I have been using the Textra app as my main messaging software for a long time and have always been pleased with my messaging experience!