As a university student, I find myself drowning in a sea of school work, extracurriculars, and other activities. My time management skills are somewhat subpar, so I've always been on the lookout for great apps that will help me manage my time and achieve all my tasks and goals.
Fortunately, I came across My Study Life, a great application for students like me. It has tons of features that make me more time-conscious and more efficient with my tasks. My Study Life's impact on my life is unparalleled.
In this article, I'll share my experience in using this app, how to use it, where to download it, and some valuable tips and tricks. Read on and discover more about the My Study Life app that could help change your life!
Key Features that Help My Academic Life
Key Feature – Adding an Academic Year
Key Feature – Adding a New Class
The Calendar – Every Student's Best Friend
The Dashboard – An Overview
The Benefits of Using My Study Life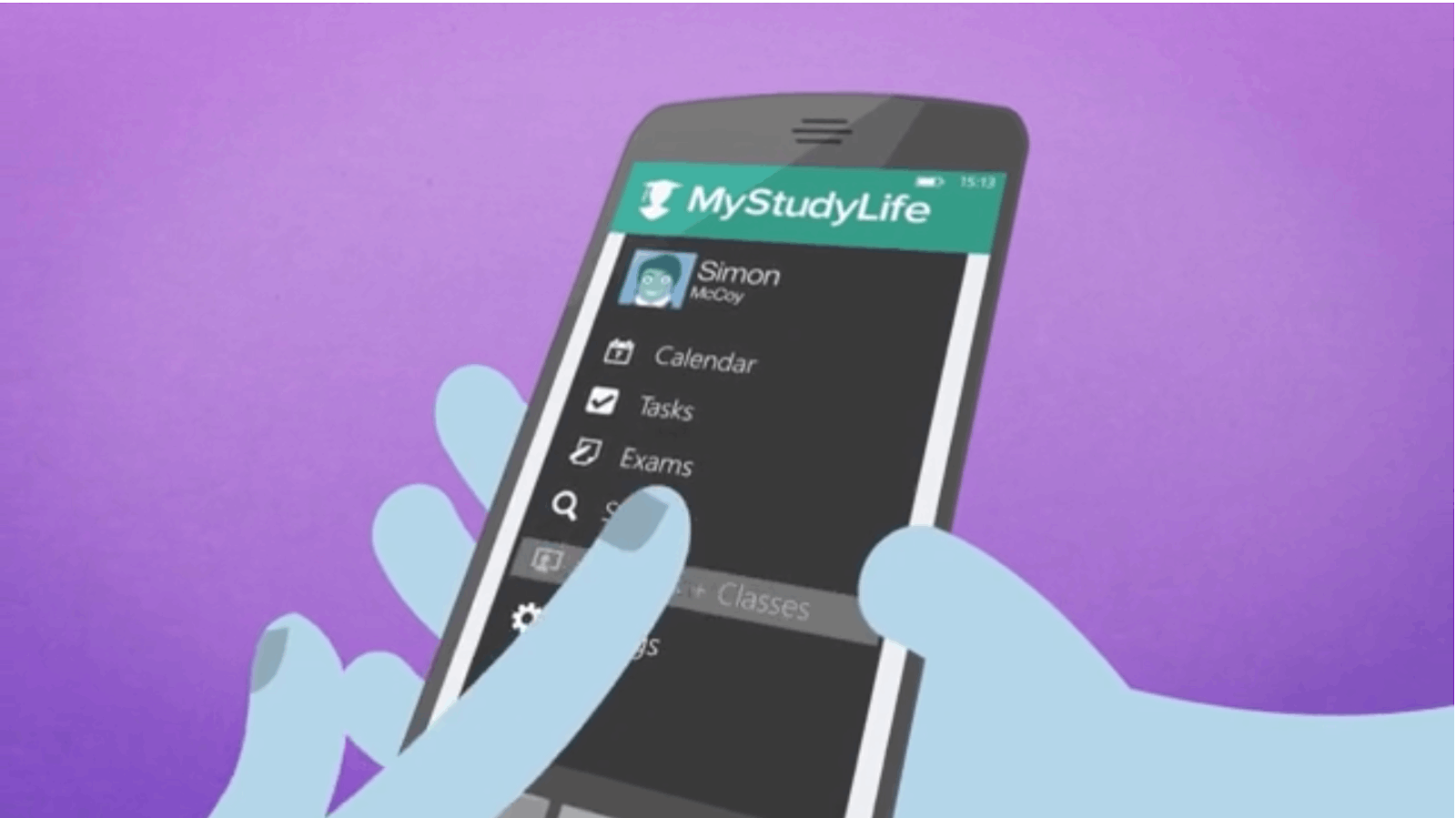 Key Features that Help My Academic Life
Missing a class or exam is not a new experience for me. It was not until I came across My Study Life and got rid of the useless paper planner that I minimized missing classes just because I forgot about them.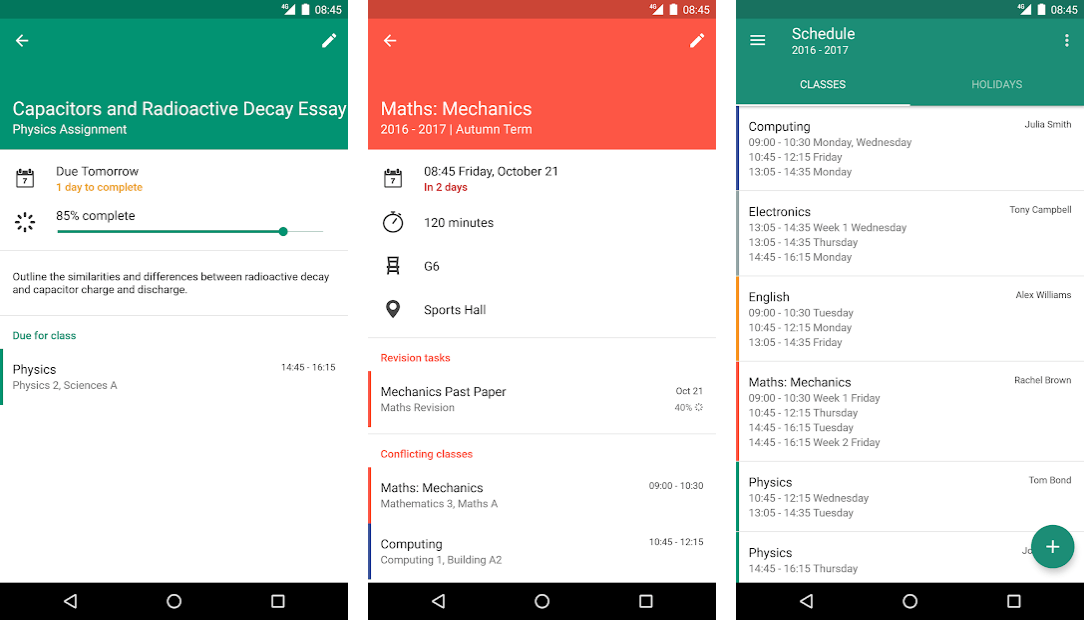 Its key features include scheduling or timetabling, to-do lists that are adaptive for schoolwork, reminders of incomplete tasks, classes, and exams, as well as syncing across my devices for a seamless experience.
With this app, I can manage my classes better than I would with a regular planner. I can view my schedule and instantly see if there are overlapping tasks or exams so I can immediately adjust my work plan. Unlike other digital planners, My Study Life works offline too.
My Study Life is available for download from the Google Play Store and the App Store, with over 1 million downloads and an impressive 4.6-star rating on both platforms.
Getting Started With the App
After downloading My Study Life, I was asked to create an account using Facebook, Google, Office 365, or with an email address.
The app works by using schedules, classes, subjects, tasks, and exams. I love how the app helps me remember my weekly and daily schedule, as my schedule can be pretty confusing with all the classes I have to take within a semester.
The app asks me to add the default time for my classes, as well as the duration in minutes.
Key Feature – Adding an Academic Year
The scheduling function is easy to use and navigate because the interface is pretty simple and sleek.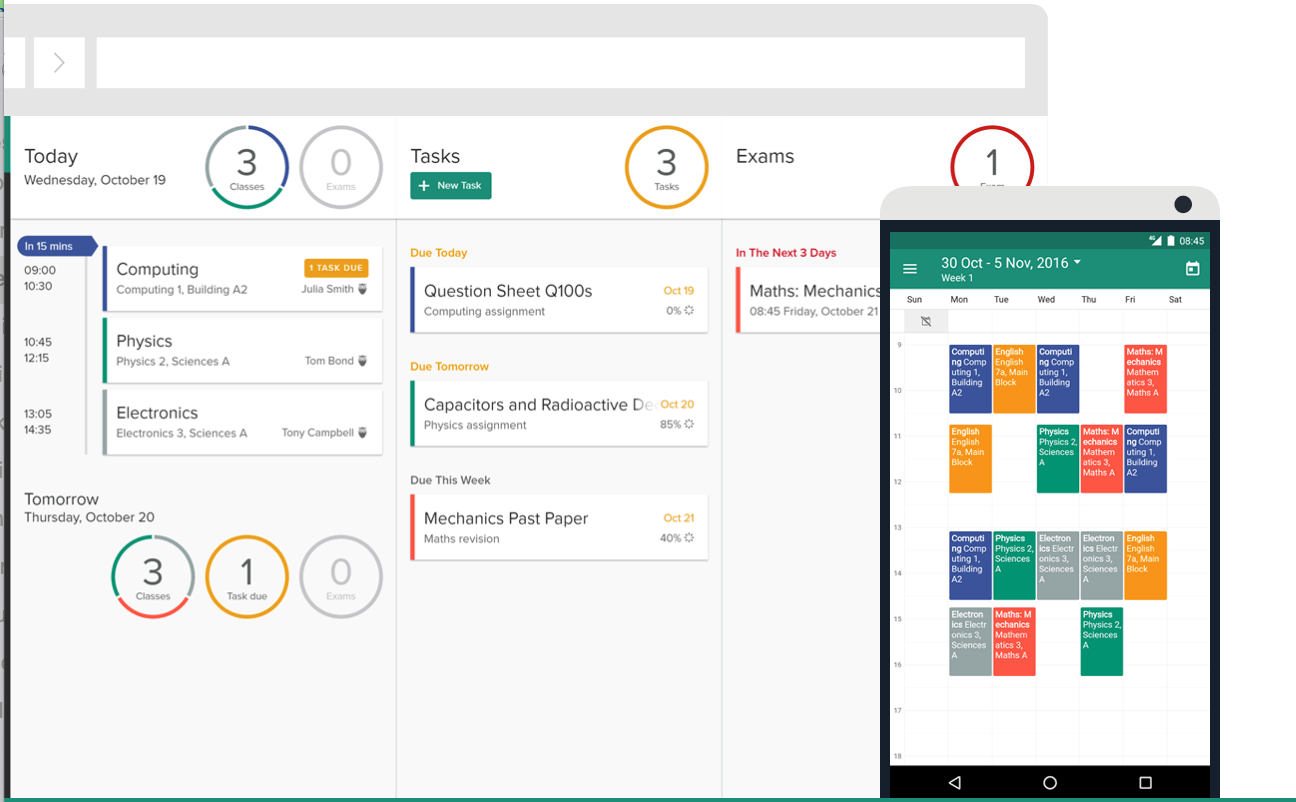 It's a no-frills tool that helps me get my scheduling done efficiently. To use the "Add a New Academic Year" function, enter the beginning and ending dates of the school year.
The app also allows me to customize my schedule by choosing whether my classes work on a Fixed schedule (the same day every week), Weekly Rotation (the same day every n number of weeks), or Day Rotation (a numbered or letter day).
My classes usually work on a Day Rotation. To set this up, all I have to do is indicate the number of days in a week where I have class, the start day, and the specific days where I have classes (Monday, Tuesday, Wednesday, etc.).
Academic Terms
Then, I can also add a new academic term. Since my schedule changes every semester, I have two semesters in one academic year.
I can configure the app to show two semesters in an academic year by putting my semester's start and end date.
Those who have three semesters in a year can configure the app to indicate that, too.
Key Feature – Adding a New Class
After creating an academic year and term, I can now add classes using the "New Class" function at the lower right portion of the Scheduling tab.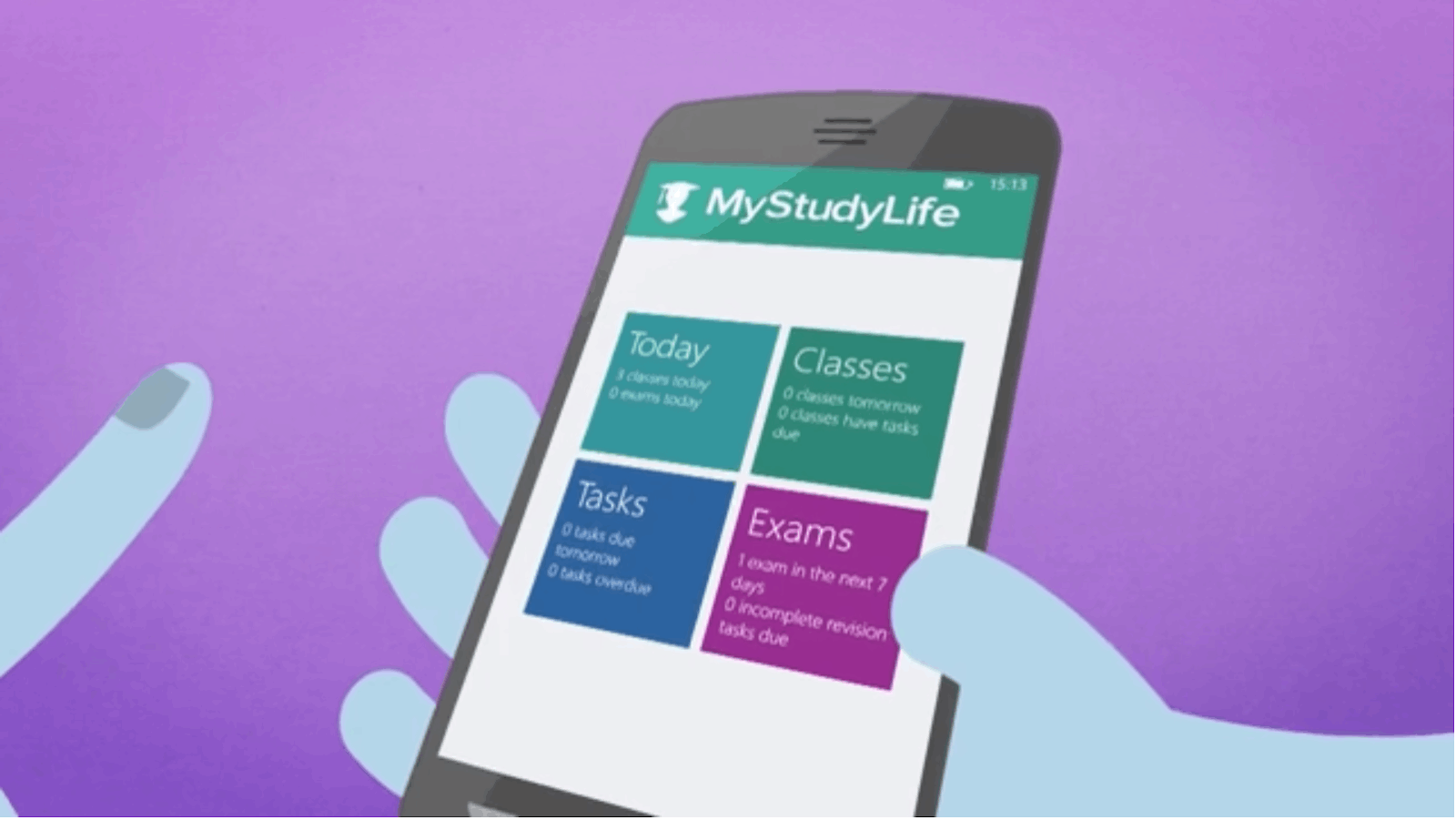 The ability to quickly add a new course to my schedule is one of the nicest features of this program. It's packed with specifics that I can use to recall information from that class.
I can add the subject and module number of the class, the room number, and building, as well as the faculty in charge of the course.
More importantly, I can indicate the time/s of the class each week, too. The data I indicate can always be changed after saving it. After saving the class, it now appears on my overall schedule under the academic term I created.
Adding Holidays
In addition to adding new classes, holidays can also be added. I usually do this in advance since, in my country, most holidays are announced by the government early.
This helps the app in creating a personalized and accurate calendar for me throughout the academic year.
Holidays are recognizable in the calendar and distinguished by a huge solid block that fills the day corresponding to the holiday.
The Calendar – Every Student's Best Friend
The calendar is a simple app that just makes sense. It can be viewed in either the weekly or monthly format.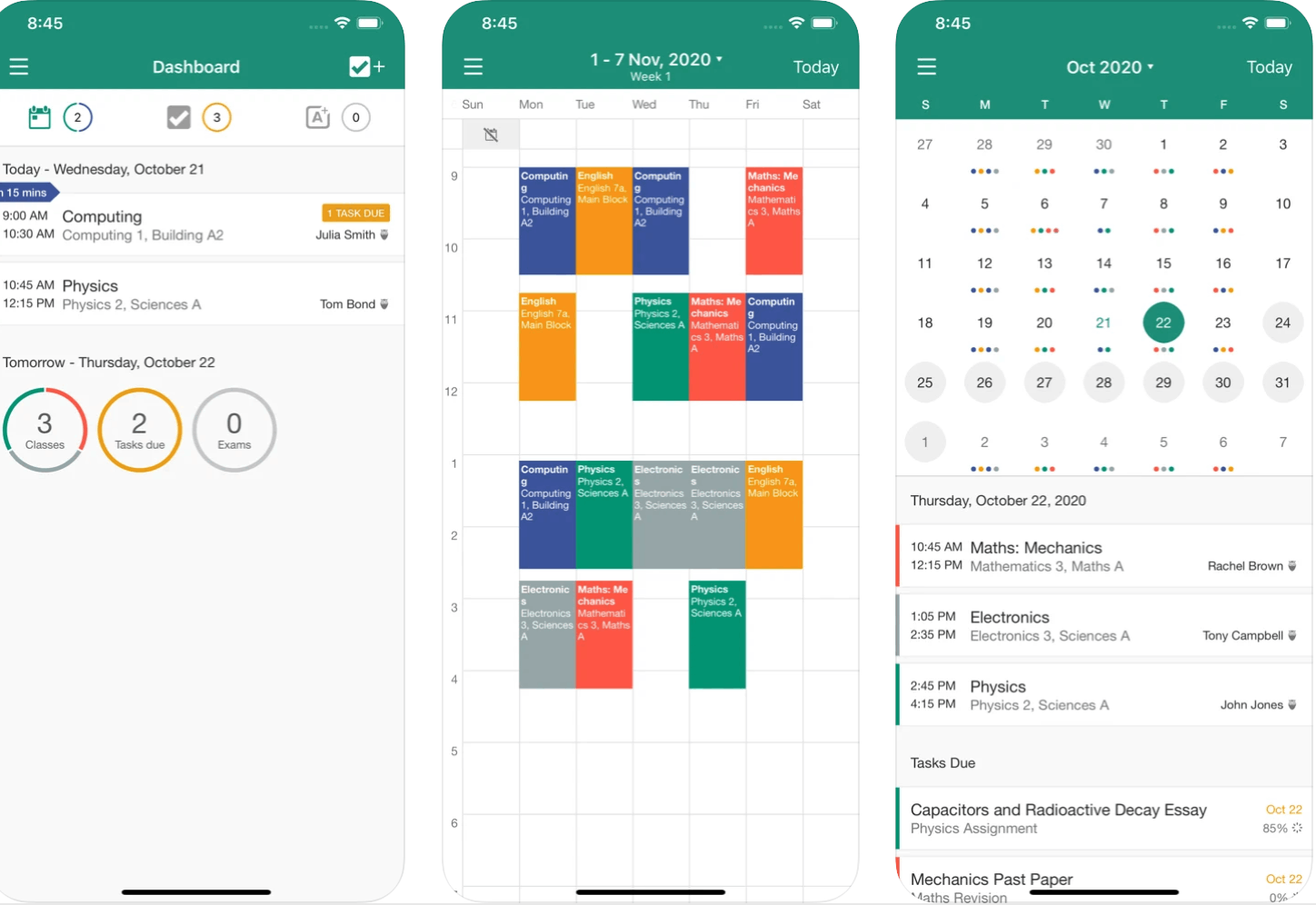 I personally love the monthly format because it shows me an overview of my free days and hectic days.
A dot under the date indicates that I have something planned for that day. When I click on a certain day, all my classes and activities show up.
The Weekly Format
With the weekly format, I can take a look at the classes that I have for the week.
If I click on the schedule, my tasks and assignments appear. It's easier for me to check whether I have pending tasks for a certain class.
The Dashboard – An Overview
The Dashboard is yet another fantastic addition. The number of classes I have today, the assignments I have for the following three days, and the examinations I have within the next seven days are all clearly displayed.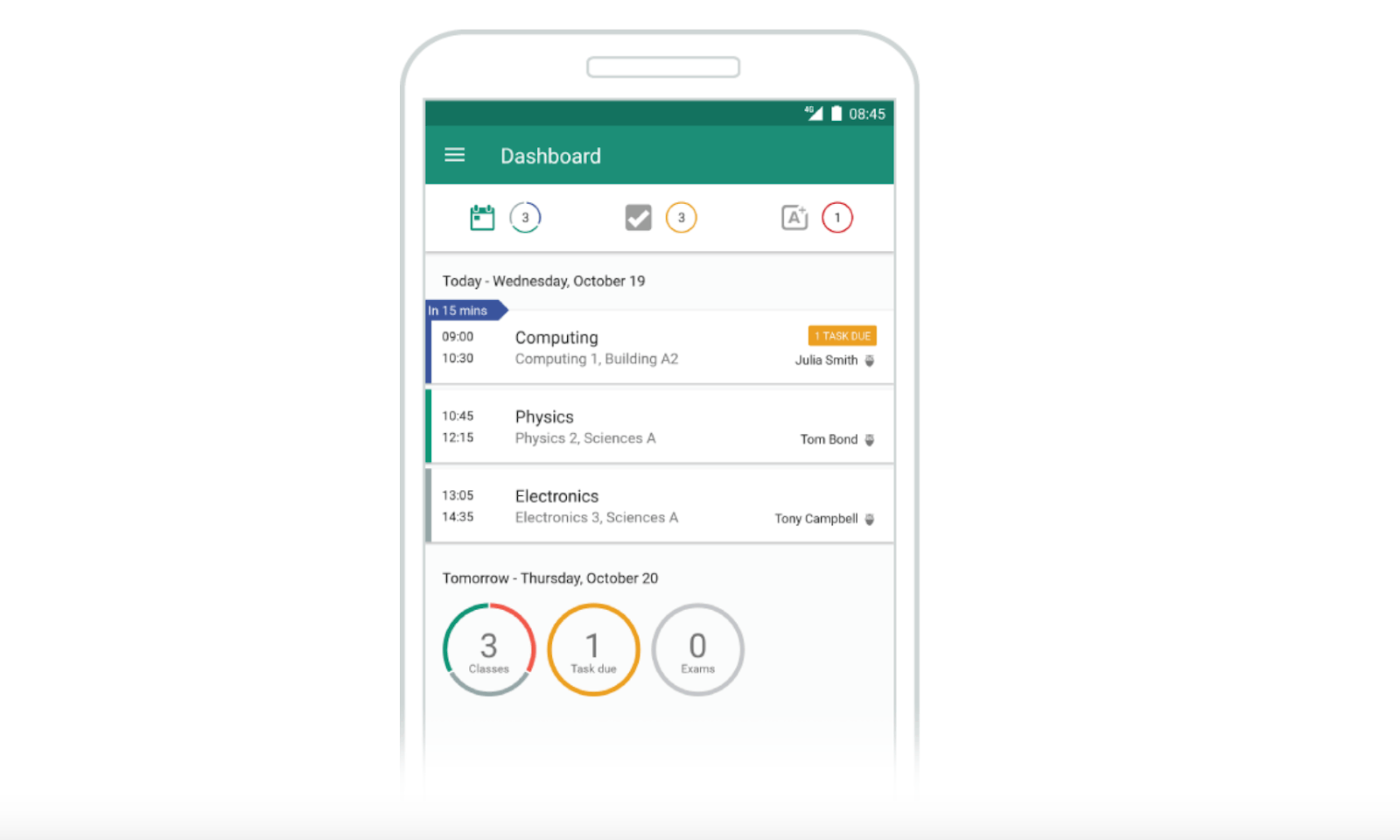 To add exams, I can just go to the Exam tab and indicate the subject, module number, date, duration, seat number, and room (when applicable). I also like how I can indicate whether it is a resit (retake) or not.
To add tasks, I can go to the Tasks tab and add the subject the task is under, the type of task like reminder, revision, or homework, the due date, title, and additional instructions.
Setting Reminders
I can separately configure reminders for classes, exams, and tasks. I usually set my reminder for classes 15 minutes before the class, while I set a 30-minute reminder before exams.
While I can only set a reminder for tasks a single time every day, I still like this feature. It forces me to be consistent.
Reminders can be found under the Settings tab on the side of the application, along with the rest of the tabs.
The Benefits of Using My Study Life
Ever since I started using My Study Life, I no longer have trouble tracking my schedules and tasks. Since then, my productivity has also increased, and my time management skills have greatly improved.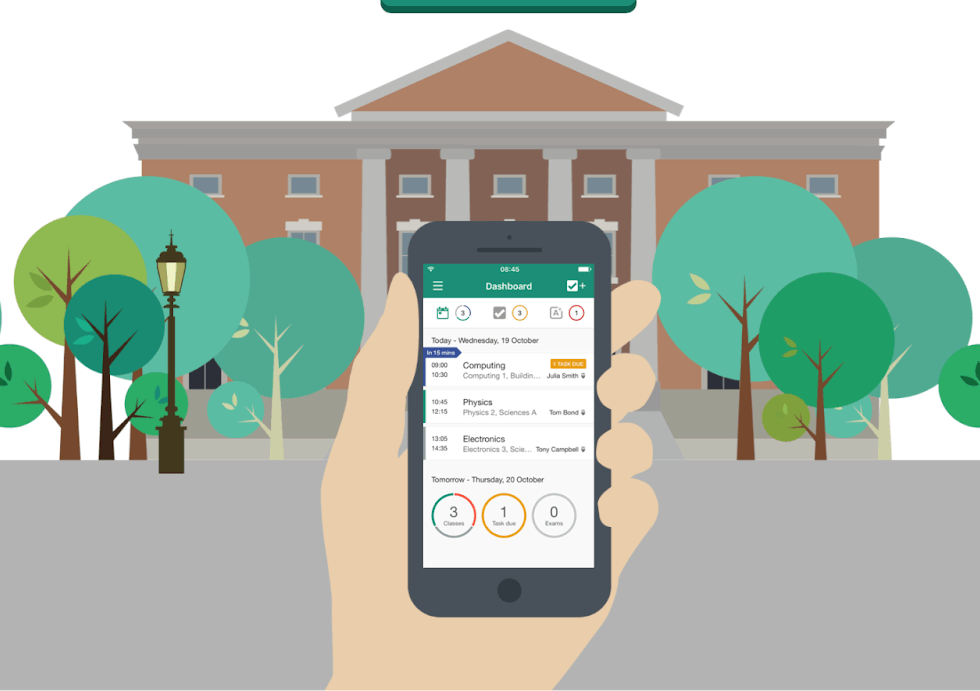 I can now monitor my tasks and assignments, and I never fall behind on my deadlines. It's an ultimate lifesaver for a student like me, especially as someone who always gets confused with my schedules.
The app gets me up and moving about to get my tasks done – that is, if I made an effort to input them on the app. The problem with me is that I can also tend to procrastinate taking note of the task on the app, so that can hinder the app from actually helping me.
It still takes some form of discipline for My Study Life to work! Although quite overwhelming at first, I have since grown used to seeing a jam-packed schedule. I am also more enthusiastic about clearing all my tasks because it is satisfying to see all my tasks ticked off.
Points for Improvement
In addition to alerting me of late jobs and assignments, I think the app may benefit from a "Due Today" function that specifies the exact time of day on which an assignment is due.
I would also like to see a sort of "cut counter" where I can monitor the number of absences that I've incurred in a certain subject since being absent from class can be inevitable.
Moreover, I hope the app also allows me to block a certain class schedule since sometimes my professors announce that they've set a certain period as our reading break. I cannot do this without setting a holiday, as currently it will remove the notifications from all my classes.
Conclusion
My overall experience in using My Study Life is an enjoyable one. While it certainly takes the right attitude and discipline to make this app efficient, I know for a fact that my time management and enthusiasm to get my academic life back on track have greatly improved.