Finding the perfect map can be difficult, especially for those who have a specific color scheme in mind. I have used many different maps in school projects, but they were always made up of different colors than the ones I wanted. This is why I was really excited when I found the MapChart App, the new and fun way to customize maps.
MapChart is a mobile app that allows users to create a custom-colored map for free. Anyone can choose from a wide variety of regions and make a map specific to their needs. This app is a great resource for school projects, business presentations, blog posts, or personal use.
Learn more about the app, its features, and how to use it in my article below.
Learn the Basics of Using MapChart
Color Countries and Regions to Make Learning Much Easier
Save, Keep, and Preview Your Map
Recommendations on Using MapChart
Unlock More Features Through the Premium Version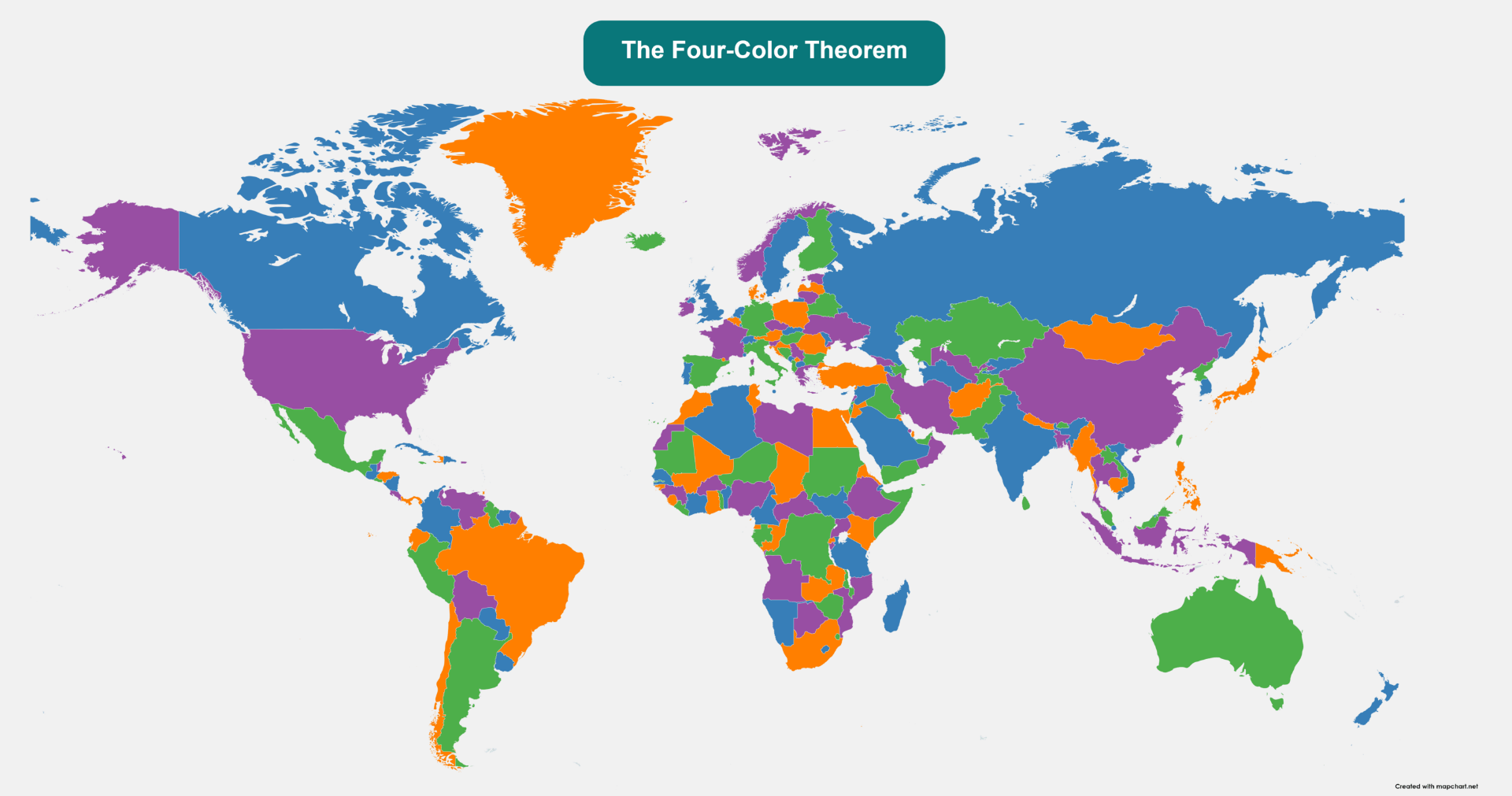 Learn the Basics of Using MapChart
Using MapChart is very simple and easy. All I needed to do after downloading the app was to open it and I was taken to the home screen. There I could choose from several options such as creating a map, setting map configurations, or creating a color palette.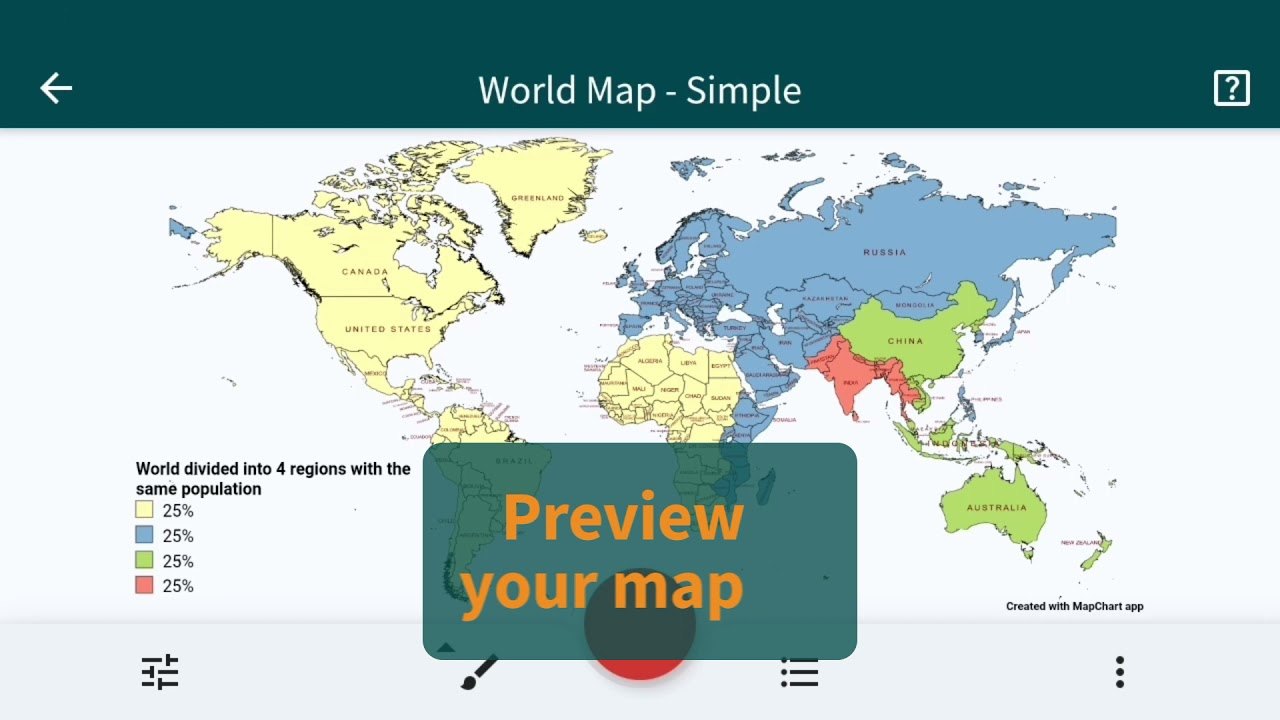 One feature of MapChart that I really liked was the option to choose almost any geographical map that I could imagine. There are world maps, maps of all seven continents, and maps of individual countries. All the country maps are split up even further into detailed regions such as states, provinces, counties, etc.
I especially enjoyed the option to choose a single country map and see how the borders changed throughout time. I could choose the USA map, for example, and see how it looked geographically when it was first colonized. I could then slide the "year" slider and see how the map changed as states were added.
All the maps on the app are very detailed. I could generate the map I wanted in a high-quality image and then download it for free.
Edit Your Map with Simple to Use Settings
Another thing I really liked about using MapChart is the simple user interface. All the options and settings are clearly indicated and labeled. Using the app was very straightforward and easy since I didn't need to navigate through complicated menus and settings.
All I needed to do was tap on a single option and start creating the map that I wanted. I could simply tap to change the color of the map. Sometimes, I also wanted to add particular details to the map for presentation purposes.
I found that zooming in to focus on certain areas of the map was very useful. Fortunately, MapChart also has this feature which makes presenting my map very convenient. MapChart has all the features that I need to make a professional-looking map quickly and easily.
Color Countries and Regions to Make Learning Much Easier
As I mentioned previously, MapChart lets you color a map with the colors you want. This doesn't mean just the standard rainbow colors. There are pastel, neon, and even patterned colors. If the color I wanted wasn't there, I could create it with RGB color codes. With so many color options, the way I wanted to style my map was limitless.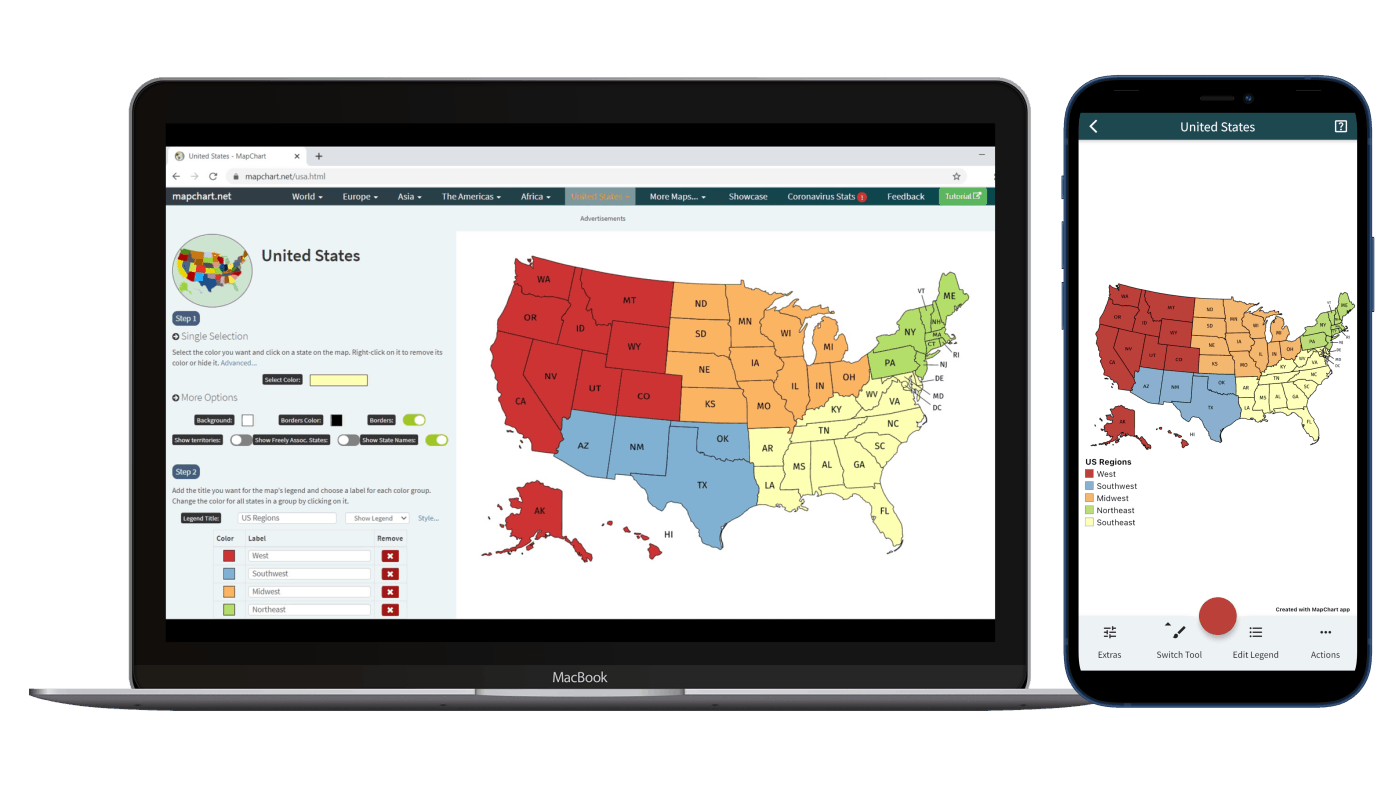 Coloring a map in the app is very easy. You start by opening the map that you want to edit in the Map Editor. Within the map, you can select a region by tapping on it. Then you add color by tapping on the circle in the middle of the toolbar.
You can use more vibrant colors to highlight areas that you want to make more recognizable. Don't forget to edit the legend so that it corresponds with the areas you colored. Using legends also makes it easier to provide more details to the map.
Another feature that I like when using MapChart is the ability to change the color of the background. This makes the map pop out so I can further highlight a specific area. I often use contrasting colors to make the map more distinguishable.
Create Your Own Fantasy Maps and Have Fun with It
MapChart is a very useful app for those who want to create fantasy worlds. In my opinion, being able to create a realistic fantasy map is one of its greatest features. I can create my fantasy map and let my imagination loose.
There is even an option where I can fill the map with divisions or regions. I can also add my history or alternate reality to the map. Using the legends option, I can fill the map with statistics that can be used to present some information on world-building.
Those who are interested in recreating maps from fantasy worlds like Middle Earth or Westeros can use the app to create fun moments.
Save, Keep, and Preview Your Map
Once I'm done creating and editing my map, I can save and keep it within the app. This is a highly useful feature since many other apps don't have the capability of saving your hard work on your phone.
Having this feature makes it convenient for me to import files. This allows me to use the file that contains the map in different presentations.
Teachers and tutors can use this to help their students from one class to another. The best part about this is that I can also preview the entire map to make sure that every detail has been added.
Previewing my map lets me know if there are certain areas that need to be improved so I can make a better presentation
Another great reason to download and use MapChart is the share feature. After I'm done creating and editing my map, I can easily share it with friends or with my class through the Share option.
Many other apps will require you to download the map and then transfer the files to another device so you can then present it. With the share feature, I don't have to take all of these complicated steps and run the risk of lowering the quality of the map.
I can immediately present my map with just one simple tap.
Recommendations on Using MapChart
Many will find MapChart to be a very useful app. Not only does it help you with your geography projects or satisfy your inner geek by creating fantasy maps, but it also helps in many other ways.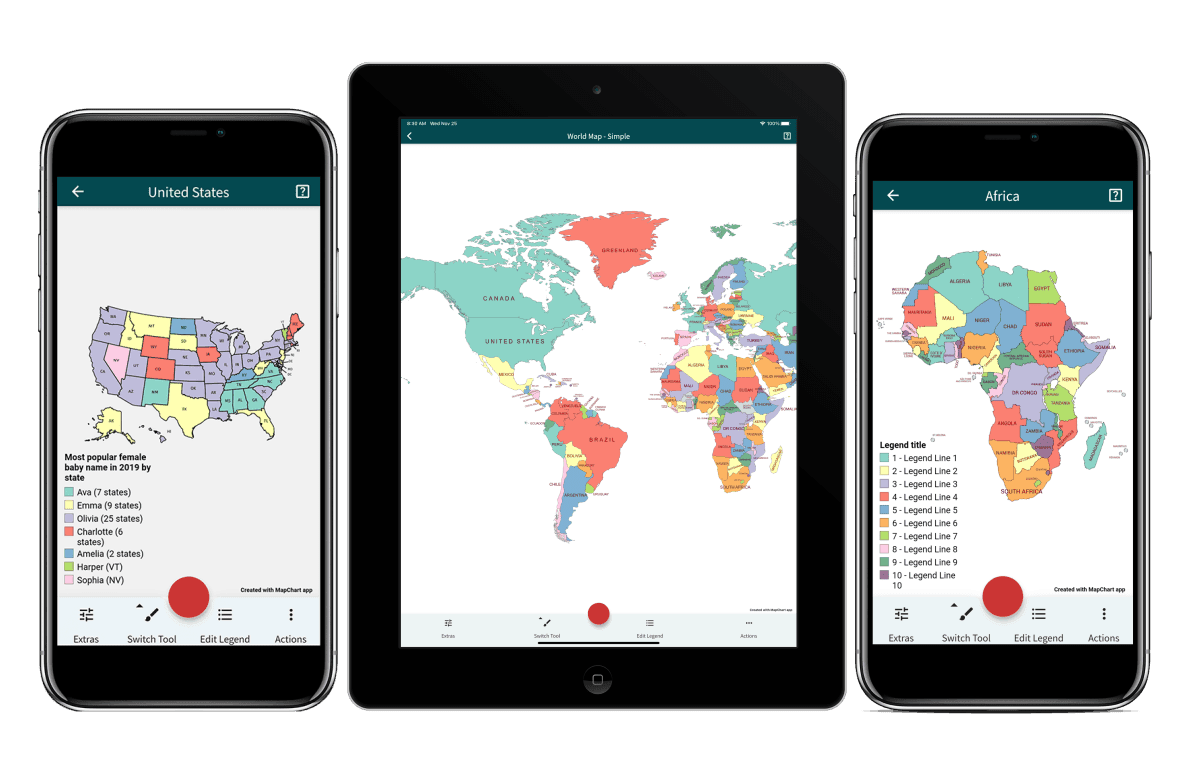 MapChart can be used as part of a travel itinerary. Whether you are traveling to stay in fancy hotels or couchsurfing to save money, this app can help you plan where in the world you want to go. I often use the app when I plan on going abroad and traveling to different countries.
I create a map of the country I travel to and then add notes for each region that I visit. This sometimes includes the places that I want to go to or the time I need to depart from the region to visit another.
Another great way to use MapChart is to teach geography and history to your children as early as possible while also having a lot of fun. You can even use the app to create map games that your child will surely enjoy.
Endless Possibilities with MapChart
MapChart can be used in many different industries. Many different businesses can utilize this app for surveys and market research.
Researchers can use the map to highlight areas that they have already covered and then add more details later.
The app can also be used for landing pages, sales presentations, infographics, and more. It can be used in journals, blogs, scientific papers, cartography, or many other locations. The possibilities are endless with this app.
Unlock More Features Through the Premium Version
All of the features on the app come for free. However, if I want to unlock more features, there is an option to purchase the premium version of the app.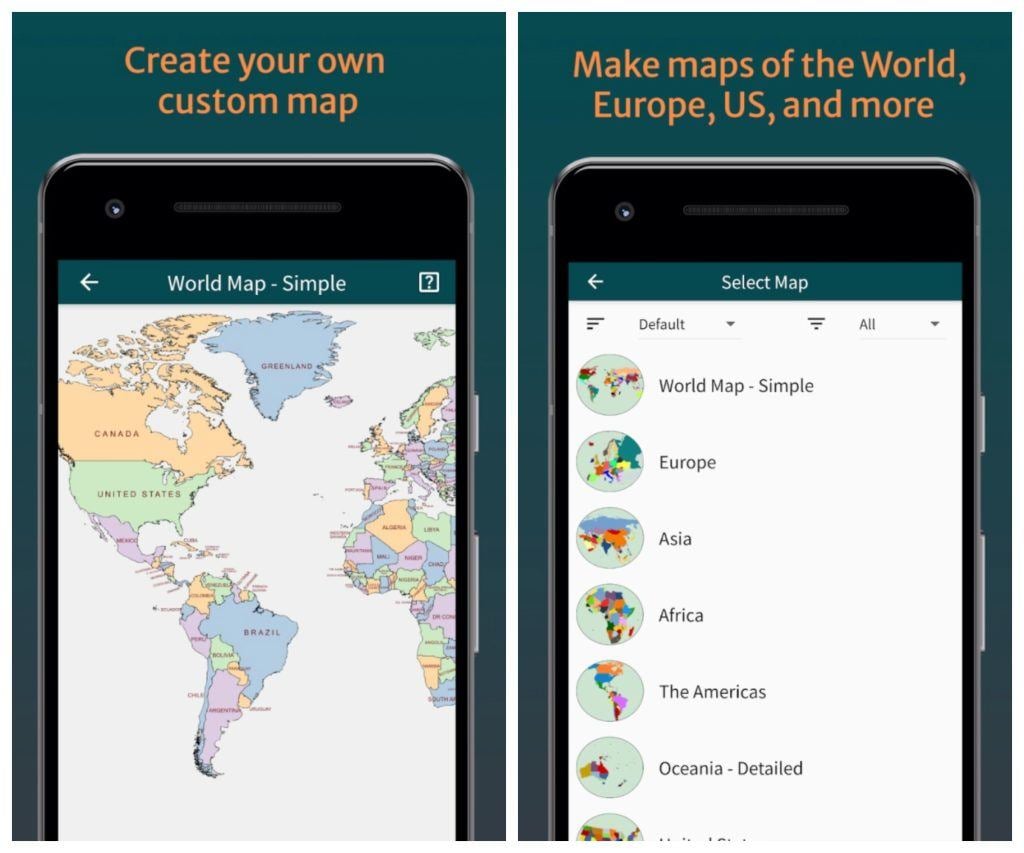 The premium version requires a one-time purchase and offers lifetime access to the advanced features. These features include a dark theme for those who want to work without compromising their eyesight.
There are also unlimited saved configurations for premium subscribers as well as unlimited color palette options.
Those who do not want to have a barrage of ads interrupting their workflow can opt for the premium version since it gets rid of the annoying ads on the app.
Downloading MapChart
Now that I've told you everything about MapChart, the last thing I want to do is explain how to download it.
All you need to do is search for the app through the Google Play Store or the App Store for both Android and iOS devices. Tap the "Install" button to begin downloading the app and wait until it is fully installed before you use it.
While waiting, you can also link your preferred payment method so you can immediately purchase the premium version of the app.
Conclusion
Whether you need to make a presentation, study geography, or simply have fun with creating fantasy maps, there's always MapChart to help you with what you need.
I highly recommend this app for parents to encourage their children to learn basic geography and allow them to explore different countries and cultures with the help of the app.