Are you seeking a mobile app that allows you to freely express yourself and connect with others? Perhaps you're interested in exploring a new social media platform where you can have endless fun and meet individuals from across the globe.
If so, the Kizim app is perfect for you. With Kizim, you can enjoy these experiences alongside your friends and family.
Kizim is a social media hub created by Luo Ball where you get to show your knowledge and talent through your friends and followers. Whether you want to express yourself or share tidbits of your daily life, Kizim has everything for you. Add photos and videos, share them online, and let your friends and followers see what you have to offer.
Unlock a world of possibilities with the Kizim app. Dive deeper into its features, explore how it simplifies sharing your daily life, and learn how to maximize your experience.
Discover everything you need to know about the Kizim app in the article below. From its main features to helpful usage tips, embark on a journey of exploration and connection.
What Is the Kizim App All About?
Get Tons of Followers
Share Good Things to Your Followers
Send and Receive Messages from Your Followers
Sharing Is Much Easier with the Kizim App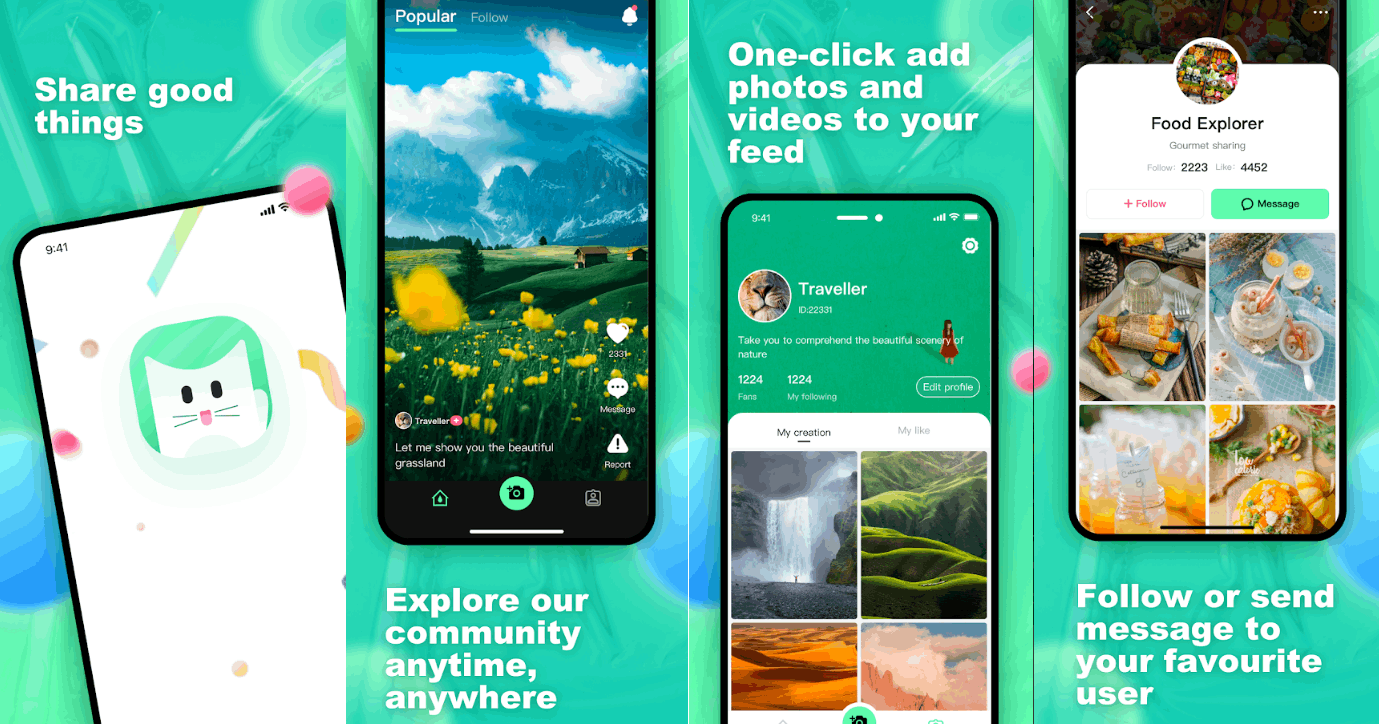 What Is the Kizim App All About?
Kizim is a cutting-edge social media app that has captured the attention of thousands of users worldwide. With its comprehensive set of features and beyond, it goes above the standard offerings of traditional social media platforms.
Experience a new level of connectivity and engagement with the Kizim app.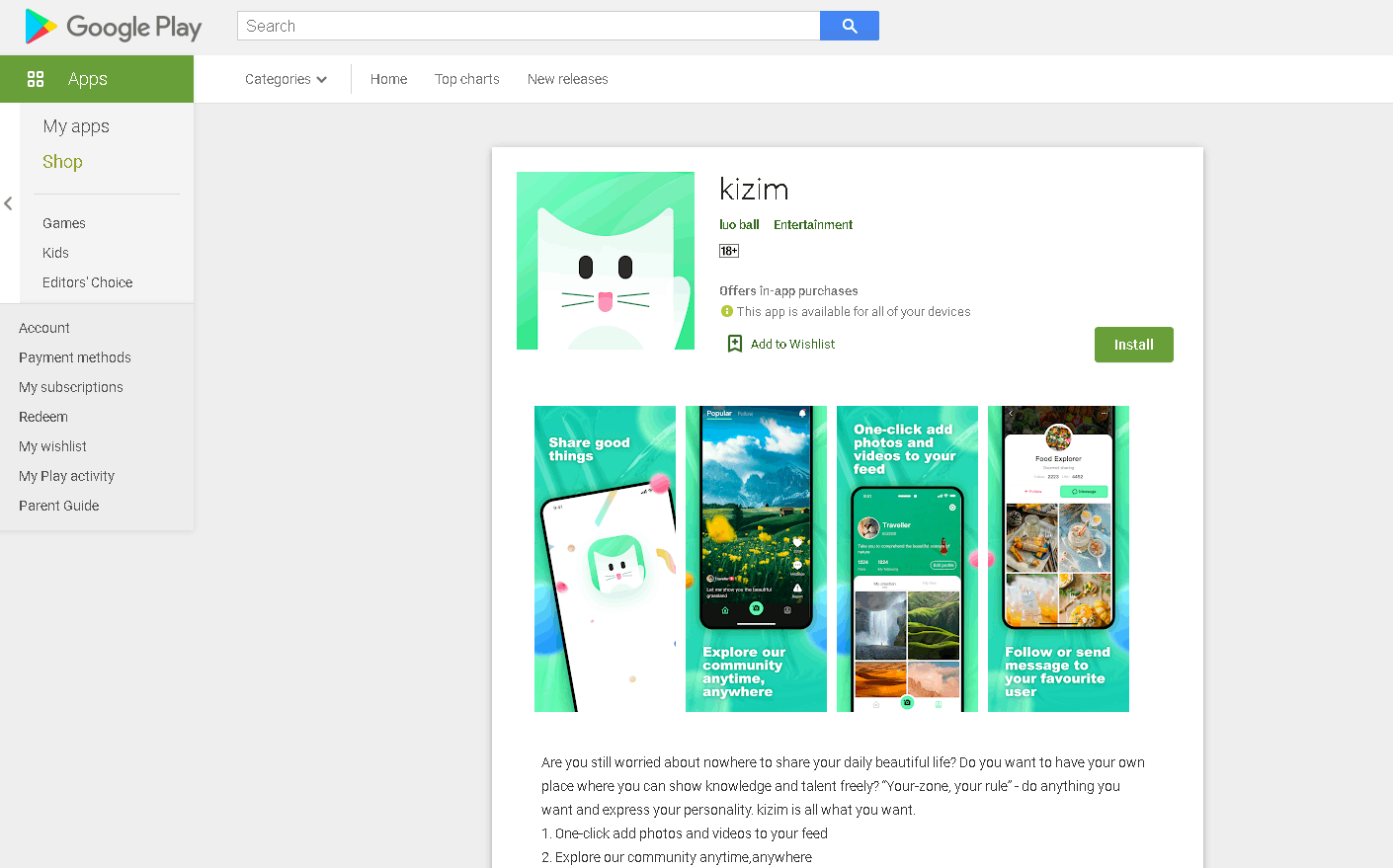 You can share your thoughts through posts and you can even share your photos and videos alongside them. Users can also search for their friends and family within the app and follow them.
Add more to your profile and you'll have a large community within your social hub. There is a huge community of users out there that is waiting to be discovered.
You can also send messages to your favorite user and even share your thoughts with them. Plus, there are still so many things to discover with the Kizim app.
How to Download
The Kizim app can be downloaded exclusively from the Google Play Store. It is important to ensure that you download the app through the official Google Play Store for the utmost safety and security of your device. Avoid downloading the app from any other platform to ensure a smooth and secure user experience.
To download, search for the name of the app and tap Install. Wait for the download process to finish and the installation procedure to complete. Once done, tap Open to launch the app.
Kizim also has in-app purchases to unlock more features so if you want to contribute to the growth and development of the app, you can unlock them by purchasing these features.
Get Tons of Followers
Once you register for an account, always remember to share such an announcement with your other social media accounts so you can encourage your friends to follow you on the Kizim app.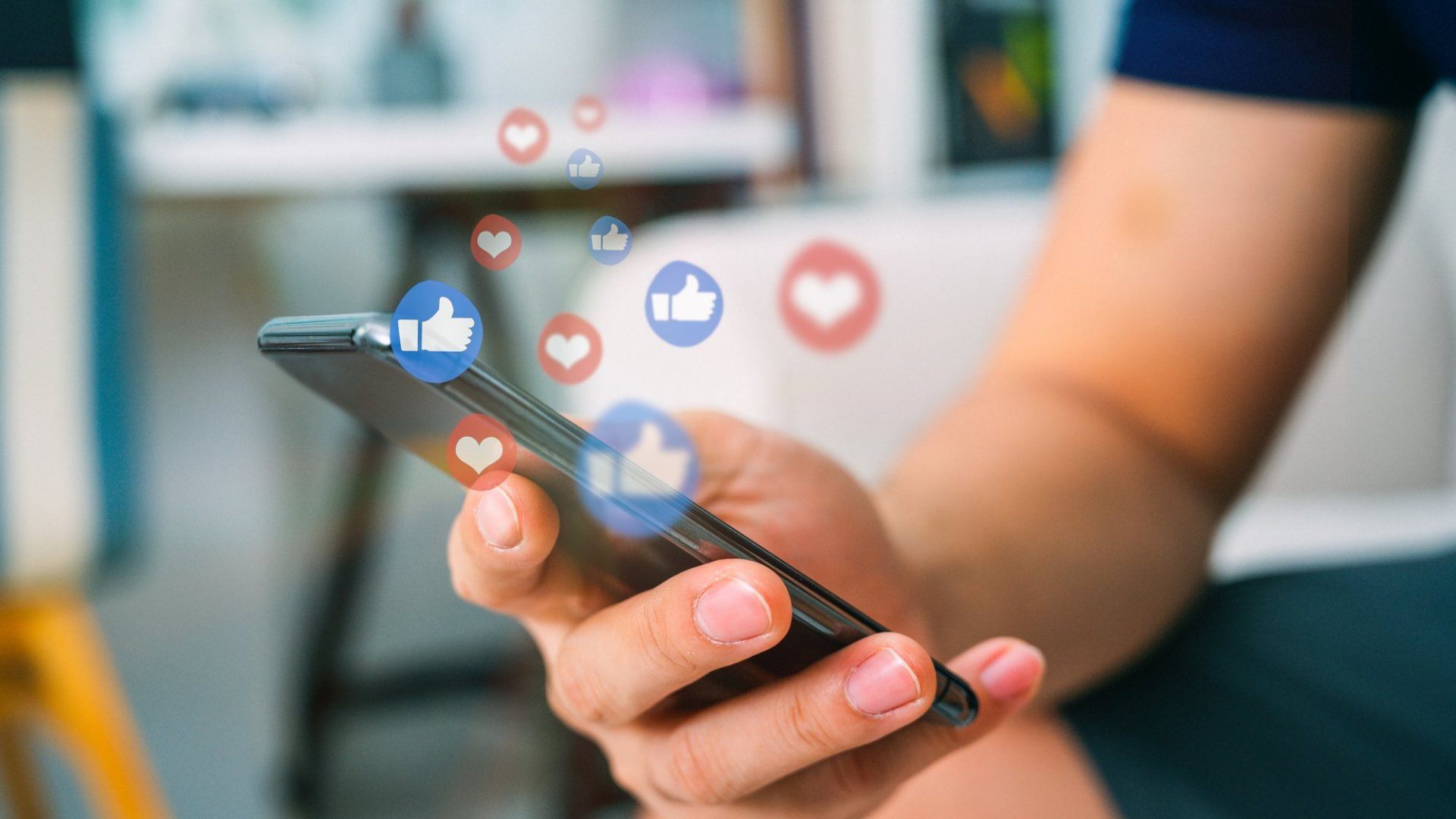 Make sure to fill up all the information needed for your profile and don't forget to add your most recent photo as your profile picture. Try to search for your friends and family on the app if you know they are already using the app.
You can also explore and discover new people to follow, especially celebrities and influencers on the app. Kizim is a special app where you can explore a tight-knit community anytime, anywhere.
You'll have tons of followers once you're able to reach out to as many people in the community. With the Kizim app, you'll have a vast reach in no time.
Tips on How to Get Followers Fast
Gaining a substantial number of followers for your profile is a common desire. However, it is crucial to prioritize organic growth over artificial means. Avoid attempting to purchase followers in order to artificially inflate your numbers.
Instead, focus on creating valuable content, engaging with your audience, and employing effective marketing strategies to attract genuine followers who are interested in your profile. Building a genuine and engaged following will yield better long-term results for your online presence.
You must always increase your following without having to use desperate measures. The best way to earn followers fast is to post authentic thoughts and share your real photos and videos.
Don't try to be controversial but rather, try to be more natural. Explore the community and attract more followers by interacting with them. The Kizim app is the best place to do this with its friendly community of users.
The Kizim app offers tons of ways to interact with your followers. Now that you have tons of followers on your profile, it is time for you to update them with your thoughts through your posts.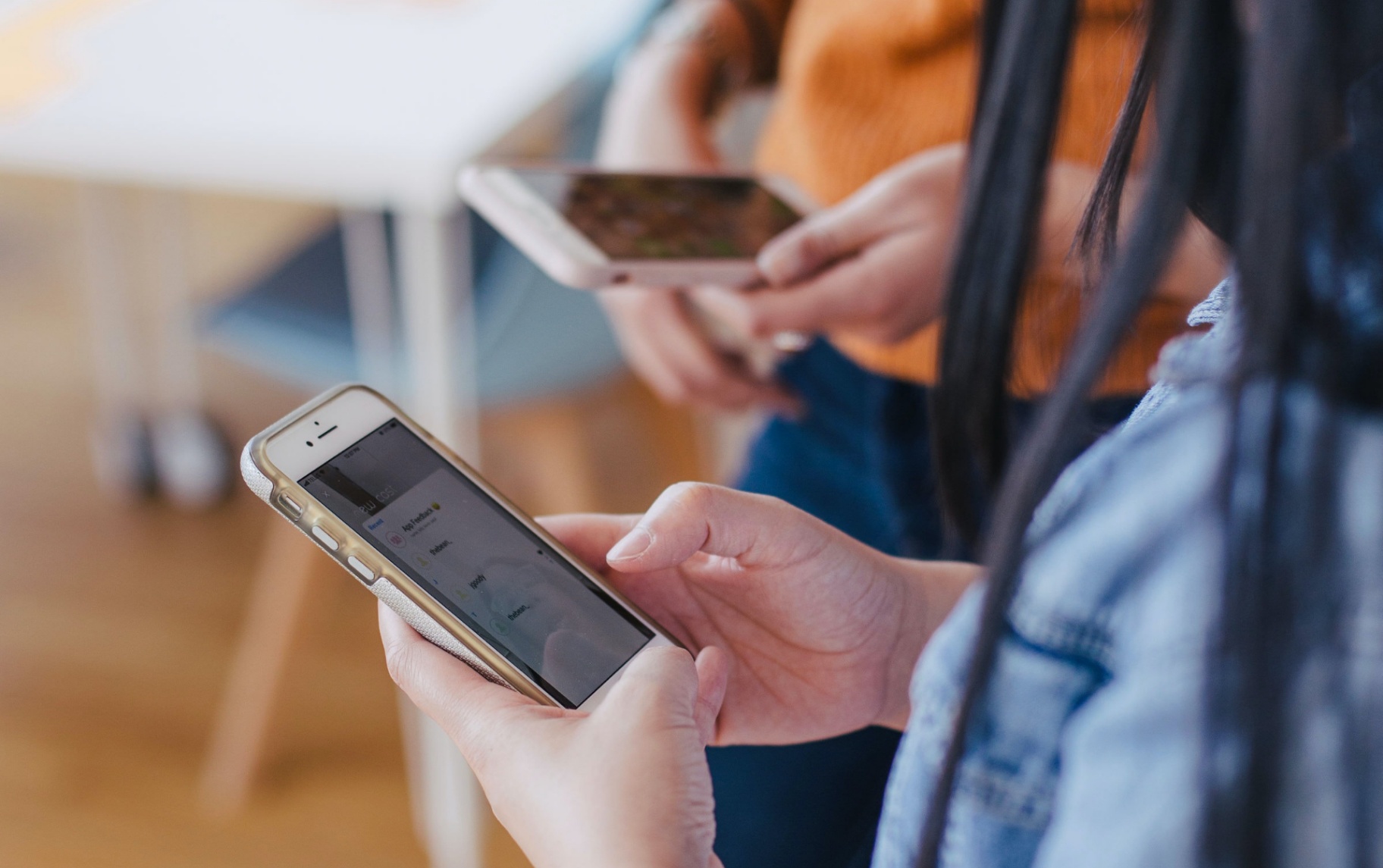 Sharing your thoughts and posts on the Kizim app is a simple and straightforward process. Just type your thoughts or content into the designated empty space and click on the "Post" button to share it with your followers.
Remember to focus on sharing positive and valuable content that resonates with your audience. By spreading positivity, you can create a welcoming and engaging environment within the app and foster meaningful connections with your followers.
With the Kizim app, you have the opportunity to connect with like-minded individuals and build a community around your shared experiences, gaining more followers.
Express yourself through your posts and be your authentic self.
Post Your Photos and Videos
Another good way to update your followers is to post photos and videos. With just one tap, you can choose and upload your photo or video to share with your followers.
You can also edit and smoothen your photos to make them more appealing to your audience. Videos can also be uploaded but make sure that you follow community guidelines when it comes to explicit content.
Try to read the rules and guidelines first before you make your first photo or video upload just to make sure you won't incur some penalties.
Send and Receive Messages from Your Followers
Kizim is all about building a community. Whether you want to have a tight-knit group of followers or a vast network of people from all over the world, the Kizim app has the features for you to do so.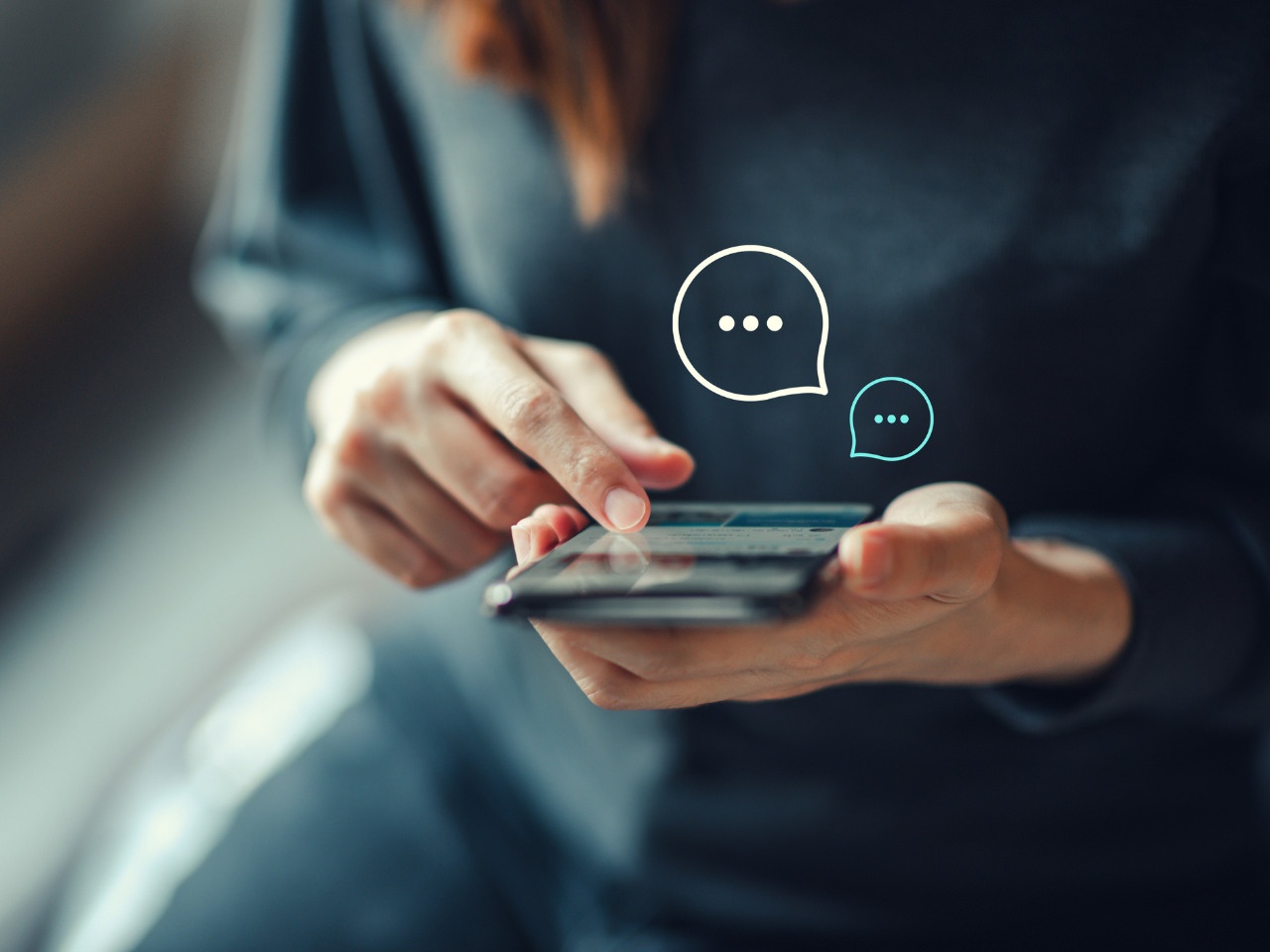 One good way to build rapport and get close to your followers is to send and receive messages. All you need to do is to follow them and the option to message them will be available.
There are also instances where the profile already has the messaging option enabled. Go ahead and message each other and share your thoughts with them in private.
Chat with your friends and family through the messaging feature to get updates from them.
Check Out What's Popular
Users are always fond of exploring and finding out what's new and popular. Trending or viral videos are the key to becoming popular within the social space. If you want to explore the app even further and find out what's trending, there's an option at the upper portion of the screen called Popular.
The Popular tab in the Kizim app allows you to explore trending videos and discover new individuals to follow. It serves as a great source of inspiration for creating engaging content and gaining popularity within the app.
By observing the trending videos, you can get insights into the types of content that resonate with the community and incorporate similar elements into your own videos. This can help you increase your chances of becoming trending and popular among users of the Kizim app.
By initiating a dance challenge or starting a trending post, you can attract the attention of other users and encourage them to participate. This not only showcases your creativity and originality but also increases your visibility within the community.
Sharing Is Much Easier with the Kizim App
Today, numerous social apps face the challenge of limited sharing features, with many restrictions on sharing content across different platforms.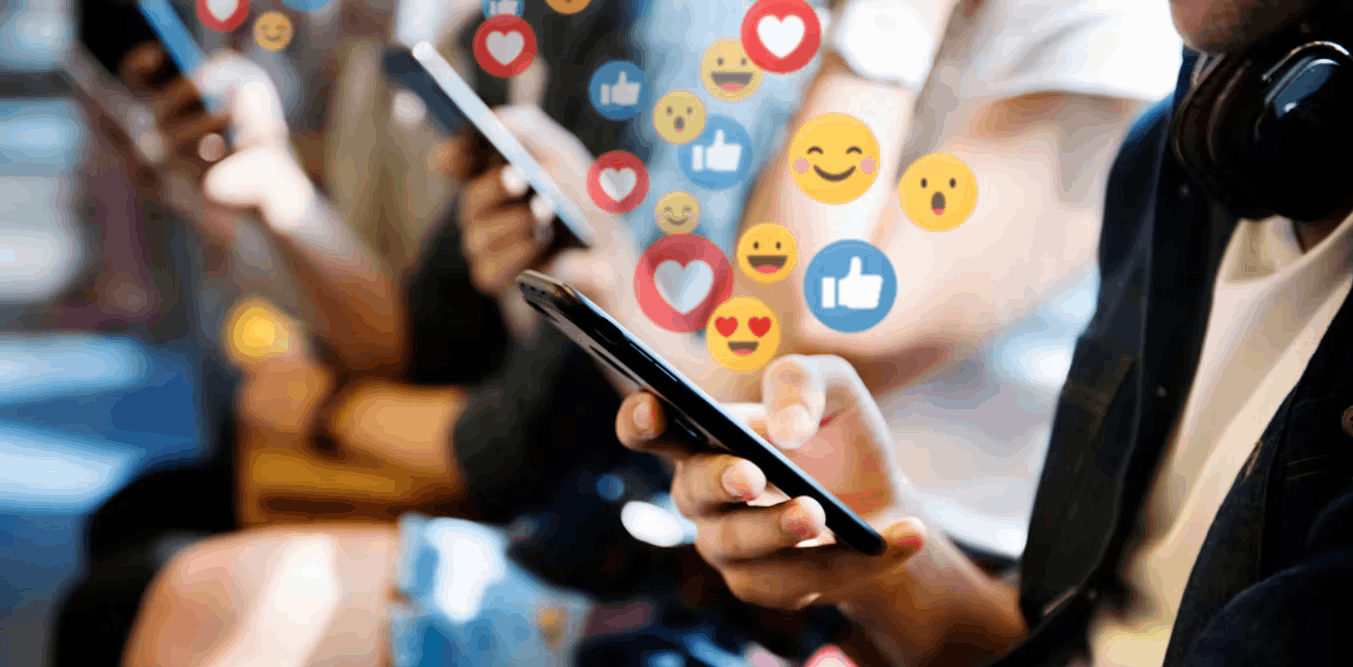 Fortunately, that is not the case with the Kizim app as sharing is much easier. You can share your posts, photos, and videos without having to go through different procedures or tapping the screen on your device endlessly just to share one post.
Creating and sharing content on social apps has become effortless. Simply create your content, select your desired audience, and with a tap of the share button, your content will be published and instantly shared with your followers in a matter of seconds.
The Pros and Cons of Using the Kizim App
There are numerous aspects to appreciate about the Kizim app, but it also presents opportunities for improvement. Starting with the positives, being a brand new app brings a sense of novelty and excitement, offering users fresh and innovative ways to engage with the platform.
This makes Kizim an enticing platform for individuals aspiring to gain prominence within the social media community. Its user interface is designed to be straightforward and user-friendly, ensuring that even those with little to no experience using social apps can navigate and utilize Kizim with ease.
While it's true that Kizim is still in its early stages and may not have a large user base yet, its promising features and user-friendly interface indicate that it has great potential for widespread popularity in the future.
As more people discover the app and experience its unique offerings, it's likely that Kizim will gain traction and attract a larger community of users.
Conclusion
If you're seeking a fresh and straightforward social app experience, look no further than the Kizim app. With its blend of familiar features and the potential to become a prominent player in the social media landscape, Kizim offers an enticing opportunity.
Don't hesitate to download the app, set up your profile, and embark on your Kizim journey today! Discover a new way to connect and engage with others in the digital world.