Do you ever desire to start working out but lack the time or energy? You want to get started but don't know where to begin. The Lucky Step app, fortunately, can jumpstart your fitness journey while also providing you with all you need to maintain your healthy lifestyle.
The Lucky Step app is a mobile pedometer app that lets you track your activities through the steps you've made and the calories that you have burned. It features report graphs so you get data on how well you've done and how much you need to improve to get to your fitness goal. Whether you want to lose weight or simply get yourself into an active lifestyle, make the Lucky Step app your partner.
For those who are interested in using the app, or if you wish to learn more about what the app is all about, check out the guide below. You'll be able to understand how to download the app, how to use it, its main features, and a few more surprises. in this article.
Tracking Your Steps for Weight Loss
Using Lucky Step to Track Your Daily Activities
Set Your Step Goals
Benefits of Using Lucky Step
Earn Coins by Walking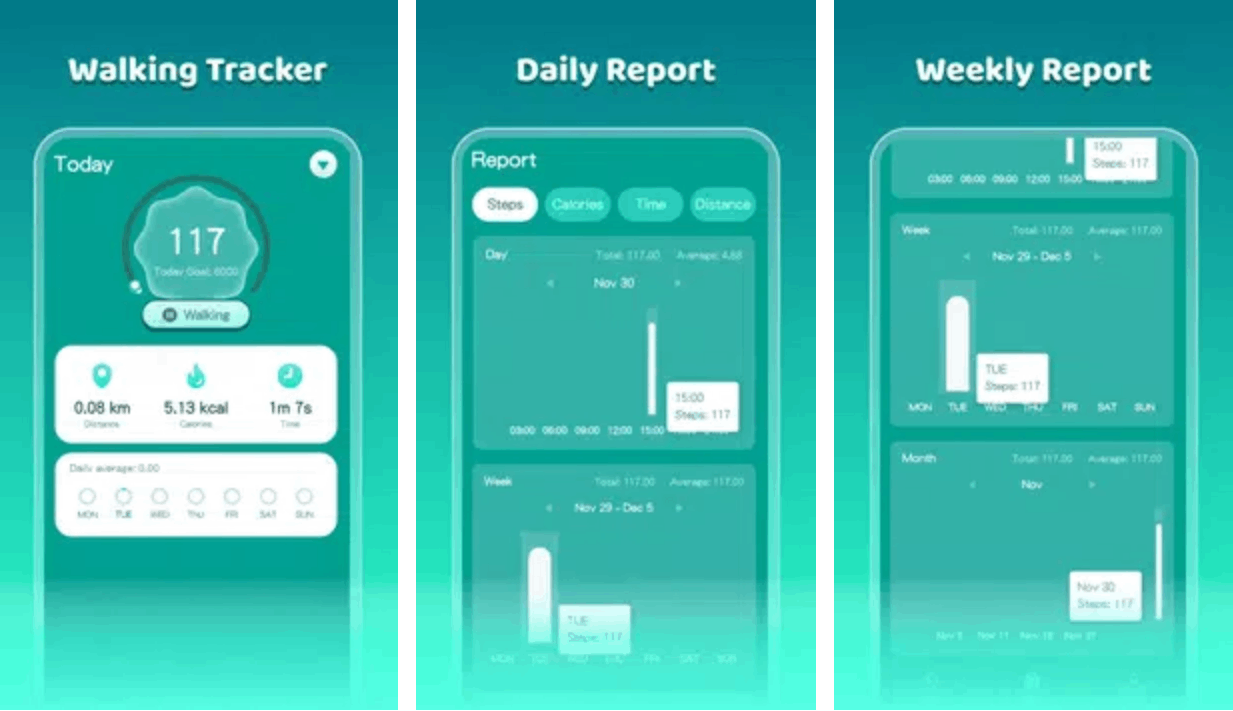 Tracking Your Steps for Weight Loss
Lucky Step is a pedometer app where users can track their activities based on the steps that they have made.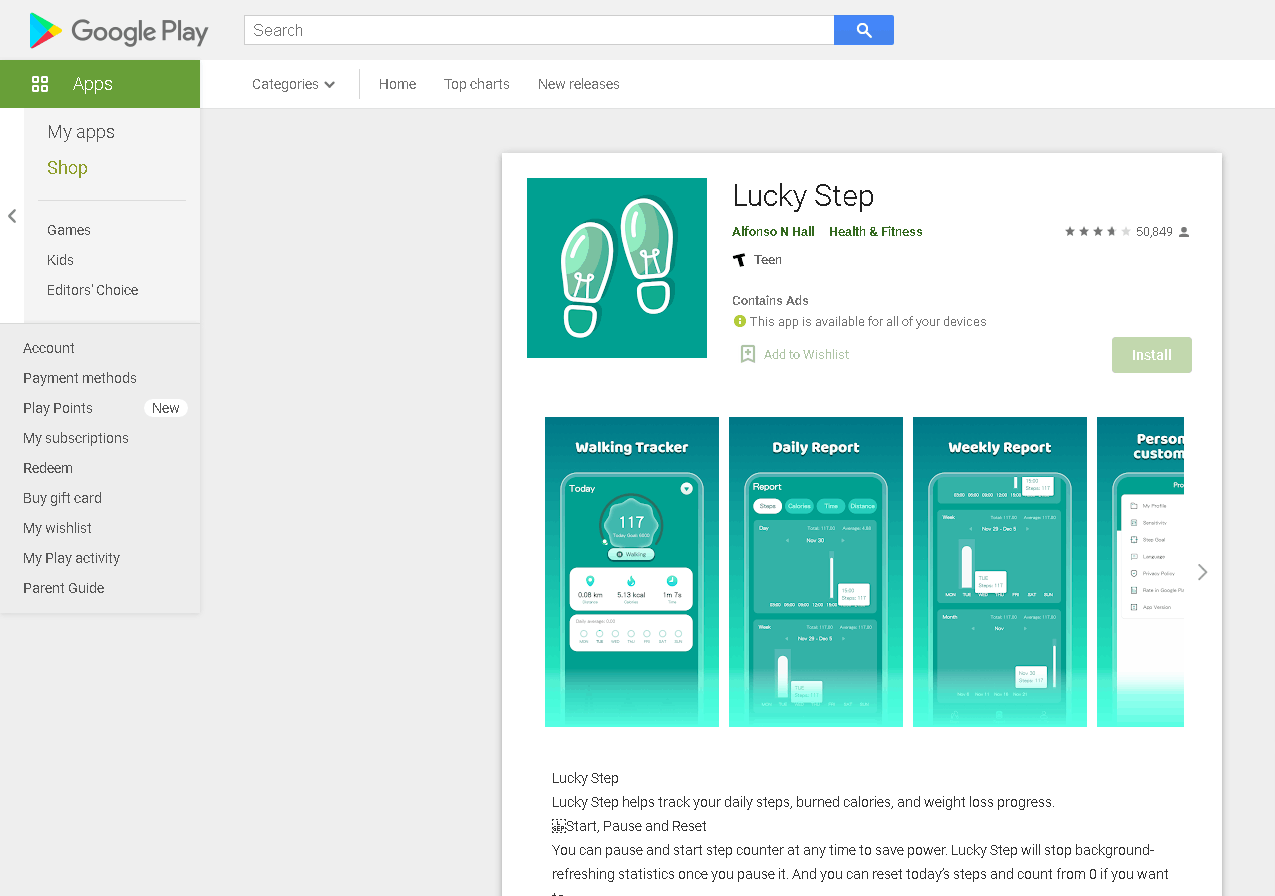 When enabled, the app shows all of your steps and many other statistics such as the calories that you have burned and the weight loss that you have achieved.
These can only be done when you have already input your information on the app before you use it.
Lucky Step is also a great app to use if you want to earn a little bit of income as the app has a feature that lets you convert the steps you've made or the weight that you have lost into credits. This will surely encourage you to become healthier through the use of the app.
How to Download Lucky Step
Lucky Step is available to download exclusively at the Google Play Store. The app was created by Alfonso N Hall. To download this wonderful app, tap Install to begin the download process and wait until the Open option appears.
This means that the app is fully installed on your phone. Tap Open once it's done and it will launch the app. Take note that the app contains ads.
Make sure to download the app specifically only at the Google Play Store for safety reasons. Never download the app on third-party platforms.
Using Lucky Step to Track Your Daily Activities
One of the main features of Lucky Step is its ability to track your activities throughout the entire day. To use the app, all you need to do is launch it after downloading the app.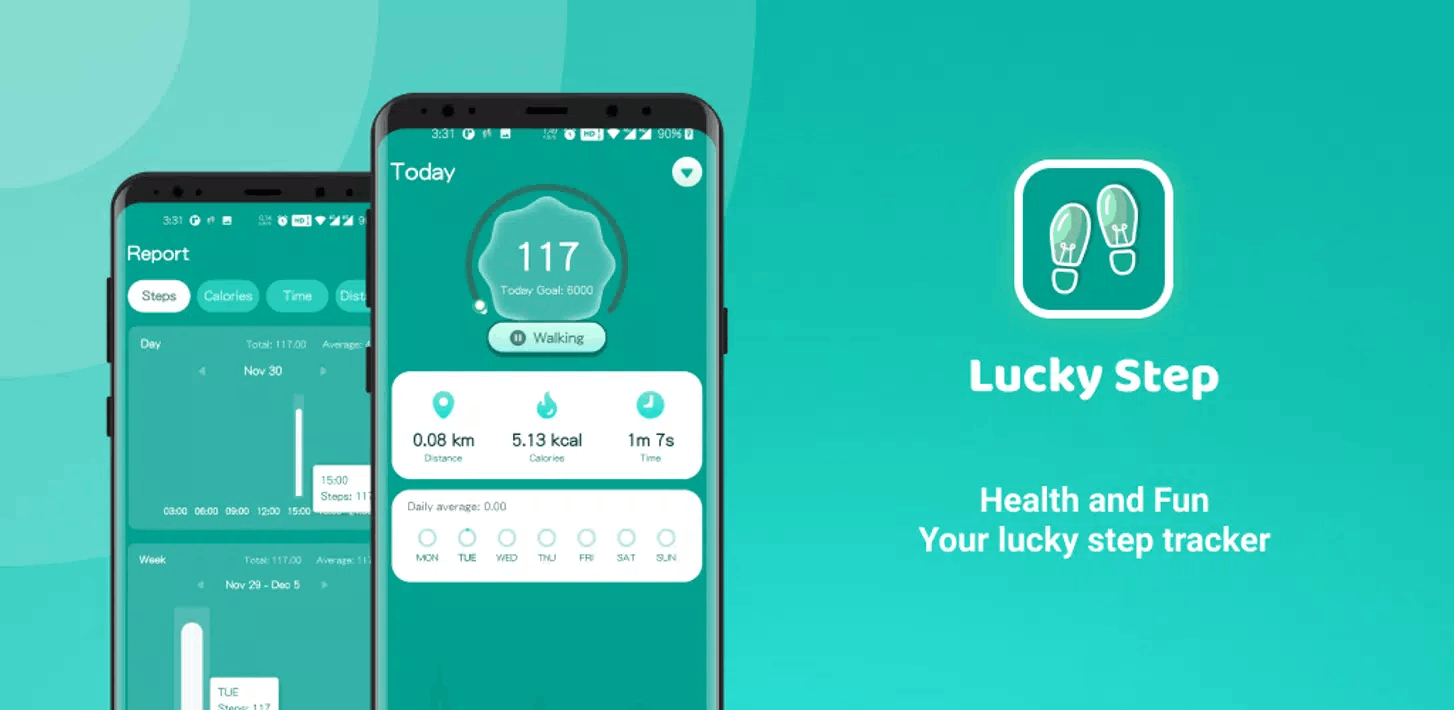 You can use the app immediately by enabling the tracker and then you can keep it in your bag or your pocket while you work out or go out for a walk. You can also connect the app to your other device such as a FitBit watch and proceed to do your daily exercise routine.
It will then track all of your movements and activities. To check the data, simply launch the app again after your routine and check the tracker.
You can also receive a daily report at the end of the day. Users can pull up reports to track their progress throughout the entire time they have been using the app.
Tracking Your Every Move with a Built-in Sensor
Many pedometer apps often use GPS tracking on your phone to ensure the accuracy of your location and the activities that you have made for proper tracking. Lucky Step uses a built-in sensor to track and count your every step.
This built-in sensor does not use any of your phone's GPS tracking so it will not consume battery power. This is highly beneficial if you are going on a run for several hours.
Battery power is very important if you are going outside to exercise. The built-in sensor keeps track of all of your activities thus allowing you to see your progress later on.
Set Your Step Goals
Using Lucky Step is all about setting your goals. Whether you want to set a daily goal or a weekly goal, it is all up to you.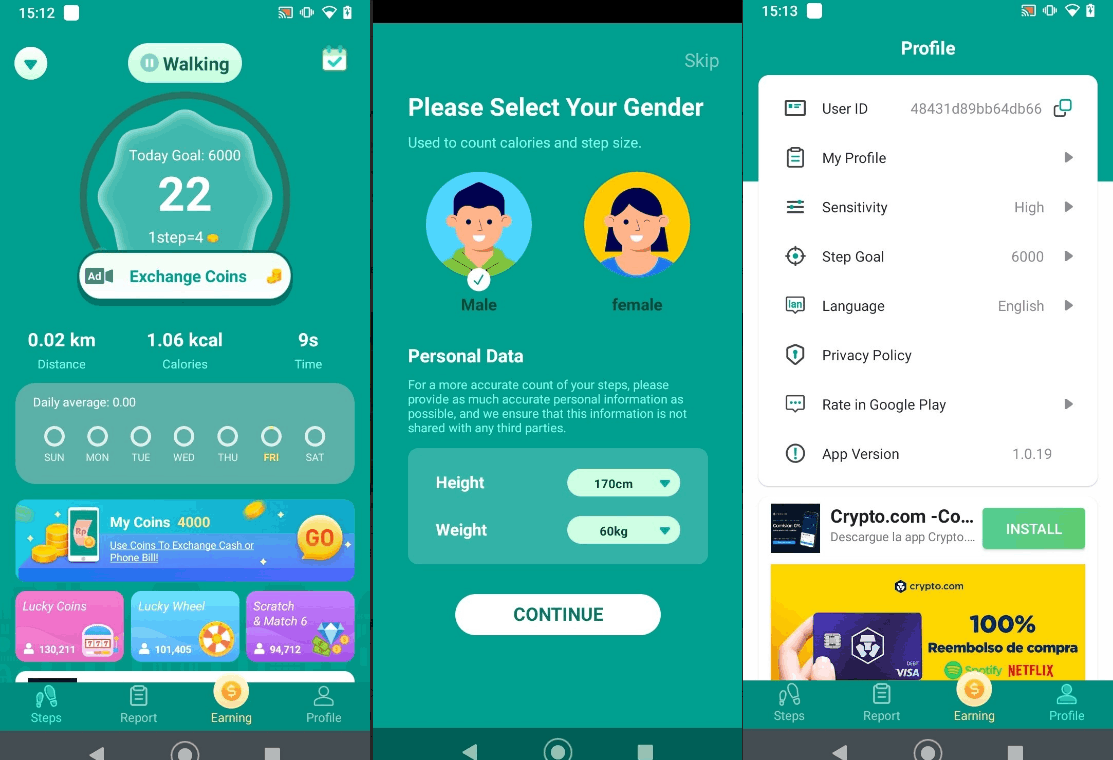 You can even do a monthly goal if you wish to have a more long-term objective with your health journey. Goals can be steps per day or calories burned. For example, you can always set your goal of 10,000 steps per day which can be easily achieved if you are an active person.
Those who wish to burn calories and get fit should always set a greater goal, such as 20,000 steps per day, and stick to it.
These goals are very easy to achieve so you can add more activities to try and make things more challenging.
How Many Steps You Should You Take Every Day
The number of steps that you need to achieve every day for fitness depends on you. There is no real number as to how many you should take to get to your goal. One of the most popular recommendations is 10,000 steps per day.
You can use that as a starting point and check the app to see if you've made progress toward your goal. When it comes to using the app to achieve your goals, there is no one technique that is preferred over another.
Each user can set their own goal whether you want to start with a few thousand steps a day or go for a world record. This is the beauty of using the Lucky Step app. You can work towards your fitness goal at your own pace.
Benefits of Using Lucky Step
Lucky Step has a lot of health benefits that you can take advantage of. Since the app collects data from your activities, you can plan your next goal.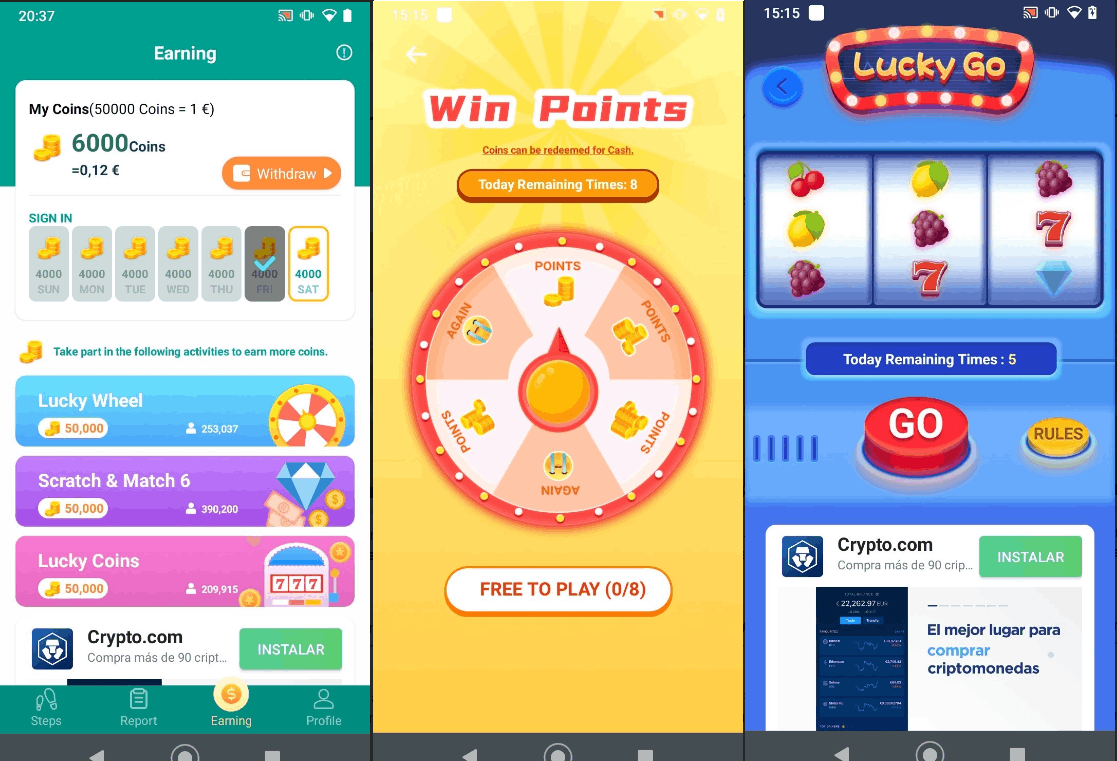 You can slowly increase your goals every week until you feel that you have finally reached them. The data tracked by the app helps you set a goal for yourself to improve your current situation.
With that, you are accountable for all of your actions toward your health goal. Using the Lucky Step app allows you to be responsible for your actions which can then turn into a great motivator.
If you run short on your goals, you can push yourself to the limit just to fulfill your goal for the week as evidenced by the record.
Even More Benefits You Get with Lucky Step
Weight loss is the ultimate reason why users want to use the Lucky Step app. Lucky Step lets you focus on your daily activities. Having the app nearby helps with weight loss since it lets you become more active.
You can immediately see the results of your actions and the calories that you have burned by just launching the app after you're done with your routine.
You can then keep track of your weight loss journey and see how much weight you've lost through the tracker. Keep in mind that the app only focuses on activities like walking and running.
Earn Coins by Walking
Now, you may have already been thinking about downloading the Lucky Step app due to its benefits but there is one more feature that you should learn more about.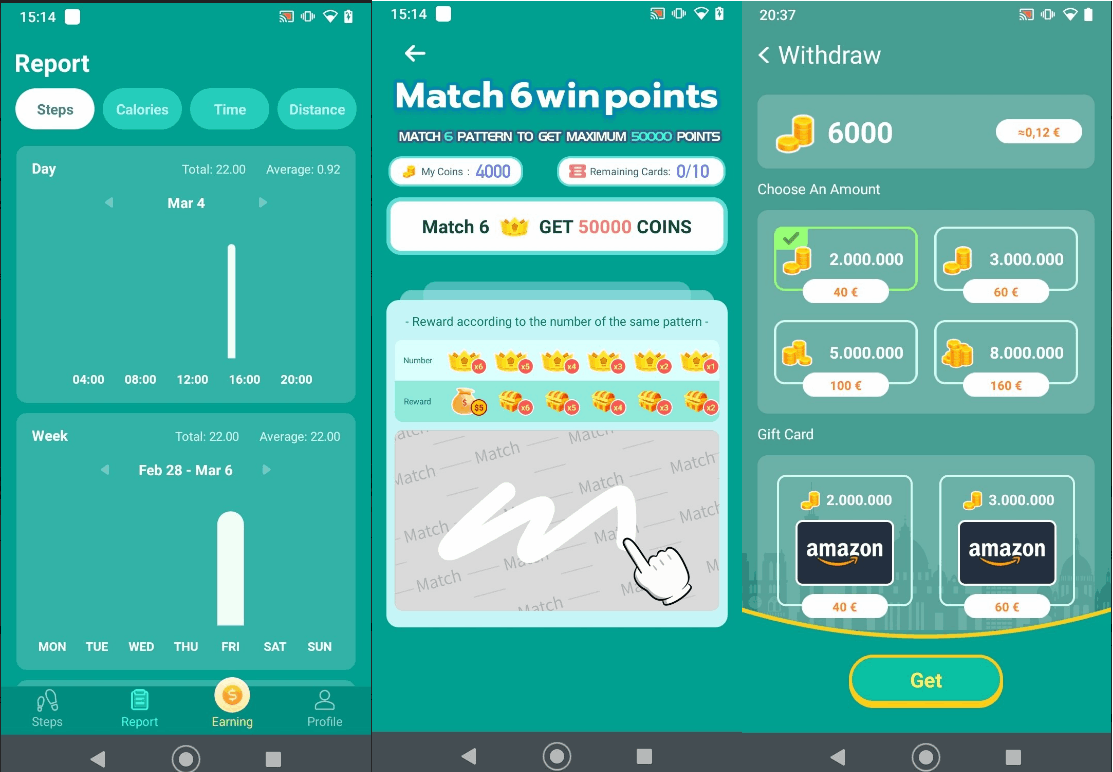 Did you realize there's a way to make money within the app itself? The number of steps you take throughout the day is recorded by the app. Lucky Step is a comprehensive health and fitness tracker. It's an app that offers incentives for getting some exercise.
For every four steps you take, you get to earn one coin. You can then use the coins that you've gathered and convert them to real cash. Remember that you can only convert the coins and withdraw them once you reach a certain amount.
It is best that you try to go beyond the goal and keep on earning before you choose to receive your money. Many might think that this is not true, but it is still best that you try it out for yourself.
Do Different Tasks to Start Earning Even More Coins
The Lucky Step app might be a pedometer app that lets you earn coins but there are various ways to earn coins fast. One of which is by playing games that are featured within the app.
Play the mini-games and start earning coins while you go for a walk. There are also other features like scratching the code and spinning the wheel that will reward you with random amounts of coins every day.
Try to refer your friends to the app as well so that you get to earn additional coins. With all these measures, you should be able to reach your health goals in no time while also receiving a little bit of money along the way.
Conclusion
Getting healthy is a matter of choice and now is the time for you to do so with the help of Lucky Step. Not only are you setting your fitness goals and achieving them, but you also get to earn a little bit of money on the side while also enjoying different activities on the app.
Make sure that you follow through with some of the advice found in the guide above so you can optimize the use of the app.