Being an adult brings with it many challenges, one of them being the constant responsibility of having to deal with a myriad of boring but necessary documents. There are contract documents, the incessant bills every month, kid's applications, and permission slips, among many others.
I personally have a hard time juggling all my documents, let alone remembering to sign them. But, with everything going digital, it's not just the environment that experiences the perk of less paper required. Digital apps also let us sign documents digitally from literally anywhere.
One such app is DocuSign. It is a fast and convenient way to sign documents electronically from our devices from anywhere in the world. No more printing, faxing, mailing, or carrying documents with me and keeping track of signing them on time. I'll tell you all about DocuSign below.
About DocuSign
Wide Range of Features and Formats
Guaranteed Compliance and Security
Learn Signing Documents in One Go
Learn about the Different Plans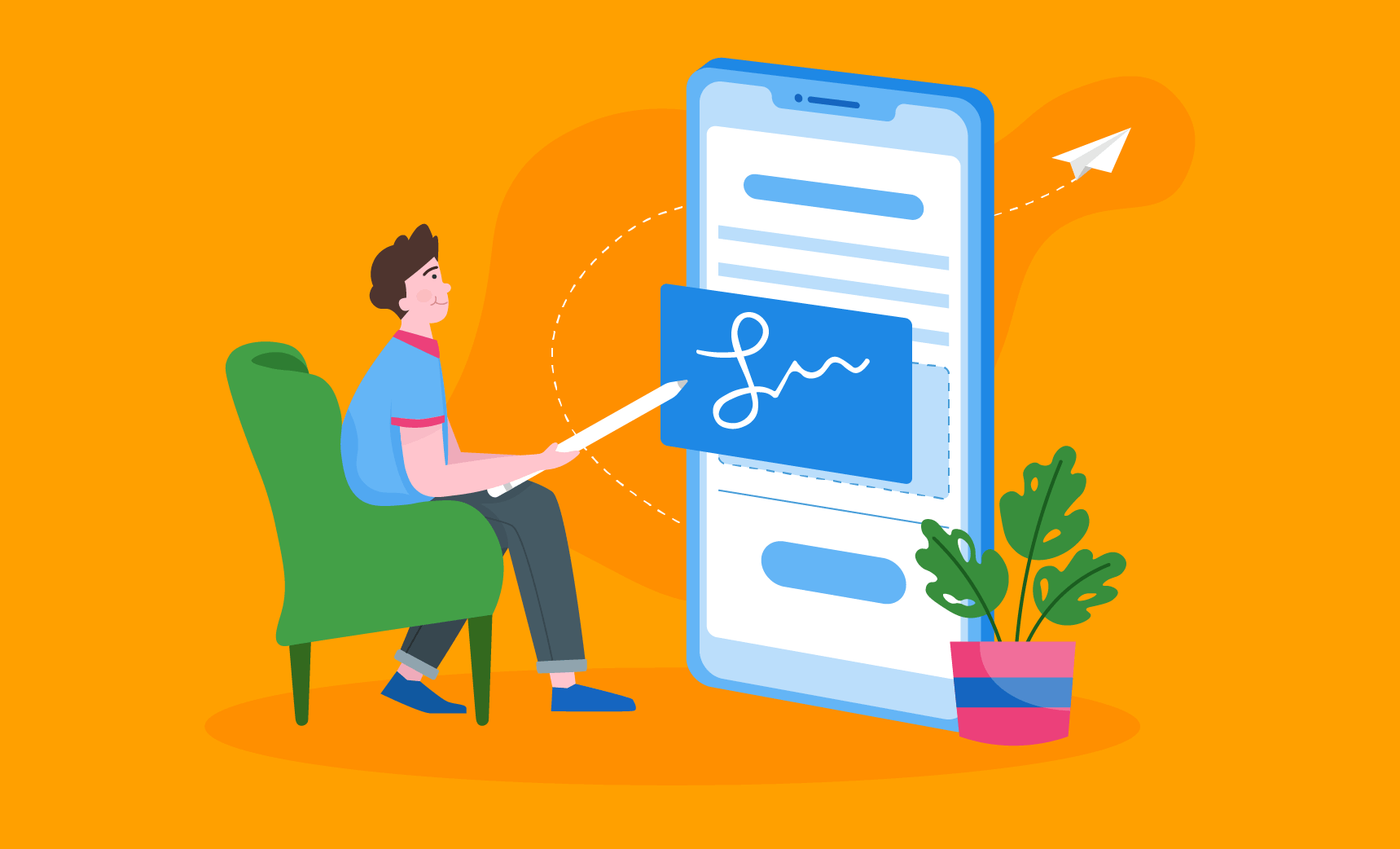 About DocuSign
As I mentioned earlier, DocuSign is a digital app meant for business organizations that enables users to electronically sign documents. This saves not only the effort of transferring documents from one person to another and waiting for their signatures, but it also speeds the process up.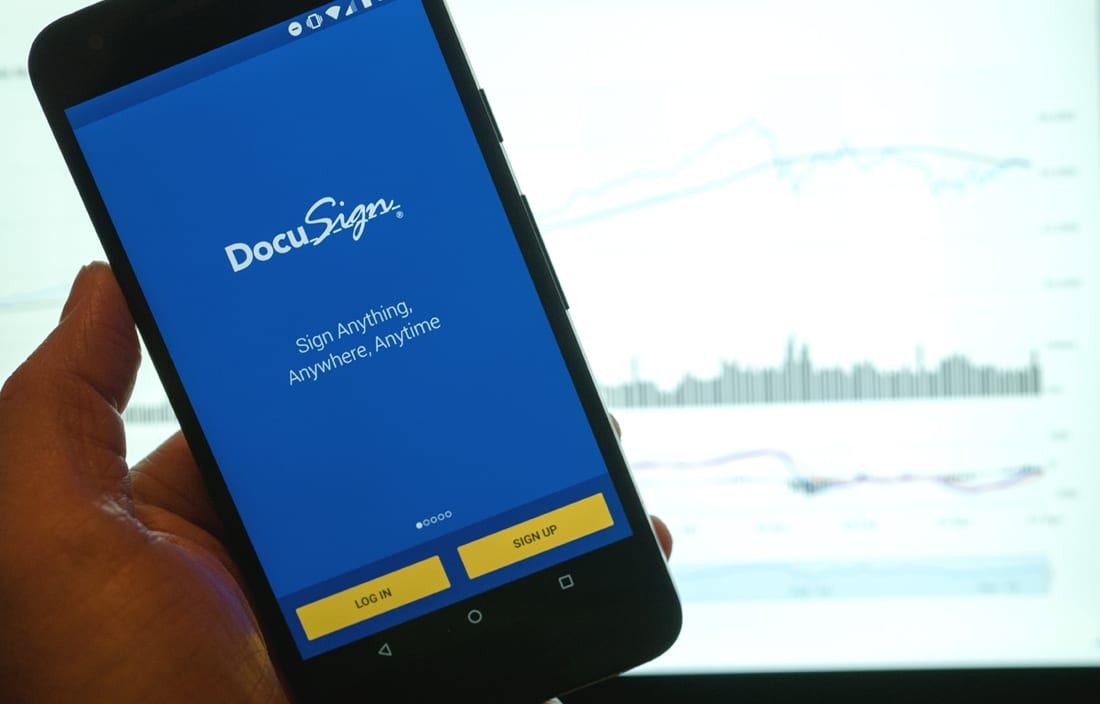 I can simply send the digital papers to the concerned person without wasting paper or spending too much time. This app can be used with any device and is an ideal pick for any business enterprise or even personal use.
Through this app, I can sign documents instantly, whether it is related to closing sales, approving a project idea, signing a merger agreement, collecting payments, or simply signing for a package I received.
One of the best parts about using this app is that it keeps my papers safe and secure. I don't have to carry around so many documents, which also means that I have no chance of losing them.
Multiple Advantages
The ease and simplicity of eSignatures contributes to a better employee experience by helping to keep the business and personal environment stress-free.
Another perk that DocuSign grants is increased productivity. As a human resources manager, I am now liberated from all the monotonous manual work and can use that time to strategize more productive and fruitful initiatives.
The most advantageous factor of this app is its Professional Services. I can partner with DocuSigns' professional team and design layouts and business strategies that fit my organizational needs perfectly. They provide experts and advisors to integrate and implement ideas that will take my business to great heights.
Wide Range of Features and Formats
DocuSign has more than 200 million users worldwide because of it's widely accessible and easy to implement attributes and features. Documents can be stored through cloud storage services like Dropbox, Microsoft SkyDrive, Evernote, Google Drive, Egnyte, among others.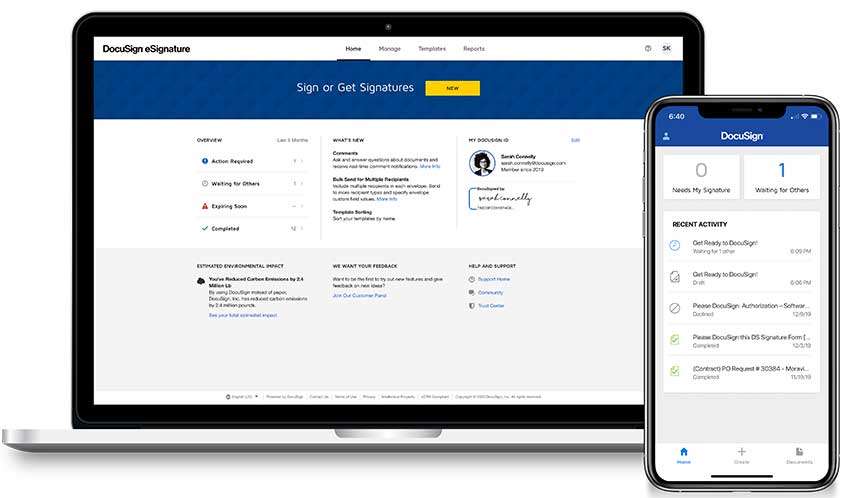 Both signers and senders have the option to upload images using the Drawing field attribute, which also enables signers to leave free-form markups on those images.
DocuSign supports file types from most applications like Excel, PowerPoint, and Microsoft. It also supports PDF documents and converts them to signer fields. Moreover, this app provides formats such as .docx, .doc, .xls, .txt, and many others.
DocuSign also makes the task of guiding other employees easy by providing more than 20 standard and custom tags and fields. I can insert a standard tag at places where I want to collect signatures, initials, titles, numbers, and names.
PowerForms and Supplemental Documents
DocuSign's PowerForms will have my back if I need to whip up a document in a hurry. These PowerForms are instantaneous, code-free, self-service documents. My obtained data is likewise stored in their databases.
To make my document more thorough, I can also send supplemental documents which can contain legal terms, conditions, or any other detail that I want to provide my recipient. This way, they can have all the information they need before they sign the documents.
Lastly, through the DocuSign web, the senders and recipients of documents can exchange feedback with real-time comments along with tracking conversations by going through their history for transactions.
Guaranteed Compliance and Security
Although eSignatures are convenient, I worry that the information in my documents could be stolen. Not with DocuSign, thankfully. Thanks to this program, I can experience a whole new level of productivity without worrying about the security of my files.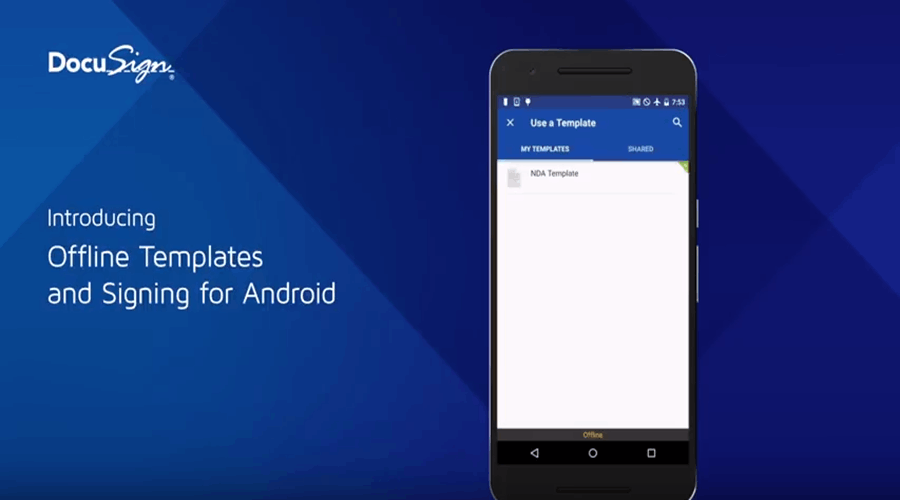 With the DocuSign integration, you can keep tabs on who signed what, when, and where with a legally binding audit trail.
Furthermore, all the digital documents are encrypted to ensure that all the activities related to that document are recorded in the audit trail.
This means that the app is backed with security compliance and certifications, in addition to comprehensive and reliable policies. Even better, the DocuSign connector improves the NIGO (Not In Good Order) rate of my documents by 85%.
Wait, there's More
DocuSign offers me a chance to engage and enroll any number of signers and grant them permissions that go beyond merely signing.
This process is further secured by the authentication process the signers are required to go through – including identity verification, email-based authentication, and more, before they can access any of my documents.
I can also assess specific transactions like payment processing, content analysis, notary, leases, and loans, among others. With the use of its artificial intelligence (AI), I can view insights and analyze agreements via visualized dashboards.
Learn Signing Documents in One Go
To sign a document on DocuSign, firstly I need to create my customized signature directly on the device I'm using. After that, I just need to access the document via email, Evernote, Salesforce, or any other platform to be able to sign it.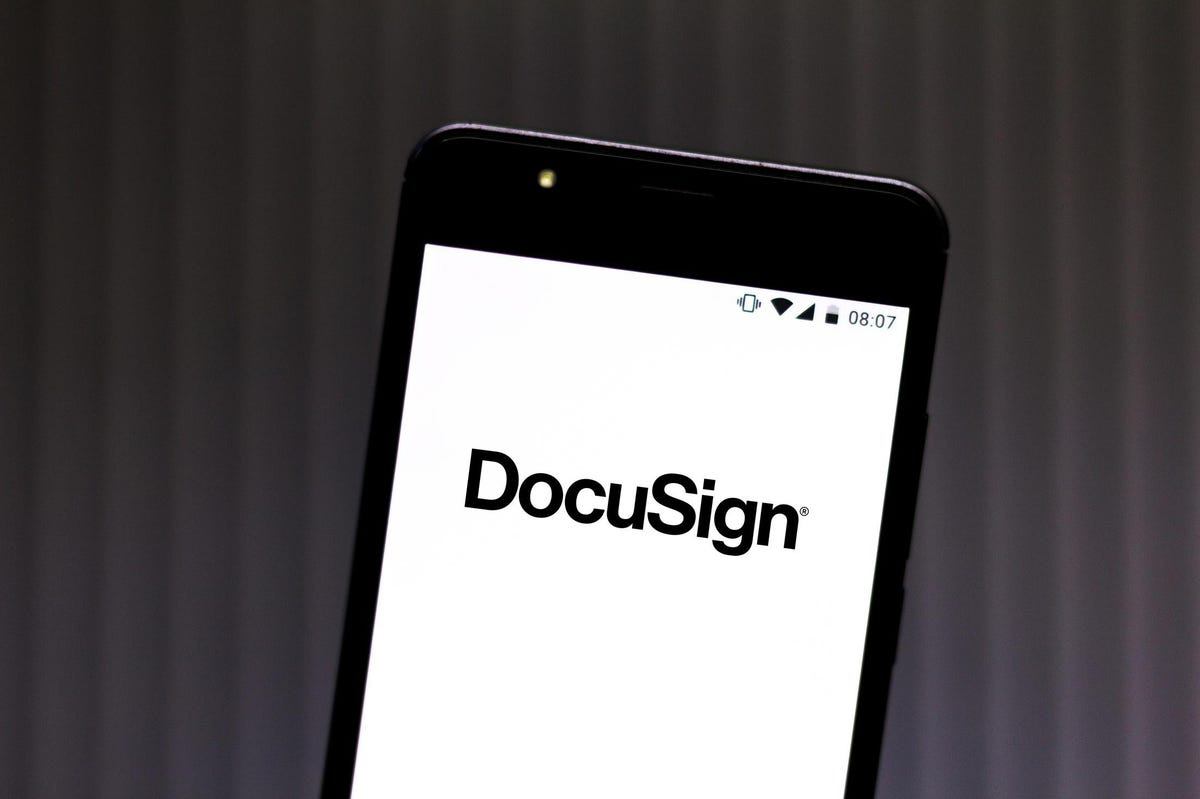 There are clear and simple instructions that will guide me through the signing process. All I have to do is enter the required details under the relevant headings.
Once I'm done entering my eSignature, I just need to click "Finish," and I'm good to go.
How to Upload, Send, and Manage a Document
With DocuSign, I can prepare and execute the documentation process using eSignatures with great ease. To send documents on DocuSign, I upload my documents in the form of PDF, Microsoft Word, or any other common format.
Then I add the name of my signers and recipients and specify the sequence in which they should sign. Then, I drag and drop the DocuSign field to where I need those signatures. After I click "Send," the app will send an email to all my recipients through which they can access the document.
To check and manage my document's status, I can just pull up my DocuSign dashboard. There, I can see the schedule of my papers, run reports, track the audit trails, and keep an eye on the overall progress of my documents.
Learn about the Different Plans
Although DocuSign is free to use, it does offer certain premium plans.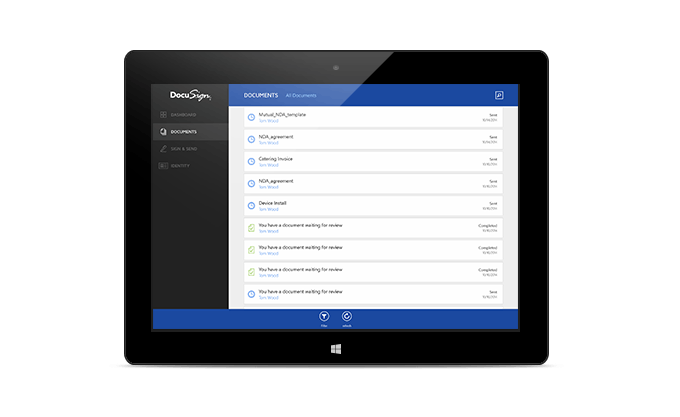 With the Standard plan, I can easily send and receive documents for signature purposes. Furthermore, I can also have access to advanced fields including DocuSign's most advanced tags and reusable templates.
Powerful real estate capabilities, such as zipForm Plus integration, which allows me to integrate my zipForm to DocuSign Rooms for Real Estate, are included in the Real Estate plan. DocuSign can also assist me in launching my online identity.
For the Personal plan, I can send up to five documents monthly and have access to many other essential fields. I can request a signature, date, and name and use reusable templates to standardize my documents and give them a personal feel.
Download and Subscribe
DocuSign can be downloaded and used without cost. Your Google Play account will be charged between $8.34 and $275.49 for in-app purchases that you confirm.
The next subscription period will be charged unless the auto-renewal feature is turned off at least 24 hours before the current month ends. Within 24 hours before to the end of the current period, my credit card will be charged for the subsequent period.
To turn off the auto-renewal, go to your account settings after the purchase and disable the auto-renewal. Although, while my subscription is active, no cancellation of the current subscription is allowed.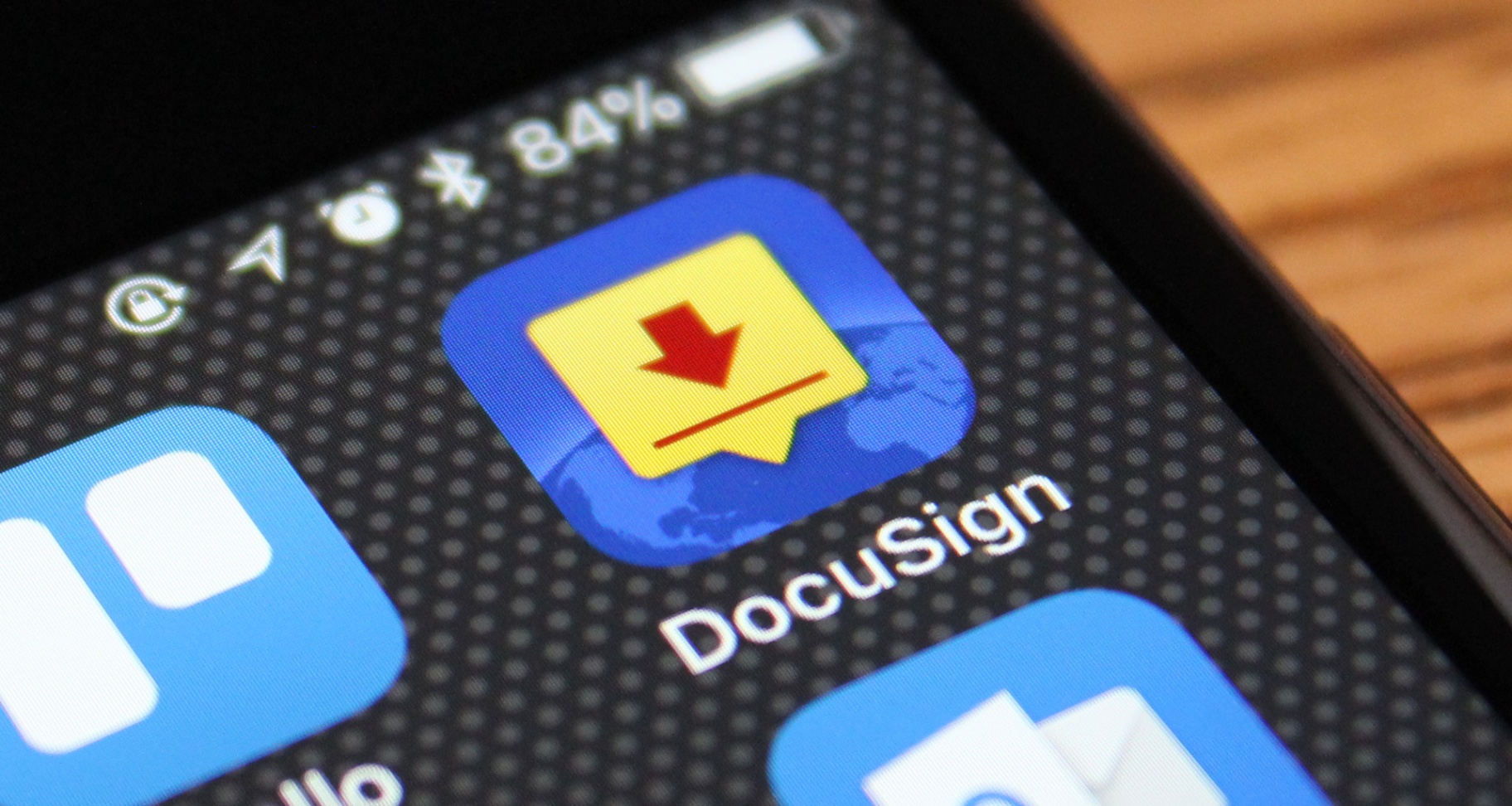 Conclusion
As our work lives and personal lives get busier and busier, every little minute that we can save counts. With DocuSign, not only can we rejoice in its hassle-free functionality, but can also deal with our day-to-day tasks with much more ease and comfort.
Check-out the DocuSign app and find out how it can help you streamline document management with it's comprehensive services.