We live in a truly digital world where much of our lives and information is stored on our phones and on the internet. I personally do almost everything with my phone – communicate with friends, get groceries, order things online, monitor my banking.
With everything stored on the internet through apps or right on our devices, it is no wonder that a lot of people also target these same places in order to steal data. When my email was hacked, I felt helpless and anxious because I knew that strangers had access to my private data.
Since then, I have been very keen on protecting my data from hackers and data thieves. Fortunately, I came across this app called Protect Me – Accounts and Mobile Security. Read on and learn more about the Protect Me app.
Protect Me – A Device's Security Guard
Setting Up My Accounts
My Account Information Tab
The My Device Tab
The WiFi Protector Tab
The Premium Version – Full Protection At a Cost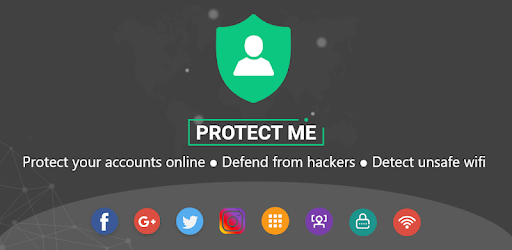 Protect Me – A Device's Security Guard
As a social media manager, I have to be on my phone all the time. I'm always on my phone, and I also use it to run chores and do other things.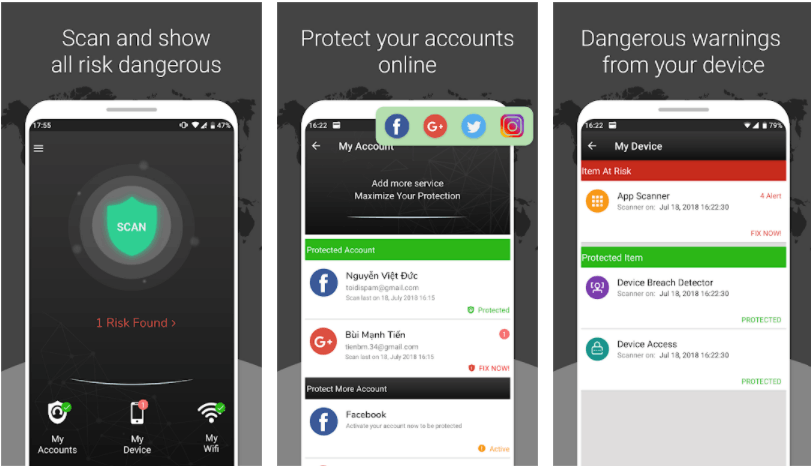 Because of this, much of my data is stored within my phone and synced to the cloud. I never thought that my data was unsafe until my email account got hacked.
I was scared to death because I keep all of my personal information online, like my credit card information, social security number, passwords, and other personal papers. I had to find a way to keep my information safe.
With the Protect Me app, unauthorized access and suspicious activity are immediately detected and blocked. I am also notified of potential risks on my device so I can immediately spring into action and prevent damage.
Good for My Well-Being
True to its name, the app is a game-changer in securing my accounts and personal data.
I no longer have to worry about people getting into my accounts and stealing my information.
To have an app that safeguards my information is really great for my well-being.
Setting Up My Accounts
To protect my accounts, all I have to do is hit "My Account" and see a list of unprotected accounts that can be added to the app, as well as a list of protected apps that have already been linked.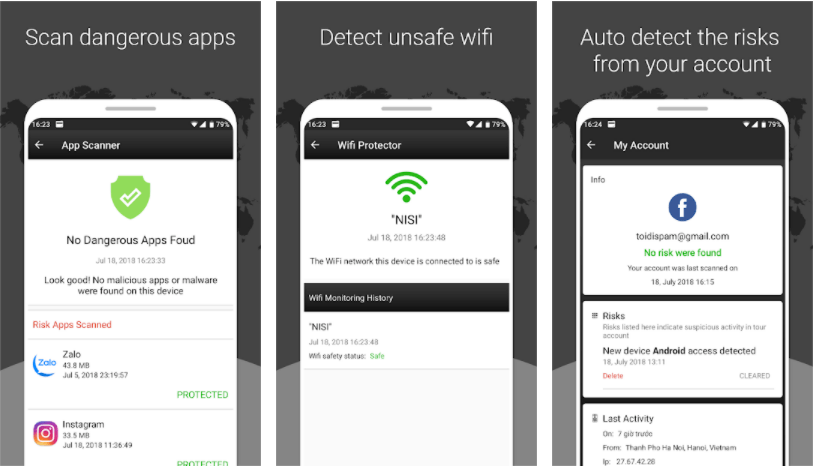 Suggestions on apps that should be protected include my Facebook account, Google accounts, Instagram, and Twitter. As a general rule, all social media apps will appear in that list, as long as you have the app installed on your phone.
Once I click on the icon, I will be redirected to the log-in page to sign in and enter my login credentials.
I am assured that Protect Me does not store or save my passwords, so developers will have no access to any of my accounts.
Protected Apps
After logging in, Protect Me will automatically conduct a thorough application scan and generate a report.
Then, a "Protected" sign will appear on the lower right corner of the account's icon.
My Account Information
This app is great because it gives me a lot of data and information about my accounts. I really like how it tells me right away how my account is doing and if any risks have been found.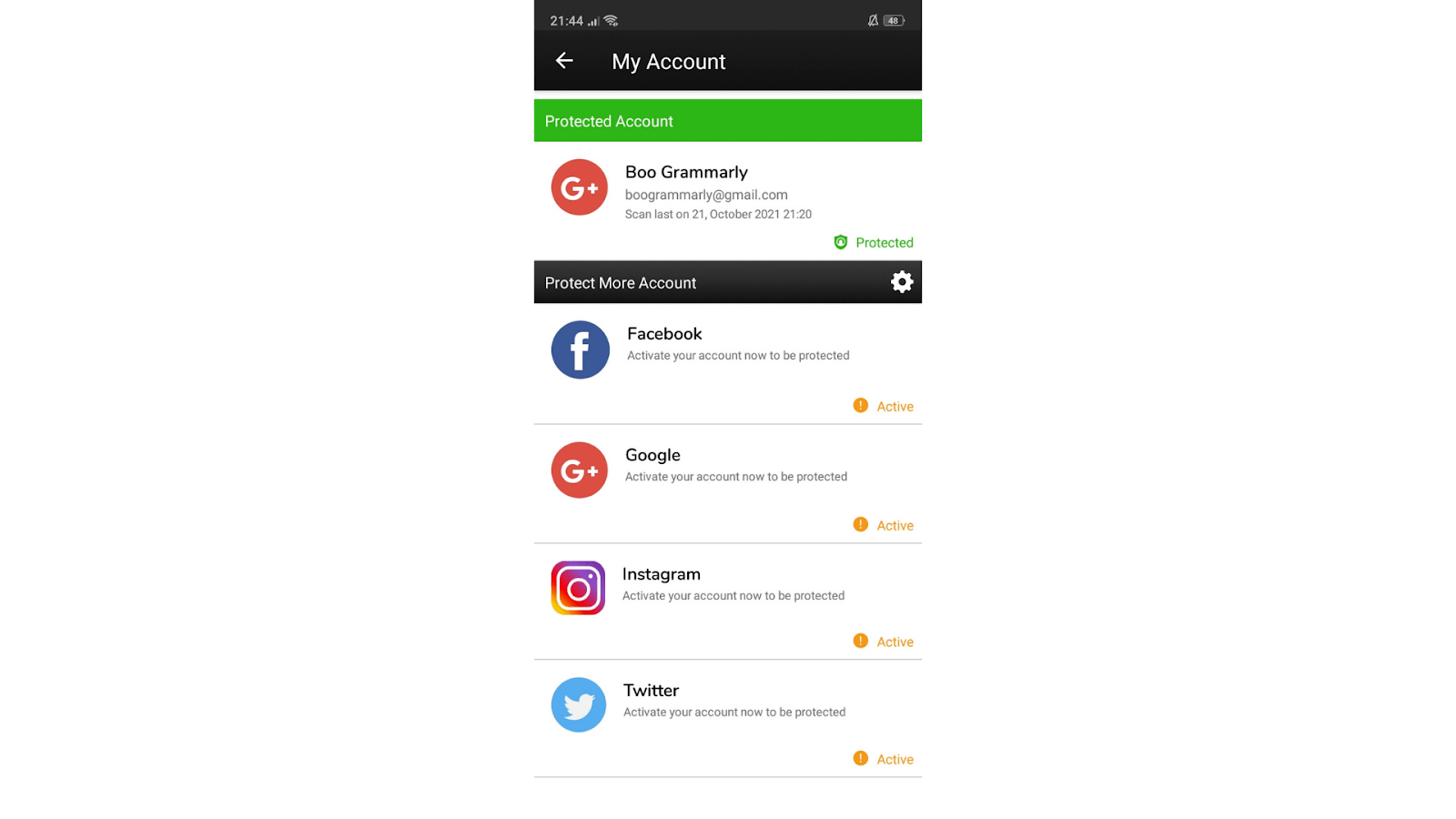 The most recent date of scanning is also shown, as well as a list of risks that the app found on the app. I can tap on these risks and be given options on how to deal with them. The last recorded activity on the account is also shown, including device model details and time.
I can also manage and edit third-party applications that have access to a certain account straight from the app.
In addition, the most frequent locations of where the app has been accessed are also shown, which is a great aspect to see whether I am being hacked by another person.  The most-used device that accesses the app is shown as well.
Quick Action Points
Still under the "My Account" tab, there are some "quick action" buttons that I can use to make changes to my account quickly and easily.
I can easily get back my data by hitting "Update Recovery" and logging out of my account on all of my devices with a single tap.
I also like that I can change my password through the app instead of having to go to each account and its app to change and update my password.
My Device
The center icon on the homepage of the app pertains to the My Device App, where harmful applications that pose risks and threats to my device are shown. When I press on the My Device icon, I am directed to an interface that lists areas concerning device security.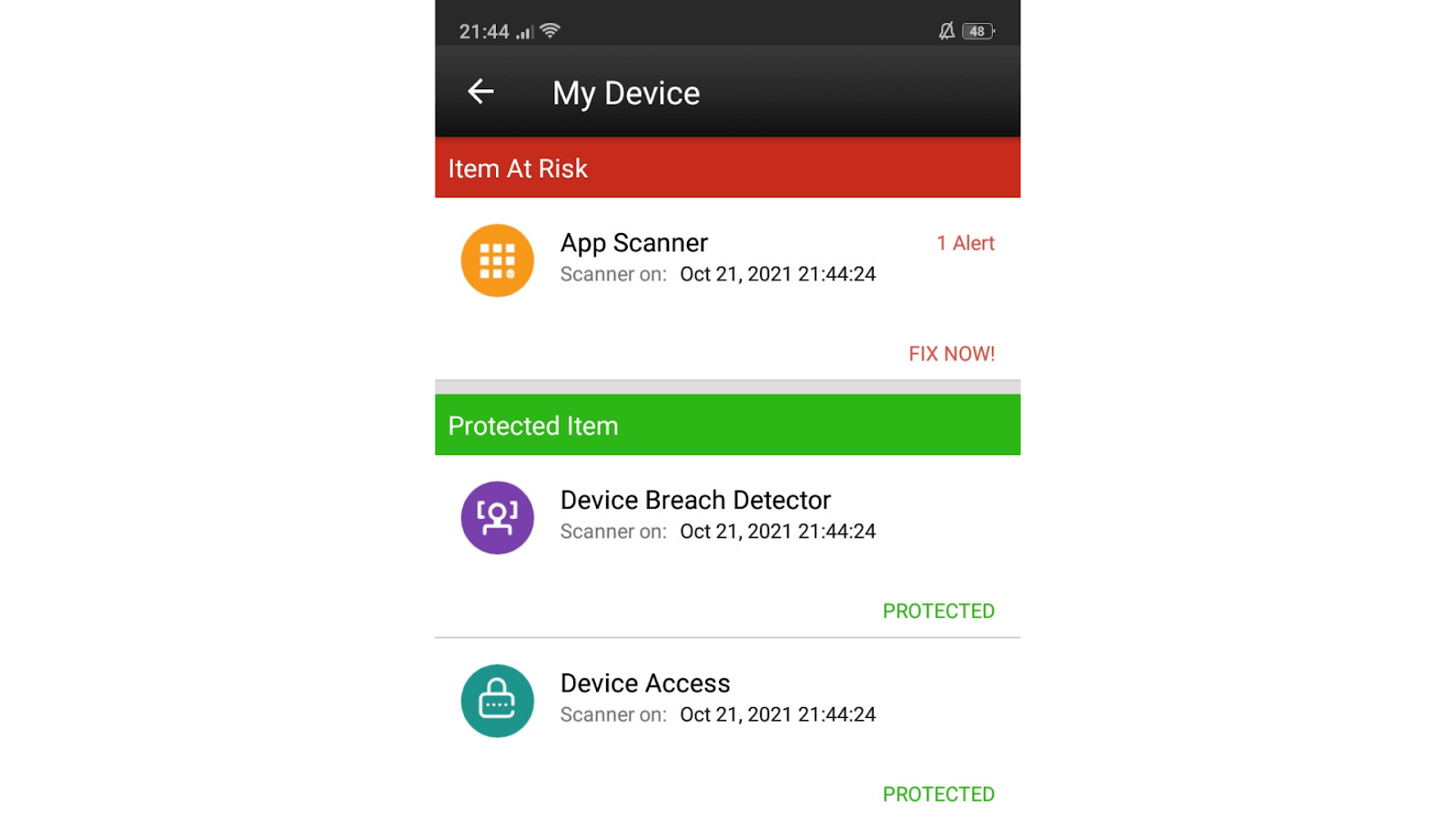 App Scanners show a list of apps that have been safely scanned by Protect Me. I always monitor this list to ensure that no apps on my phone are harmful.
I can easily press on the icon of a certain application to uninstall the app if it is labeled as a threat. Otherwise, the apps that are safe for my phone appear under the "Safe Apps Scanned."
Another feature found under the My Device Tab is the Breach Detector, which tells me if there have been attempts to root, modify, and attack my phone. These attempts are shown under the Breach Detector tab; otherwise, the app will state that my device is safe.
Safeguarding Physical Access
Another important aspect of phone safety that I almost always take for granted is the device-locking feature which prevents people from accessing my phone physically.
I used to leave my unlocked phone lying around because I thought that no one would try to steal my data.
Now, I always keep my phone locked so that if it gets stolen or lost, my information and data are safe.
The WiFi Protector Tab
The Wifi Protector is located at the lower right corner of the screen. Here, the app checks whether the WiFi connection I am using is safe.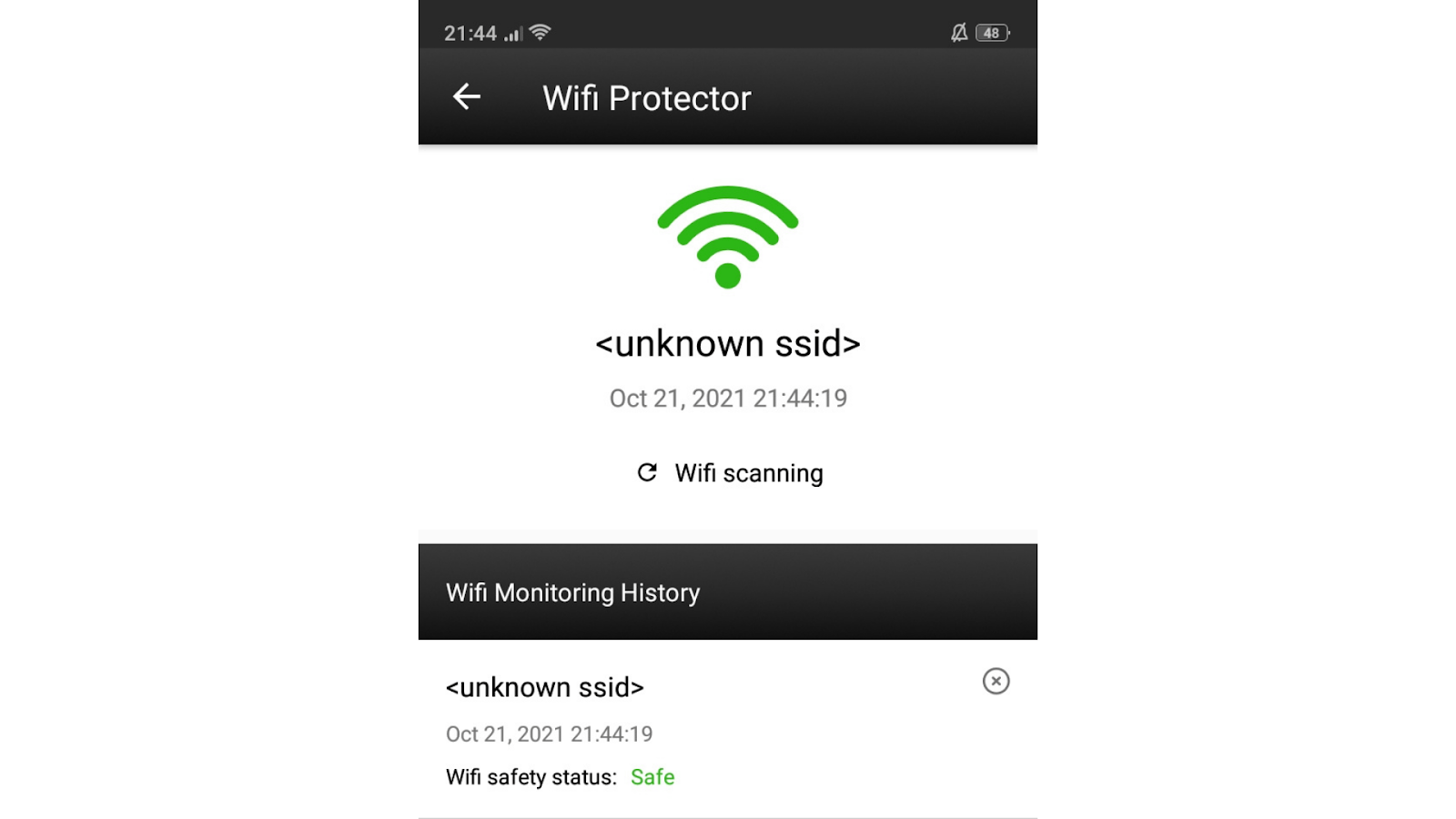 The app provides a WiFi safety status, as well as the time and date of when the network was last scanned.
Surprisingly, the app asked to grant access to my location to maximize the services of the WiFi protector feature.
I was wary of why the application needed access to my location, but, so far, nothing detrimental has come out of it, so I guess the app is genuine in its mission of protecting my phone and applications.
Having Doubts?
When I first tried the application, I certainly did have doubts about the authenticity. I even thought that perhaps this app was a disguise to phish and steal information.
However, that was not the case with Protect Me. The app really stays true to its mission and helps me keep my phone clean, virus-free, and free of junk and fake apps.
Since I've been using this app for almost a year, I can say it's one of the best things I've ever bought.
The Premium Version – Full Protection At a Cost
Purchasing the premium version provided me access to full account protection where I am alerted of any attempt to steal my data, photos, or files from accounts.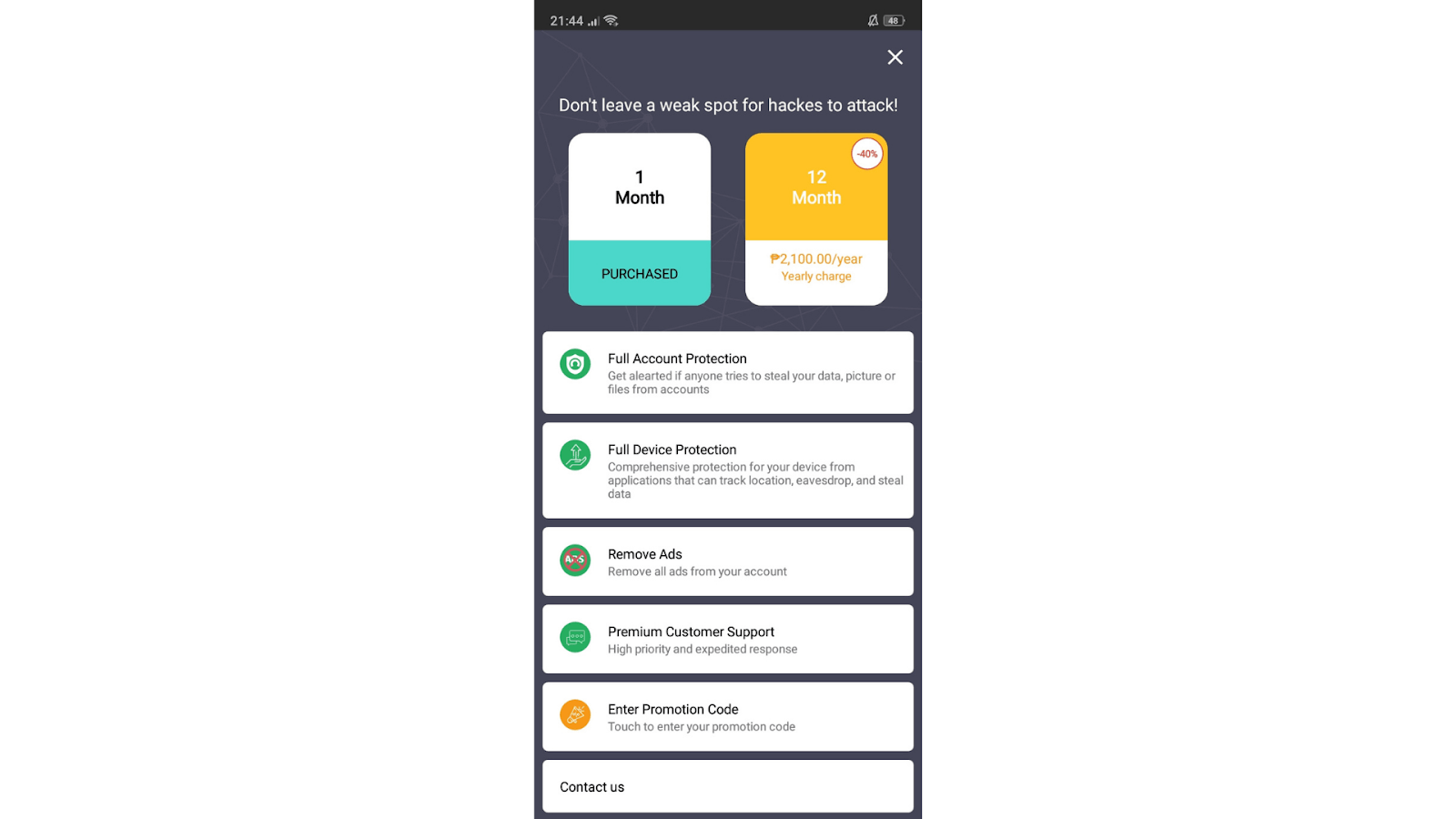 I am also assured that my device is fully protected as the app can protect me from apps that track my location, store my data, and access files without my consent.
Another feature that I love in the premium version is the expedited customer support that comes with it. My account is of high priority and I can expect someone to be available to respond to my query.
How to Download the App
Protect Me is available for free download on the Google Play Store. It has a 4.4-star rating and over 100,000 downloads on the platform.
While the app is free, a premium version is also available. I paid an annual subscription fee of $42.99 for an ad-free and seamless experience in using the app.
Conclusion
Security and safety in the digital world must be taken seriously. We should take into account the steps to take to ensure our safety as digital citizens. There are real consequences when digital security is compromised or threatened, so we must do our part and use the available technology to combat such risks.
Protect Me is a great app that I would recommend people to try. Whatever purpose our phones serve, we can never have too much protection. I hope this app brings you peace of mind the way it did for me!