You no longer have to wait to get home to read your Bible or wait for Sunday to get your weekly Bible schooling. There are many apps you can use to read the Bible. Previously you had to carry a pocket Bible if you wanted to access the Bible all the time.
Now, you can get the Bible on your phone for quick reference. Not only can you read the Bible via apps, but many of the apps offer additional features like devotionals and dictionaries.
We've looked into the various Bible apps and compiled a list of the best apps to read the Holy Bible.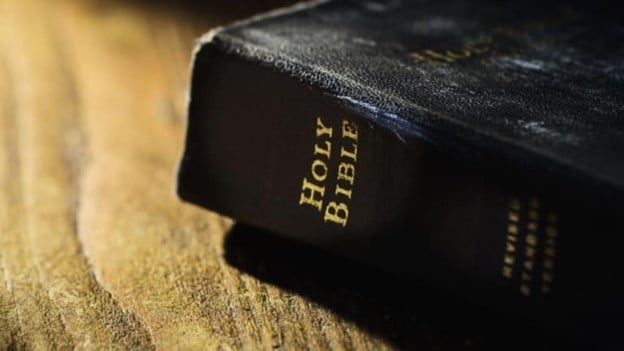 Image Source: History
American Standard Version (ASV)
The ASV Free Download Bible is available for Android and iOS devices. The American Standard Version (ASV) is a contemporary English translation of the Bible. The free application allows you to read or listen to your favorite Bible verse.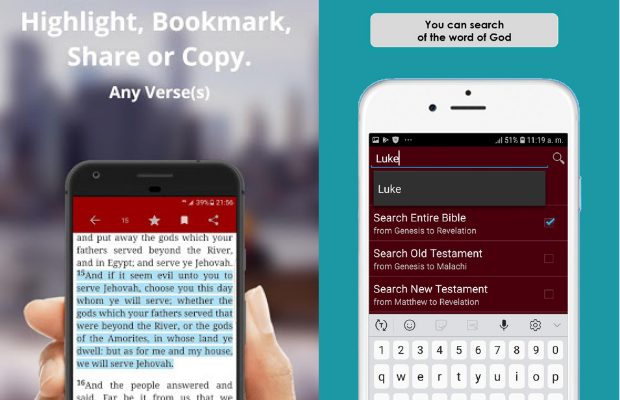 Image Source: APK Pure
The ASV Free app has the complete Bible with all the books of the Old and New Testament. The app is designed so that you don't need to open the app all the time to listen to your favorite verses.
The app's interface is also simple and makes navigation easy and smooth. The ASV version is easy to read and listen to. It's translated from available manuscripts in the original languages into modern English.
The purpose of the ASV is to bring modern Bible readers as close as possible to the Sacred Scriptures' original meaning. The app allows you to share verses with friends via social media.
NIV App
This free app offers free streaming access to the New International Version (NIV) text. It ensures that you have accurate text always with you. It is readable and clear. You have it available immediately.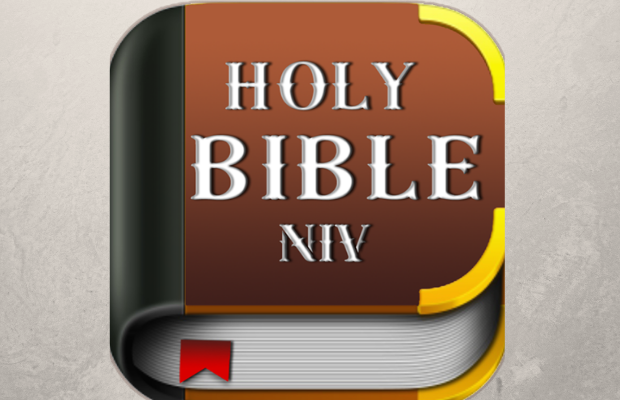 Image Source: Google Play
Apart from the Bible text, you also have access to more than 30 NIV studies and devotional Bibles. The app allows you to highlight and underline text. You can bookmark and create margin notes.
When you use the NIV study Bibles, you read the study notes right next to the Bible text. If you need verses with keywords in them, you can search the entire Bible by only entering the keywords or phrases.
You have a night mode for low-lit reading, and you can listen to verses read out to you if you want to hear. Verses you like, and notes you've made can be shared via Facebook, Twitter, email, or SMS. You can download the app for an Android or an iOS device.
King James Bible
King James Bible (KJV) is a free app. After you've downloaded the app, you can read the KJV on your device with no need for an internet connection. The KJV Bible app keeps track of your readings, giving you instant access to any of your customized bookmarks.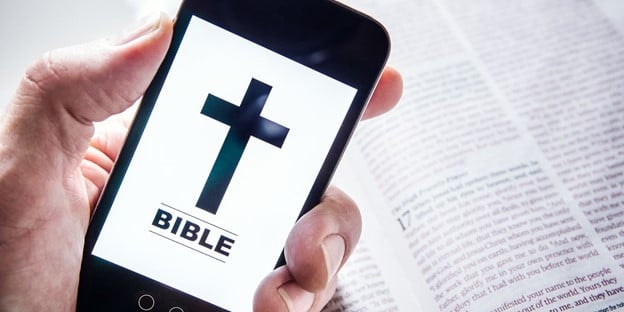 Image Source: Woman's Day
The app stores all the Bible books on your device. As the app keeps track of your last place of reading, you can resume reading very quickly. When you open the King James Bible App, it opens where you've read the previous time.
Tap on a verse to bookmark it for convenient reference later. You can share Bible verses by creating custom images of favorite verses and sending them to your friends and family on social media.
The KJV app is available for Android and iOS devices. Even if you use other Bible apps, it is good to have the KJV on your phone as a reference.
Olive Tree Bible+
The NIV Bible, ESV Bible, KJV Bible, and NKJV Bible translations have been used in compiling this app. The Olive Tree Bible creators partnered with publishers to make available thousands of biblical resources as in-app purchases.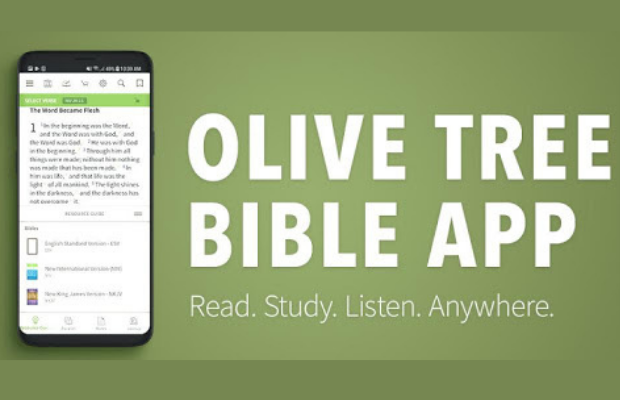 Image Source: Apps on Windows
This free app is a one-stop shop for Bible study, commentary, devotionals, dictionaries, and audio. With customized highlighters, the intuitive app allows you to highlight.
You can also take notes with custom fonts and different text sizes, dramatically adjust the mood by changing the font and colors to the most readable. You can customize the gestures to make it easy to navigate the app reading habits.
Olive Tree is excellent for you if you are looking for a Bible app with all the nuts and bolts to customize it intricately. To download to Android or iOS devices, visit the Olive Tree Bible site and follow the links.
The Bible App Free
Life Church's Bible app is probably one of the best apps for the Bible. It comes with a whole lot of characteristics. You get offline access to the app so that you can read the Bible anywhere.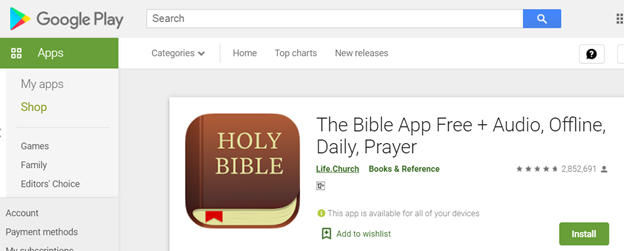 Image Source: Google Play
There are 1,400 variants in several languages on top of that. Whatever version you like, you can read. The Verse of the Day, audio versions of the Bible, and more are also included.
The King James Edition, New Foreign Version, New King James Version, New Living Translation, and other Bibles are included in various versions.
That also makes it one of the applications on the list of the most popular apps for Bible research. It has no in-app purchases and is free to download. It is available for Android and iOS devices.
Daily Bible Verse
Rated 4.8 out of 5 on Google Play, the Daily Bible Verse is an app that displays daily verses of the Bible to you. It's not, we know, the most imaginative name ever. It does not matter, though.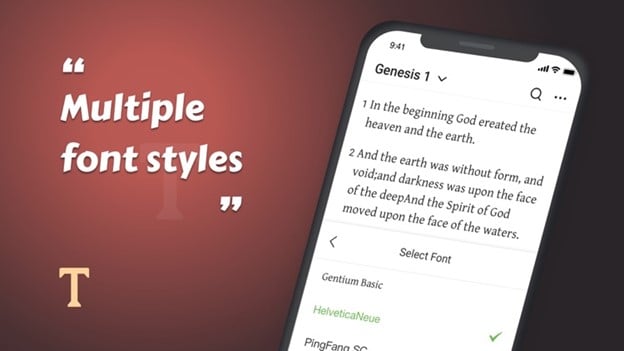 Image Source: Google Play
The app does an excellent job of showing you a new verse each day, so you have a daily verse to learn about that day. At your leisure, you can also choose between the KJV or the NIV versions of the Bible.
You can save your likes on Facebook, Twitter, and other social networking sites. You can then also share them. It has no in-app purchases and is free to download.
Our Daily Bread
Our Daily Bread is a community of Christians which started in the 1930s. Since then, they have written many works to speak about God, Christianity, and how to let God into your life.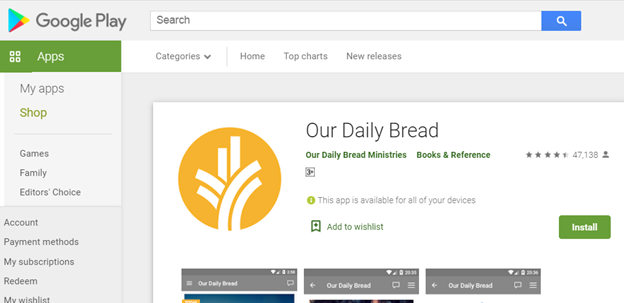 Image Source: Google Play
It's a magazine for the faithful. The app helps you to download different items that you can read. In fact, up to a month of previous work is available.
The app also provides reminders for Bible study, Bible ideas for daily reading, and a section for public comment.
The app is old school, but it works very well. This free app is rated 4.7 on Google Play.
Blue Letter Bible
The Blue Letter Bible's name comes from the blue color of the hyperlinks. The name "Blue Letter Bible" contrasts with the term "red-letter Bible," which is a common form of printed Bible with keywords. This Bible app is available for iOS devices.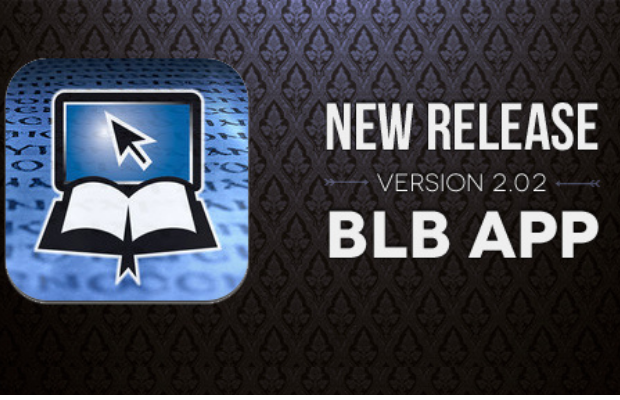 Image Source: Blue Letter Bible
There are over 30 translations available for free downloading. The Blue Letter Bible comes standard with the King James Version (KJV) and American Standard Version (ASV).
The app also offers integrated study for the Old Testament and the New Testament.
Teen's Bible
Teen's Bible in simple English is a Bible for teens. It is available for Android devices and is one of the leading read translations of the Bible. Teen's Bible also offers Bible study tools specially developed for teens.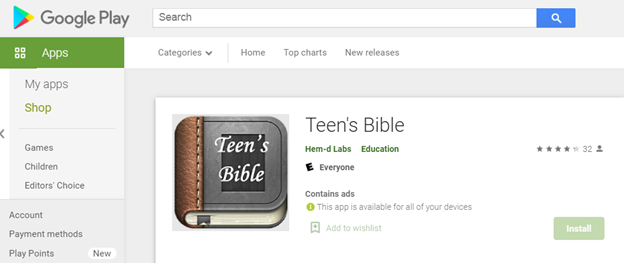 Image Source: Google Play Store
The Teens Bible App also gives a list of popular prayers. It is the teen's daily scripture reading companion.
Bible App For Kids
This Bible app is specifically developed for kids. It is available for Android phones. The Bible for Kids is completely free. Kids explore the big stories of the Bible through interactive adventures and animations. The app encourages kids to return to the app to read more.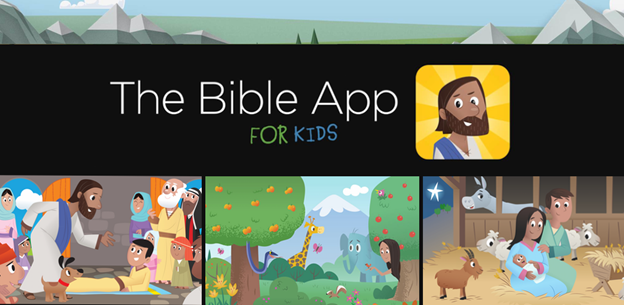 Image Source: Amazon
It's an excellent app to lead them into reading the Bible. The app offers kid-friendly navigation and colorful illustrations. The animations are touch-activated. You have to give the app access to your SD card.
That is where the app stores the stories you choose to download to your kid's device.
Many parents download the app on their phones and use the Bible stories to interact with their small kids. As the kids get older, you can load the app on their phones, and they can use it on their own.
JW Library
JW Library is a Bible app for Jehovah's Witnesses in particular. It has a lot of things, however, that any faithful individual can use.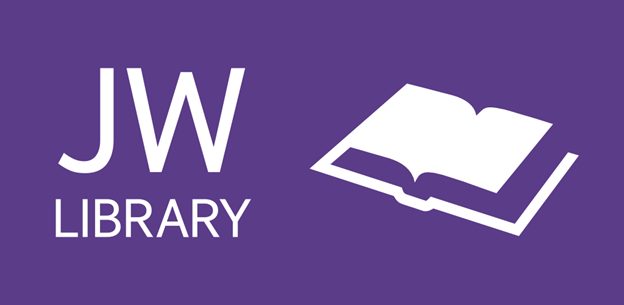 Image Source: Amazon
It includes translations of the Bible into over 100 languages, different versions of the Bible, and a tool for all the different versions of the Bible to be compared. If you use the Bible instruments directly, it's perfect for Bible research.
Most of the rest of its material, however, is directed at Jehovah's Witnesses. Thus, it may not be the best for those that want simple Bible study. This free app has over a million ratings and a 4.8 ranking.
Conclusion
There are thousands of apps out there, and a lot of them are simply for entertainment, but the above apps are different. If you've ever wondered how you could get in more Bible study as you go through your week, now you've got an answer.
The above apps allow you to read the Bible no matter where you are. There are also options for teens and smaller kids.