As our education system evolves, technology becomes a critical factor in enhancing student engagement and narrows the gap between children's abilities and their academic success. Khan Academy, an educational app, shows how that happens with its free learning platform that has attracted millions of students worldwide.
The app promises personalized learning, credible content, and empowering tools for teachers. As I navigate the Khan Academy app, the personalized learning dashboard allows me to access the resources at my own pace.
The app's features are simple, easy, and fun, allowing seamless transitions between classroom experience and virtual learning. With the right guidance, students can enjoy learning while developing new skills and interests through the app.
About Khan Academy
Khan Academy's Content
Khan Academy App's Features
How to Download the Khan Academy App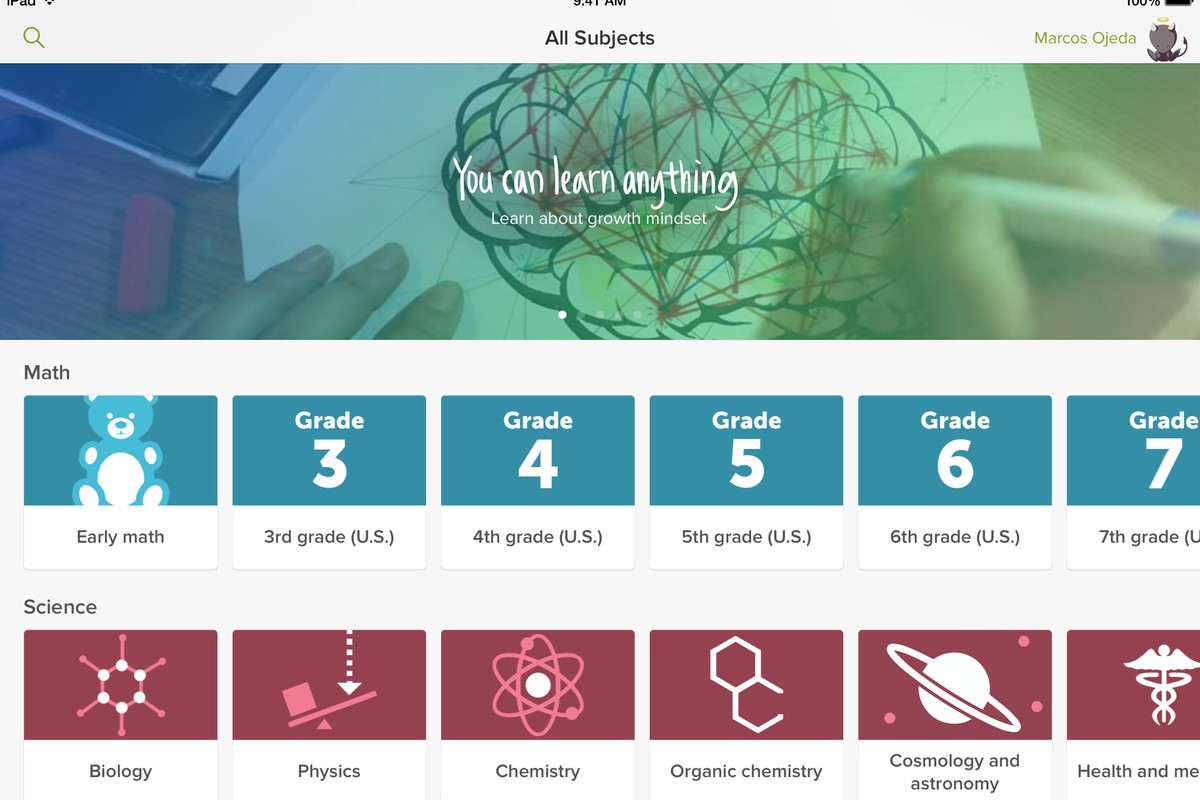 About Khan Academy
Khan Academy is a not-for-profit educational organization that was established in 2006 by Sal Khan, who is a graduate of Harvard Business School. Khan Academy is a well-known name in the world of online education. It is a platform that offers free video courses on a variety of scholastic topics, including physics and mathematics.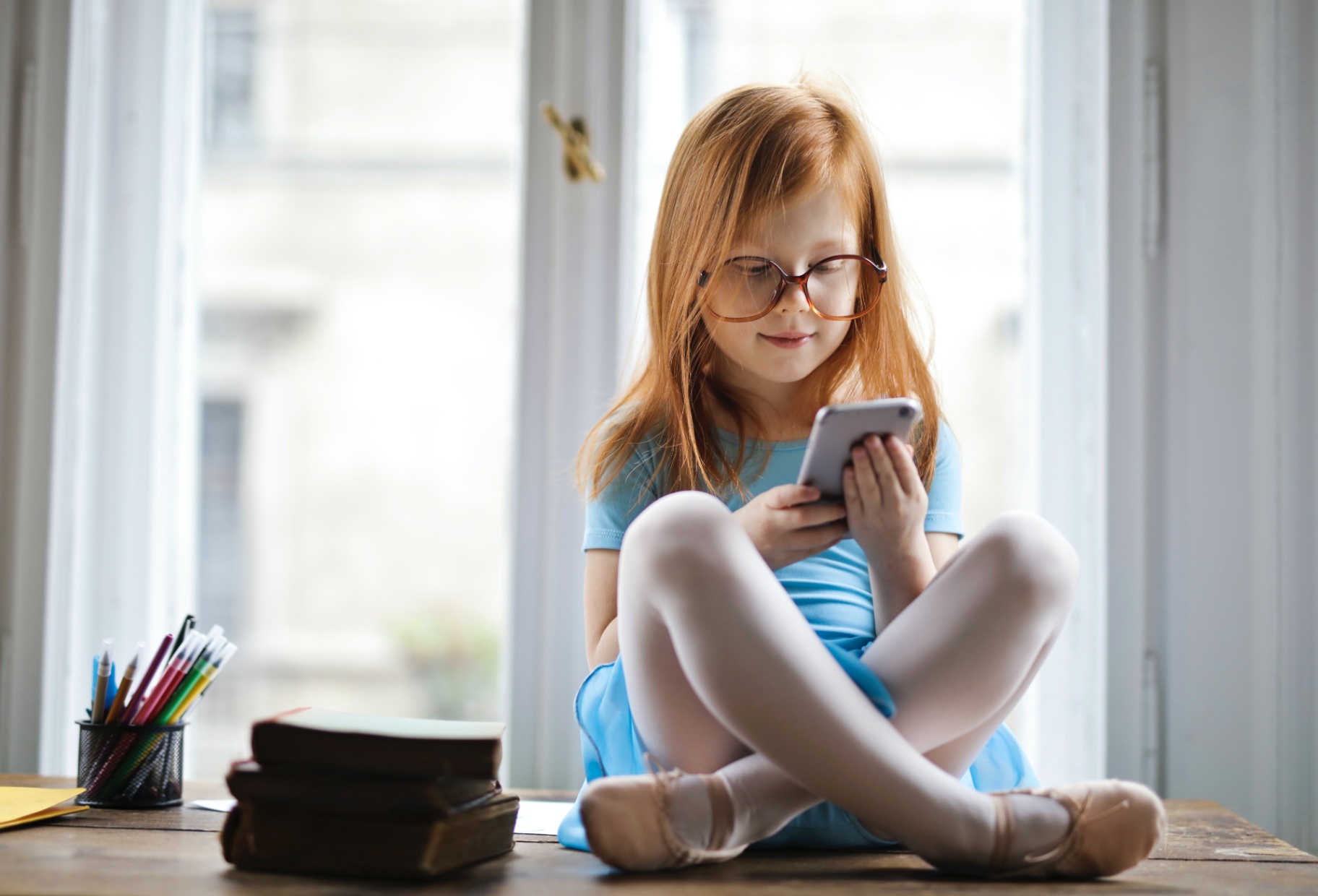 The app has been downloaded more than 10 million times, and it also has extra practice activities and tools for teachers. Khan came up with the idea for his group when he was using Yahoo! Doodle Images to teach his cousins' math.
He eventually published his educational content on YouTube, and it received positive feedback from its viewers. When Khan Academy's website was launched, it provided free personalized learning experiences with practice exercises, progress tracking, and teaching tools.
Today, Khan Academy is a more than 150-person organization, composed of teachers, developers, scientists, designers, content specialists, and strategists. With the goal of supplementing traditional classroom learning, Khan Academy has achieved over 1.7 billion views for its YouTube videos as of 2020.
Khan Academy's Sponsors and Donors
The Academy has gained the support of several philanthropic organizations. In 2010, Google Inc. donated $2 million to Khan Academy for the creation of new courses and the translation of existing content into other languages.
The Spanish versions of Khan Academy's videos became possible due to the donation made by Carlos Slim from the Luis Alcazar Foundation out of Mexico in 2013. Other generous donors include AT&T which chipped in $2.25 million for mobile versions of the content, The Bill & Melinda Gates Foundation which donated $1.5 million to Khan Academy.
Elon Musk, who runs Tesla and SpaceX, recently gave $5 million to the Academy through the Musk Foundation, which is the name of his business. Khan thanked Musk and said, "This will let us speed up all kinds of content, do more early learning, and make the software and practice that much more interesting."
Khan Academy's Content
What I noticed about Khan Academy's content is how diverse it is. You can learn almost anything at your fingertips, like economics, grammar, math, science, government, politics, history, and so much more.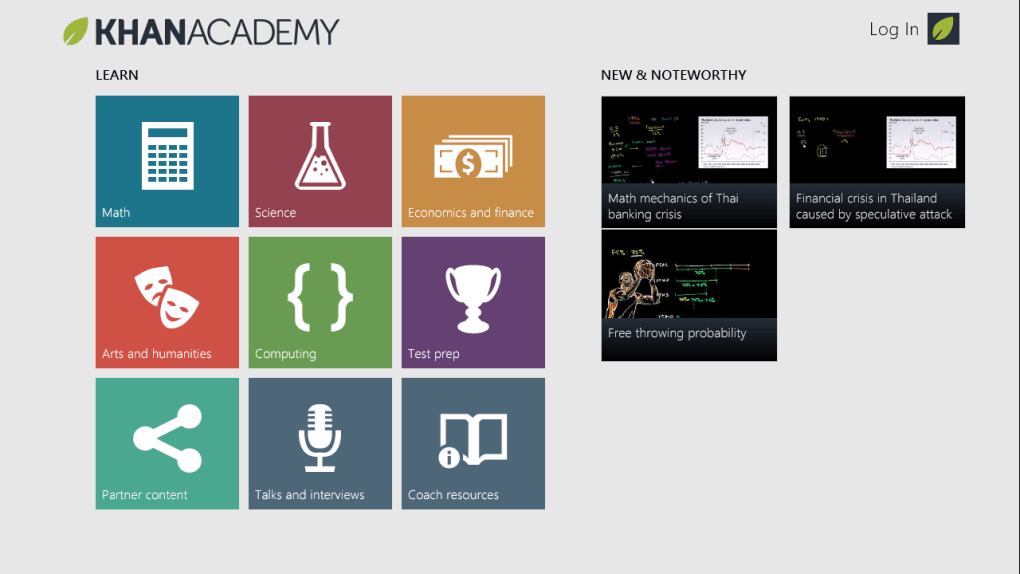 Even sub-branches or more in-depth approaches of the subjects are also present, such as pre-algebra, statistics, differential equations, chemistry, macroeconomics, art history, civics, and even computer science. I also applaud the layout and categorization of content on Khan Academy's learning platform.
Users can easily choose the level of learning they need based on their educational credentials. The Elementary courses are for those who are seeking lessons on elementary math as well as Common Core-aligned reading, complemented by vocabulary and essential grammar topics.
If you are in junior high school, there is content about 6–8 grade math concepts and key grammar topics as well as resources for computer science educators. High school courses covering 9–12 grade math concepts, as well as science, technology, history, and several other subjects are also available. You will also find curated resources that support the Eureka Math/EngageNY curriculum.
Preparation for Tests
I initially thought that Khan Academy was for elementary and high school students only. It turned out that the learning platform also offers preparations for advanced tests, like SAT, LSAT, and Praxis Core. Khan Academy, in partnership with College Board, offers free Official SAT Practice, featuring quizzes, practice questions, and even studying tips.
Khan Academy has partnered with the Law School Admission Council (LSAC) to provide Official LSAT Prep course features practice exercises, quizzes, and practice tests. All these tests come with explanations for answers and advice for aspiring law students.
The Official Praxis Core Prep course on Khan Academy has articles, quizzes, videos, and tasks that can help people who want to become teachers pass the Praxis Core. Users will no longer have a setting like a class to help them study for tests. Khan Academy will instead be like a book that tells you how to do better on the test you are studying for.
Khan Academy App's Features
I feel more challenged and engaged whenever the lessons are presented in creative ways. On Khan Academy's platform, students have access to educational videos, interactive exercises, articles, and quizzes with real-time feedback and step-by-step instructions.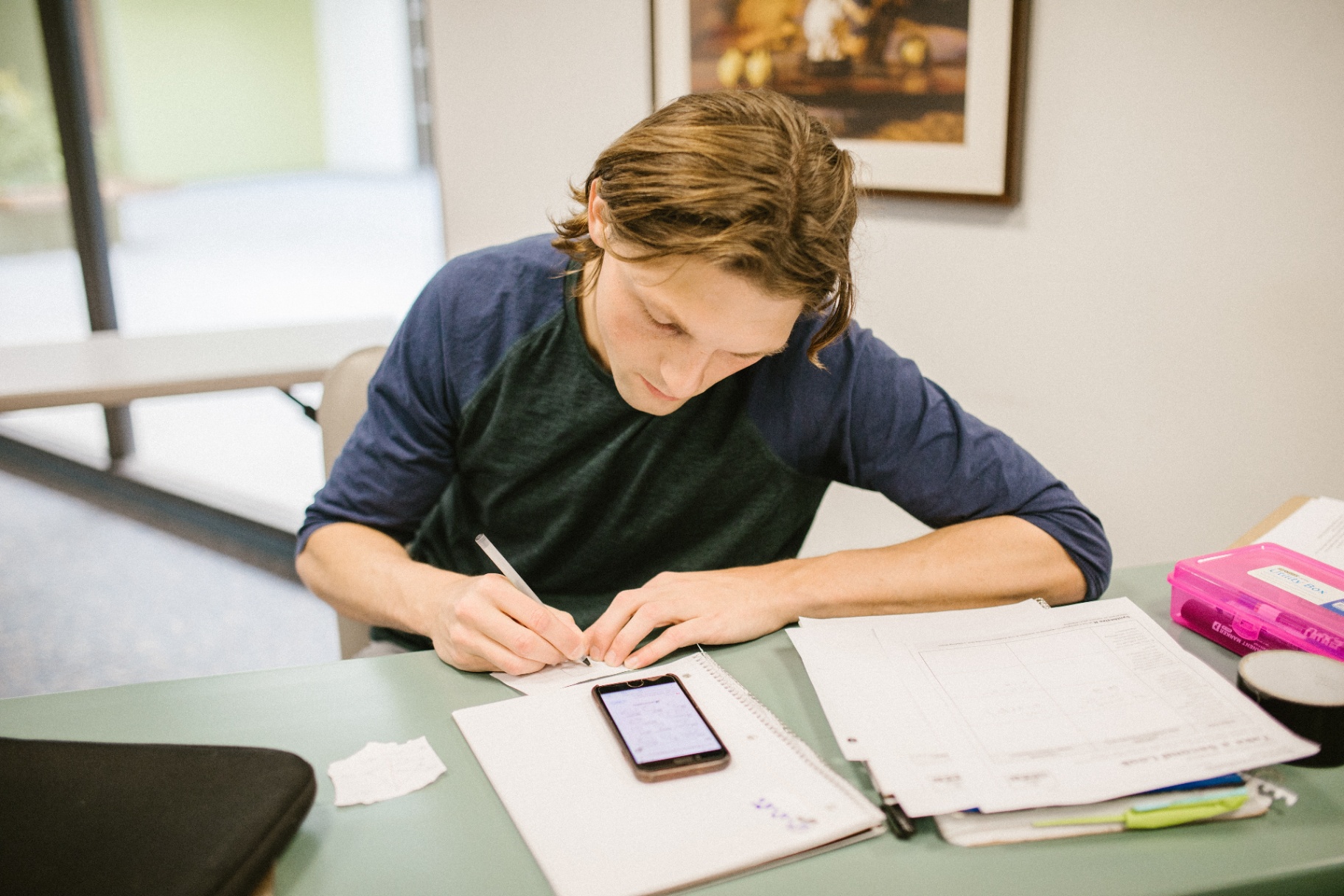 Another awesome thing about the platform is that I can bookmark and download the materials even without an Internet connection. I appreciate the electronic blackboard featured in the videos because it makes the platform a lot like the teaching style one experiences in real classrooms.
I hear a narrator describing the drawings on the electronic blackboard as if there is a teacher present during my personalized virtual class. To widen its reach, Khan Academy has translated its content into over 36 languages, including Spanish, Brazilian, Portuguese, and French.
Khan Academy's mastery system recommends the content or videos you should try next based on your learning level. It also runs lessons from educational YouTube channels and organizations like the Museum of Modern Art and Crash Course. Khan Academy has also partnered with Code.org for Hour of Code, which provides coding lessons for its students.
Khan Academy Kids
Khan Academy Kids is a great way to teach kids ages 2 to 8 about all kinds of things.
Developed with Stanford University and aligned with the Head Start Early Learning Outcomes Framework and Common Core Standards, Khan Academy Kids offers lessons like early literacy, writing, language, reading, and math, while also encouraging creativity and social-emotional skills.
Through the app's features, teachers are able to assign lessons to students and track their progress.
How to Download the Khan Academy App
I was amazed that the Khan Academy app is 100% free and comes with no in-app purchases or subscriptions. You can download the Khan Academy app on the App Store and the Google Play Store.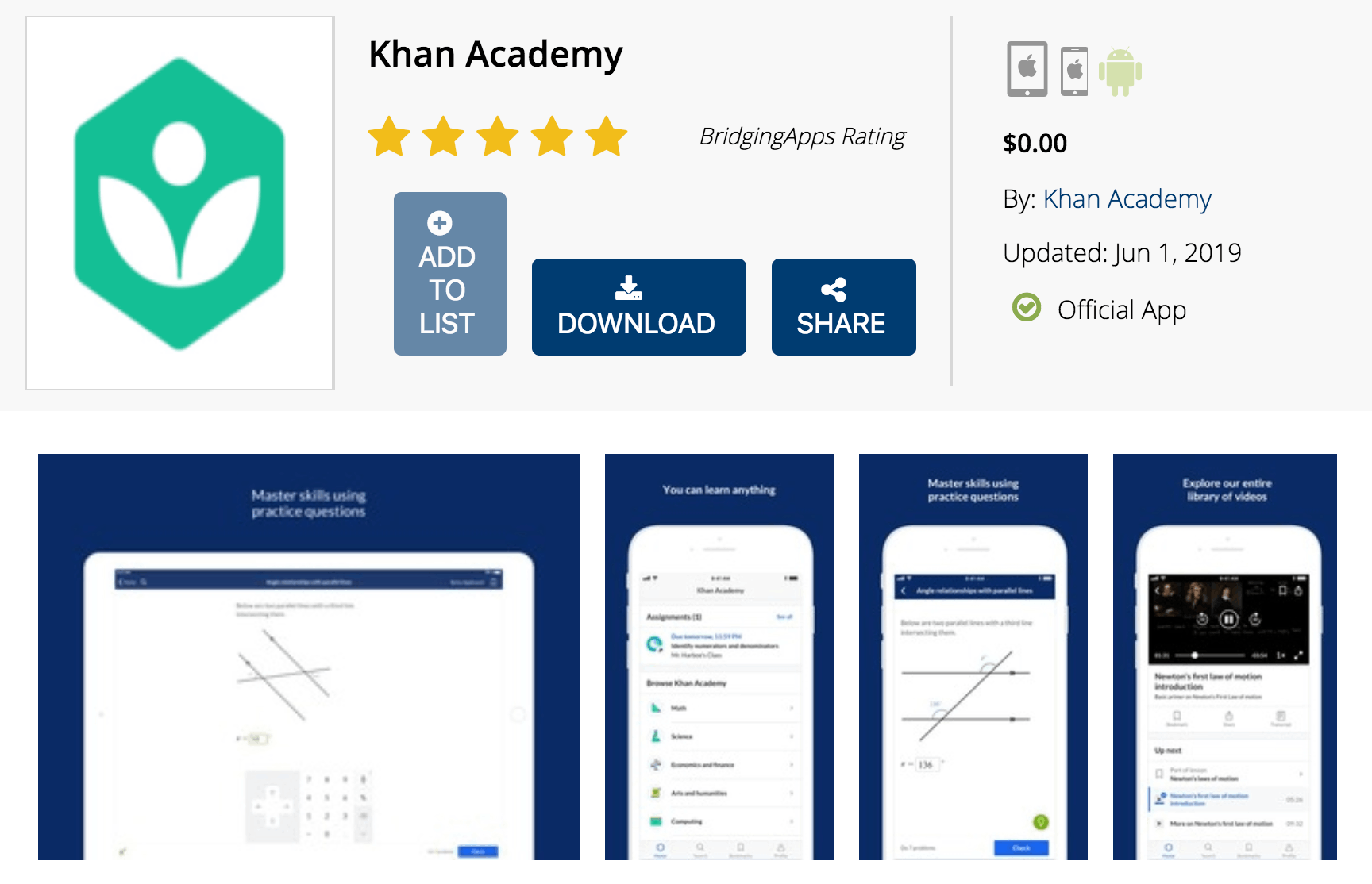 However, note that not all functions that are on the website are present on the app, like computer programming content, teacher tools, community discussions, test prep, parent tools, and district tools.
To get the Khan Academy app on your device, just go to the app shop. If you use iOS, go to the App Store, type "Khan Academy" in the search box, and load the app in a couple of minutes. Android users can look for Khan Academy in the Google Play Store and click "Install" to get it.
I am also able to use Khan Academy even without the internet, and this is possible through Kolibri, an ed-tech platform created by Learning Equality. Even if you are using the Khan Academy app, your progress remains in sync with your progress on the website. You can also enjoy the lightweight Khan Academy scratchpad that allows you to doodle while learning.
When I created an account on Khan Academy, I just used my personal email. You can also use your Facebook or Apple ID to sign up. However, if the user is under 13 years old, they must include their guardian's email so they can be informed about the creation of an account.
During the sign-up process, you must choose your role: Learner, Teacher, or Parent. If you are into learning on your own and without distraction, the Khan Academy app is for you because it is completely self-paced. You just have to follow the sequence of lessons to learn basic concepts and skills before moving on to more advanced lessons.
When I'm using the app to watch an educational video, I can slow it down or speed it up, restart it, and watch it again if I need to. When you finish a course, you can try the Mastery Challenges, which are a set of six questions that let you review and practice the skills and knowledge you just learned.
Conclusion
Educational apps like the Khan Academy app can help improve your learning experience because the system is designed to make lessons more stimulating, impactful, and motivational. What I like most about the Khan Academy app is its personalized approach, which tracks the progress of users, recommends what they can learn next, and allows students to learn at their own pace and from any pressure.
Exploring your abilities, intellectual capacity, and creativity through new technologies can help you challenge your limits, expand your horizon, and prepare you for the future that may require job functions and life skills associated with technology.