I knew I needed an archiving app like ZArchiver when my phone started to slow down. For someone like me whose job, household stuff, and communications mostly take place on my phone, files could multiply and get scattered.
With ZArchiver, I'm always a few clicks away from quickly storing, compressing, and organizing my phone's contents. The app gets my zip files all sorted out.
Whether it's for your smartphone's efficiency or for your own sanity, ZArchiver can take the burden of archiving off your shoulder. In this article, you'll learn how easy it is to use the app.
How ZArchiver Works
Key Features of ZArchiver
How to Download the ZArchiver App
How to Create Archived Files in ZArchiver
How to Compress Files in ZArchiver
Customizing ZArchiver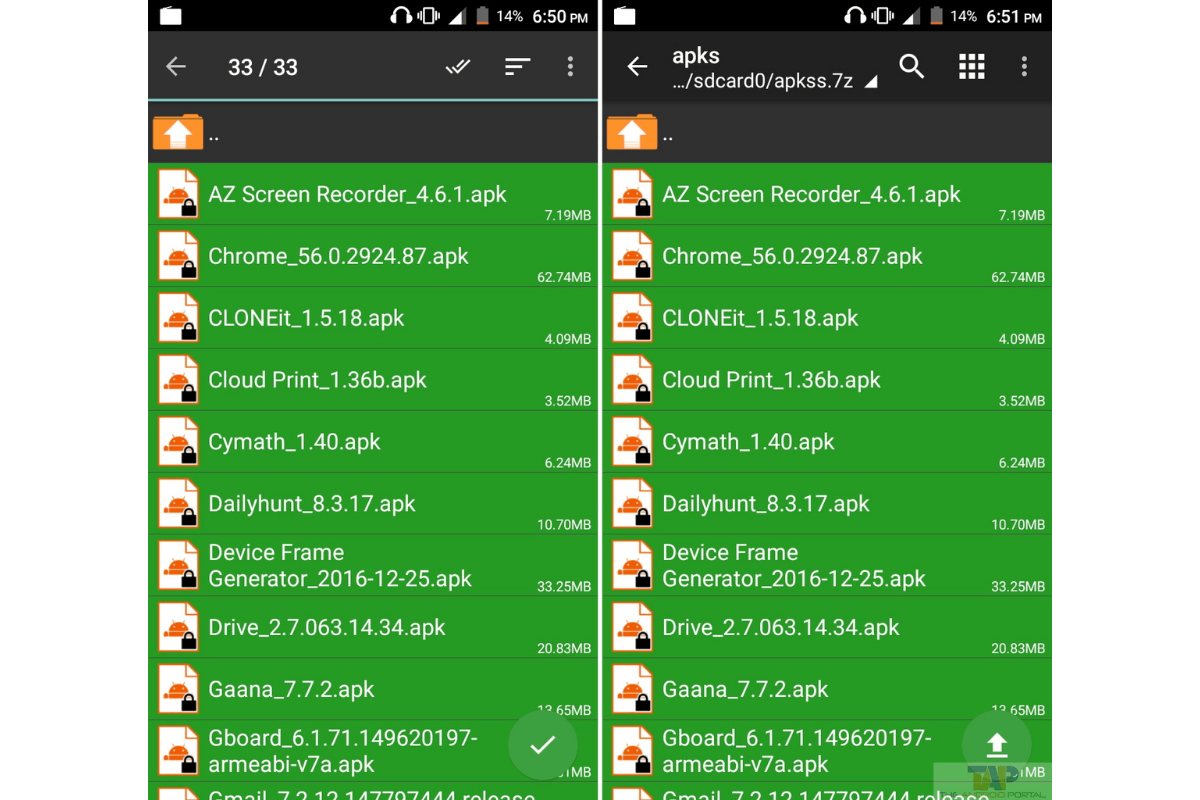 How ZArchiver Works
ZArchiver creates precious repositories in my smartphone. When it comes to archiving files, the app offers a functional interface and a convenient system.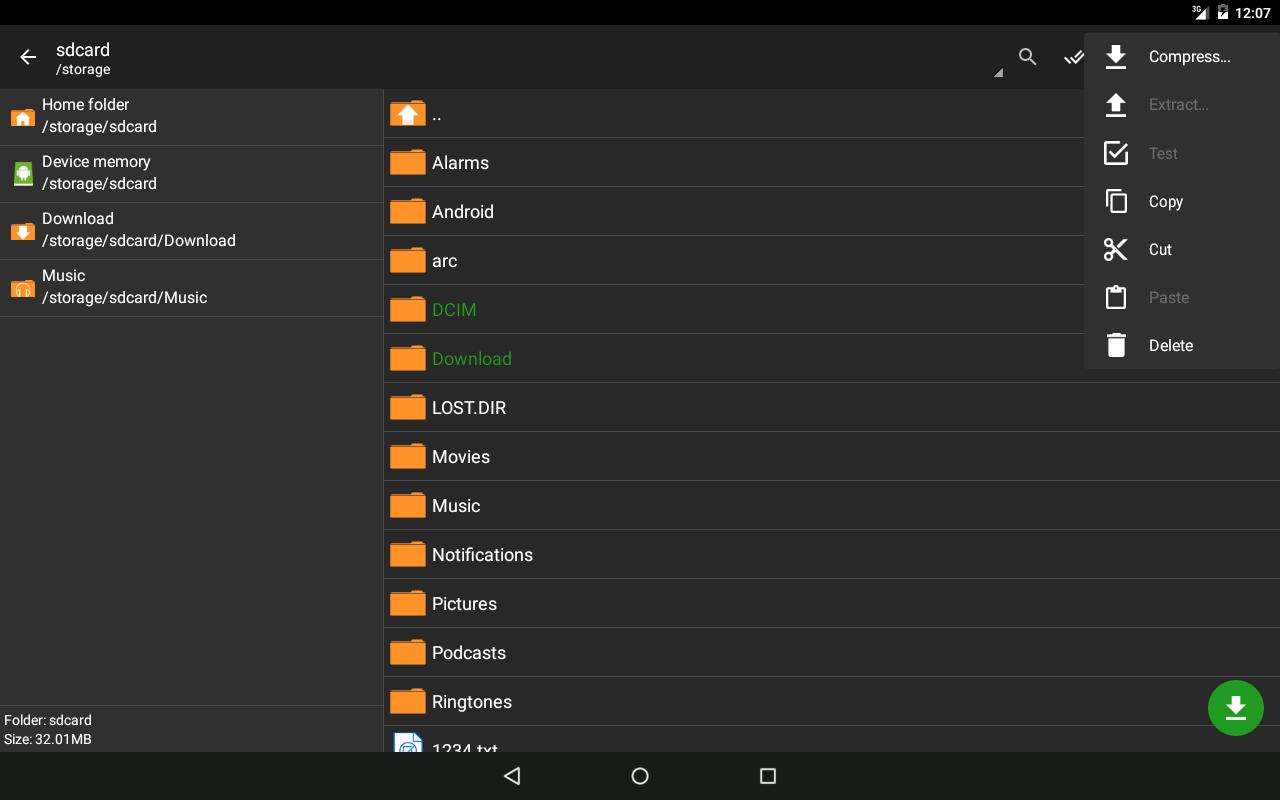 ZArchiver is an archive management app that can handle records with flexibility. Its compression capability is not only generous but also secure. What I like most about ZArchiver is it can process different archive formats.
ZArchiver assures users that it does not collect, transfer, or sell personal data such as your name, email address, phone number, or credit card number. It lets you manage your archives while keeping your password encrypted. This is helpful for sensitive data.
ZArchiver allows you to check whether your archive filed contains an error or not, and one of the common errors is Transfer Error. Tap on the folder that contains archived files to view the Test option. It will automatically check the file and if there is no error, the message Archive Does Not Contain Errors will emerge.
Archiving Files
To use the app efficiently, let's understand its basic concepts first. Before, I thought that archiving digital files is as simple as storing them in a virtual drawer. I also thought that archives files and compressed files are one.
Archiving files means gathering different files in a single file. But you need to reduce the size of those files, and this is where compression of the files comes in.
That is why archiving and compressing files can make your system portable and organized. ZArchiver's features can do all of that efficiently.
Key Features of ZArchiver
Putting things in an archive or making them smaller is not as easy as it sounds. Depending on the type and size of your files, it has a lot of layers.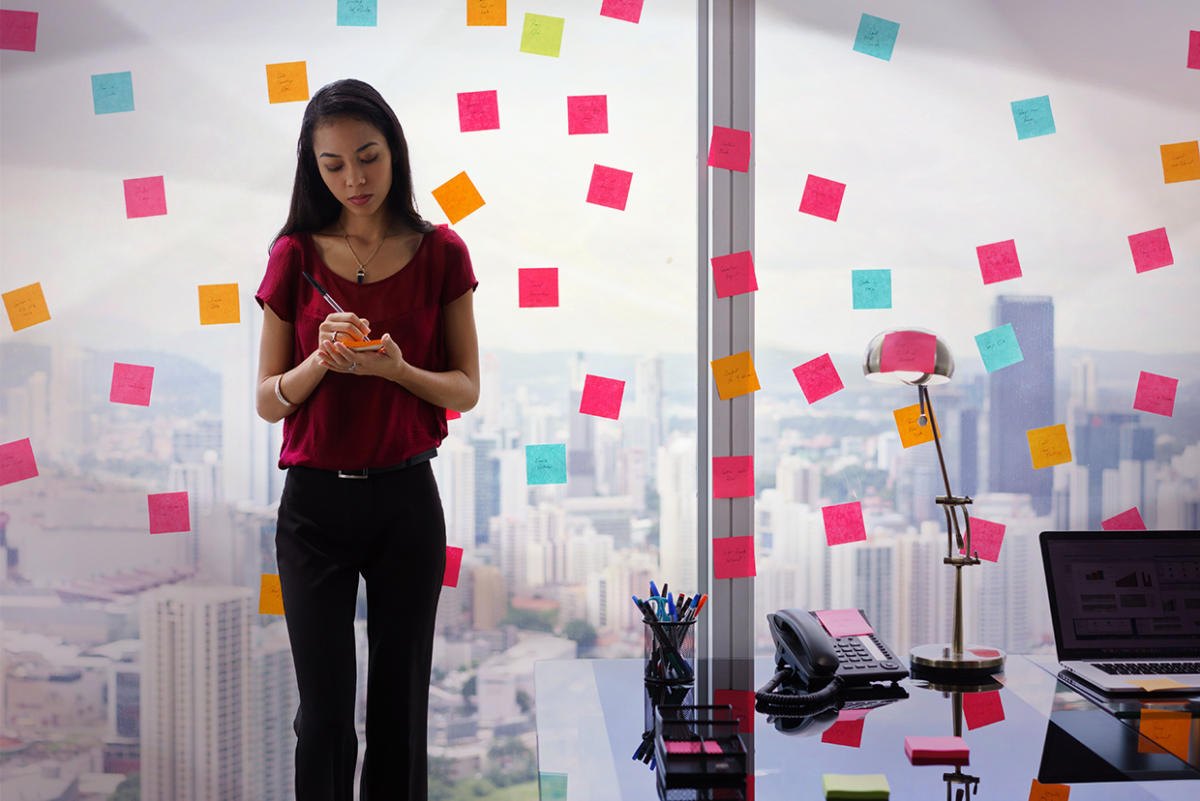 With ZArchiver, I am able to edit archives. This means adding or removing files to and from the archive, such as apk and zip. I can create and decompress multi-part archives or do partial archive decompression.
It's easy to open compressed files and archive files from mail applications. There is also an option to create and decompress password-protected archives and extract split archives.
ZArchiver comes with multithreading support that is useful for multicore processors and UTF-8/UTF-16 support for filenames.
Archive Types
I was surprised to learn that ZArchiver can make and compress many different kinds of files. The app can use 7z (7zip), zip, bzip2 (bz2), gzip (gz), XZ, lz4, tar, and zst (zstd) to create archives.
You can decompress package types like 7z (7zip), zip, rar, rar5, bzip2, gzip, XZ, iso, tar, arj, cab, lzh, lha, lzma, xar, tgz, tbz, Z, deb, rpm, zipx, mtz, chm, dmg, cpio, cramfs, img (fat, ntfs, ubf), wim, ecm, lzip, zst (zstd), egg, and alz.
Meanwhile, viewing archives is also allowed to 7z (7zip), zip, rar, rar5, bzip2, gzip, XZ, iso, tar, arj, cab, lzh, lha, lzma, xar, tgz, tbz, Z, deb, rpm, zipx, mtz, chm, dmg, cpio, cramfs, img (fat, ntfs, ubf), wim, ecm, lzip, zst (zstd), egg, and alz.
How to Download the ZArchiver App
Downloading the ZArchiver on your device is easy too. The ZArchiver app is available to Android users only.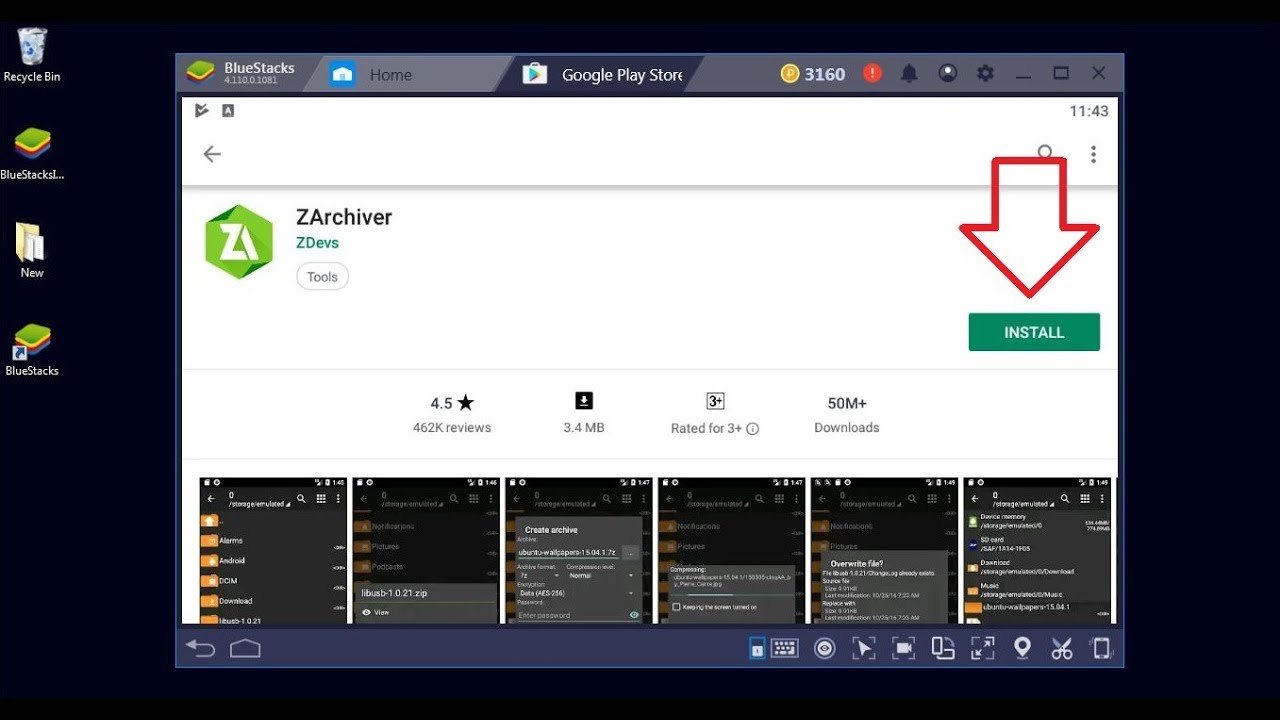 To install it on your Android-powered device, simply go to the Google Play Store. Look for 'ZArchiver' by the developer ZDevs.
When the app's name shows up, open it and tap 'Install' to start the download.
Access
Once you already have the ZArchiver app on your phone, note that it can automatically access your photos, media, and files.
As you use the app, it can read the contents of your USB storage and modify or remove them.
The app has the ability to modify and delete internal media storage contents and prevent devices from sleeping.
How to Create Archived Files in ZArchiver
When creating archive files in ZArchiver, the steps are will not be that nerve-racking to a first-time user.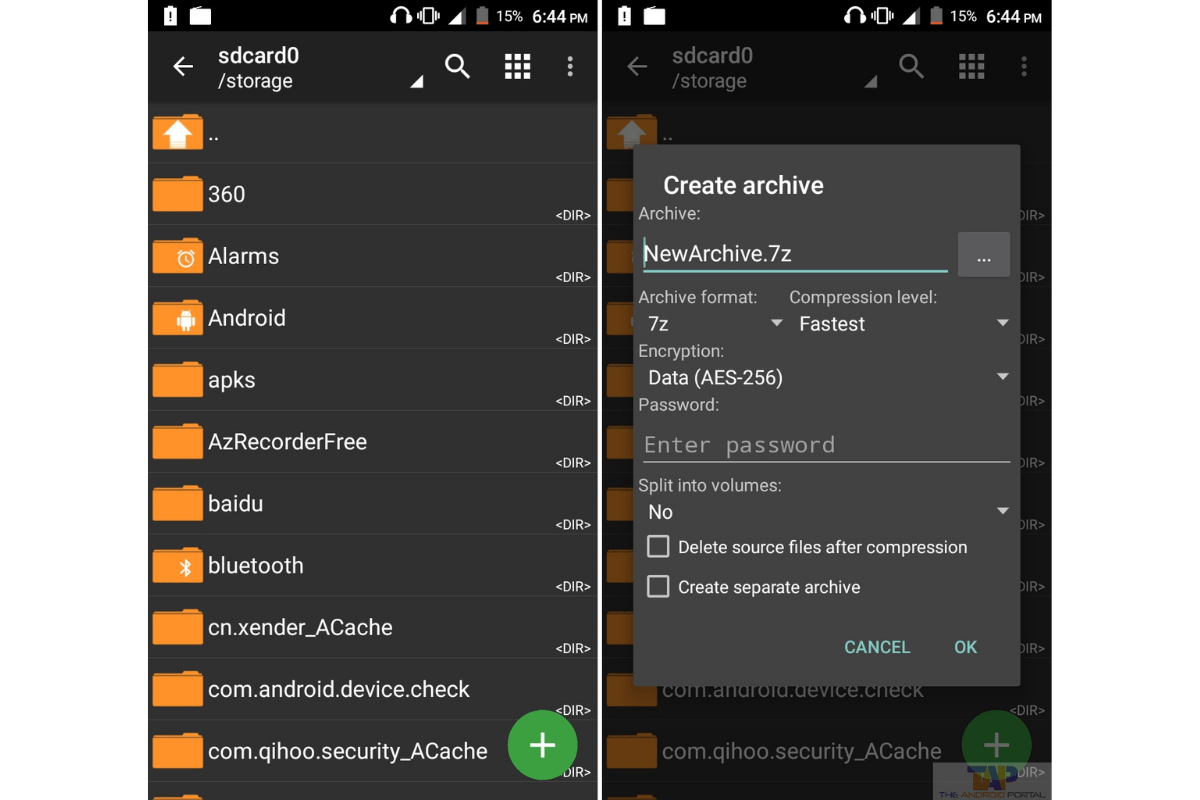 Open the ZArchiver App and choose the folder for which you want to make an archive file. When you choose your files, the + sign in the bottom right corner will turn into a. If you tap on it, a ZIP file will be made.
Create a name for the archive files that you want to set. Select the Archive Format option. It will present different formats to choose from, such as 7z, zip, tar, tar.bz2, tar.gz, tar.xz, and tar.lz4.
You can also choose the level of compression: None, Fastest, Fast, Normal, Maximum, Ultra, and Maximum. Set the encryption to Data (ZipCrypto), Data (AES-128), Data (AES-192), or Data (AES-256) to view the file. To make the ZIP file, click the OK button.
Viewing Archived Files
When it's time to view the content of your archive files, you need to extract the files first. What I do is simply go to the folder which contains the archived files.
I click on it to see the options like View, Extract, Test, and Compress. Then, I tap on the View option to view the attached files in it.
You can also view hidden files in the app. Go to Settings and choose Show Hidden Files. Tick the box and return to the main display.
How to Compress Files in ZArchiver
Compressing files in ZArchiver proves how effective and customizable the app is.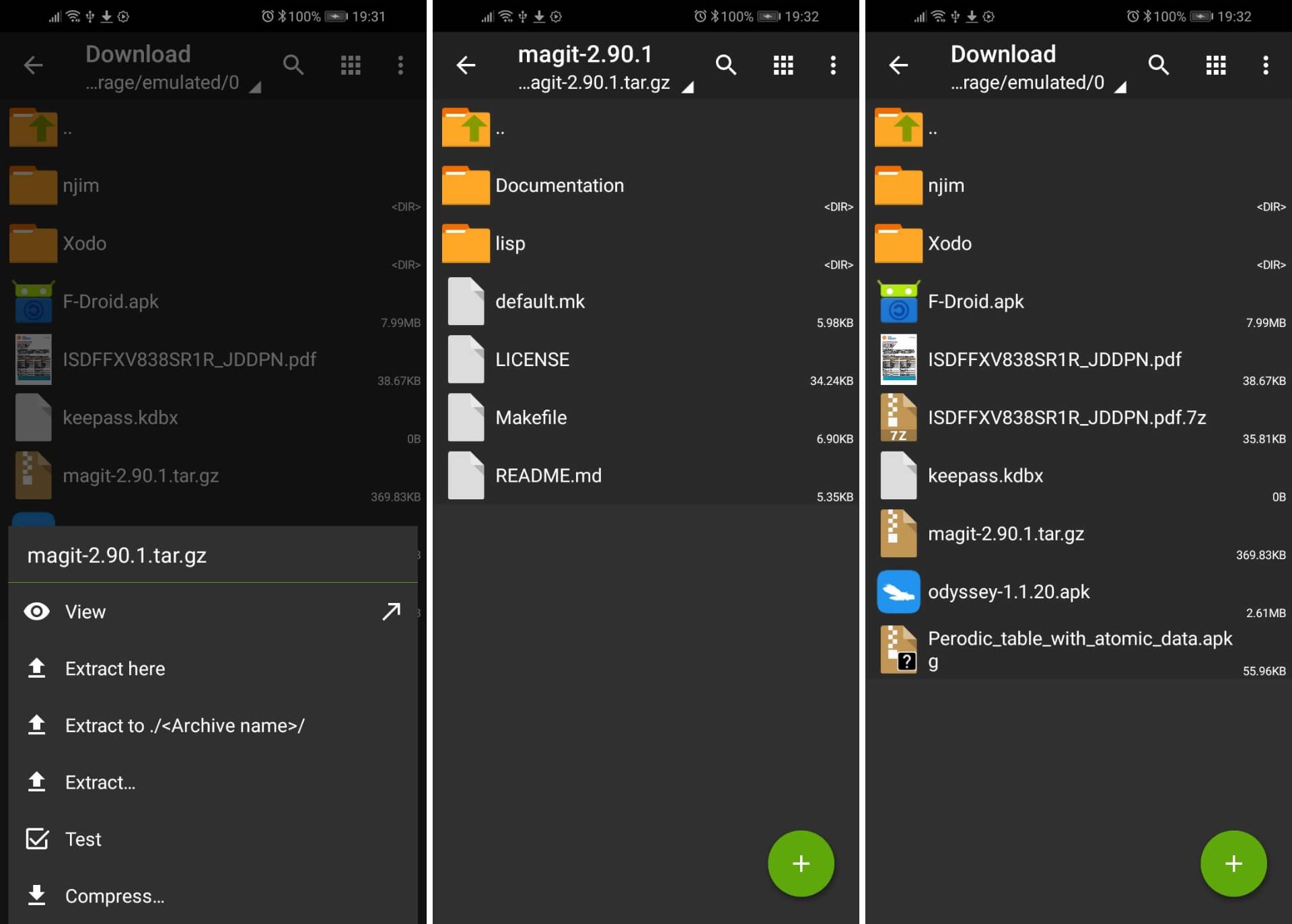 When ZArchiver is open on your phone, click on the menu in the top-right corner of the window. It will display the settings to generate compressed folders in Android.
Tap on Create to choose whether to create a new folder or archive. You can determine the compression format you want next, add a password, select the level of compression, and even split the archive into several volumes.
Once everything is set, you can add the files. Tap the files and then press the down arrow icon to create the compressed archive. Finally, choose how you want to compress the file.
How to Extract Files in ZArchiver
I have different options when it comes to extracting files on Android. The first is to view the contents of the compressed archive. I use the file manager in ZArchiver to identify the archive.
When you tap on the archive, you'll see choices like "View." You can also Extract here, which will empty the main folder of its contents. You can use Extract to "./Archive name>/" to make a new folder and put all of the files in it.
To sort your files, go to the Settings menu in the app and select Sort by option. It displays sorting categories like Name, Size, Type, and Date. Choose what is suitable and all the files will be sorted based on it.
Customizing ZArchiver
ZArchiver is used in different countries. Wherever you are, there is a way to be able to use the app without any language barrier.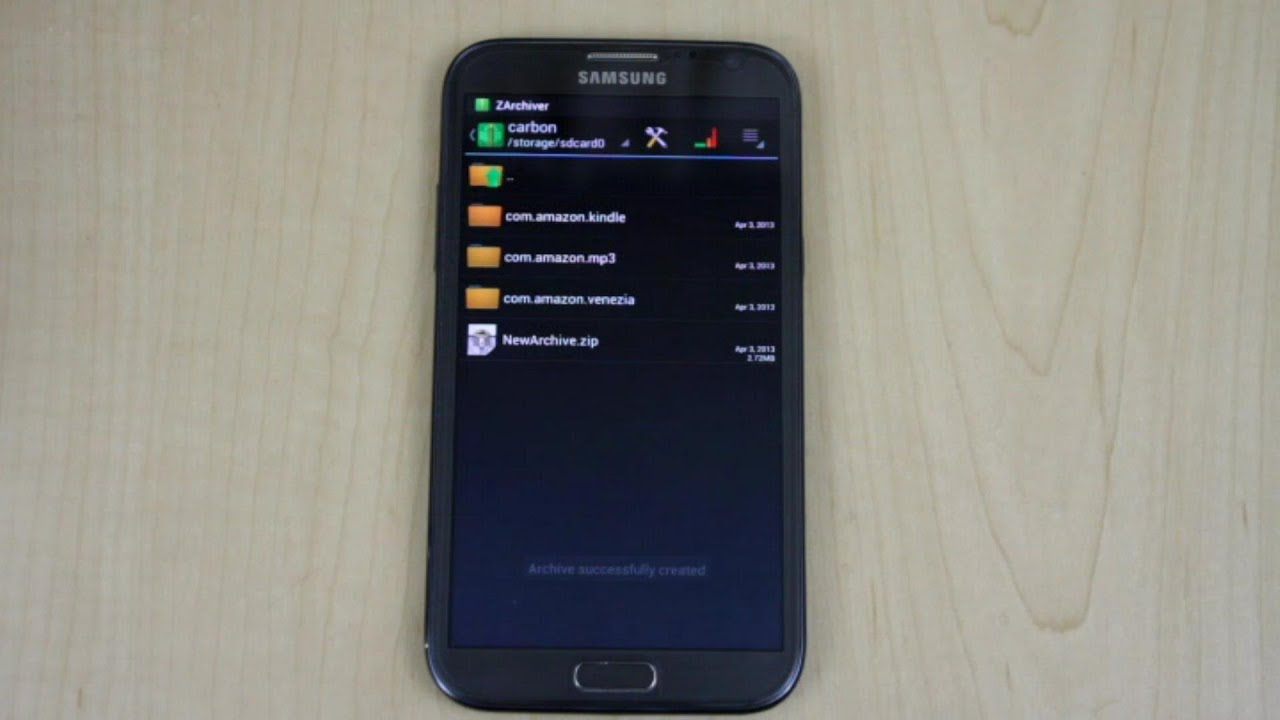 To change the language in ZArchiver, tap the Menu option in the app. It will display options like Multi-Select, Sort by, Create, Settings, About, and Exit.
Head to the Settings, which will present General, Interface, File Manager, Compression, and Root. Choose the Interface option and then select Language.
The ZArchiver app is available in Arabic, Bulgarian, Chinese (Simplified and Traditional), English, French, German, and more. Simply select the most suitable for you.
Changing the Background of ZArchiver
Aside from the language, the background is another element you can customize in ZArchiver. Go to the Settings option and then choose Interface.
Scroll down the display to view the Background option. Tap on it to select from System Background, Solid Color, Default, and Custom. Choose from the options to set your background for the app.
You can also use the Custom background to set your favorite image as a background. To do that, go to the Menu >> Settings >> Interface >> Custom Background. This option can be found below the Background option.
Conclusion
ZArchiver can both efficiently compress and extract files on Android devices. It sets a high standard for file archiving with its easy user interface and powerful system design.
This must-have archiving app can help users become productive and on top of files that their phones process every day.