As someone who frequently travels to the Middle East, I have a few preferred airlines that I usually use.
Oman Air is one of my favorite airline companies because of its excellent service, great food, and very approachable staff. Flying with Oman Air has always been a pleasant experience, but it is made even better because of its mobile booking app of the same name.
In this article, I'll share my experience in using the Oman Air mobile app. Read on and learn more about this application.
Oman Air – Fly to Oman with Comfort and Ease
Booking Flights with Oman Air
Efficient and Inclusive Services
Sindbad – Oman Air's Frequent Flyer Program
Checking Out and Completing the Booking
Use the Online Check-In to Save Time
Other Key Features to Love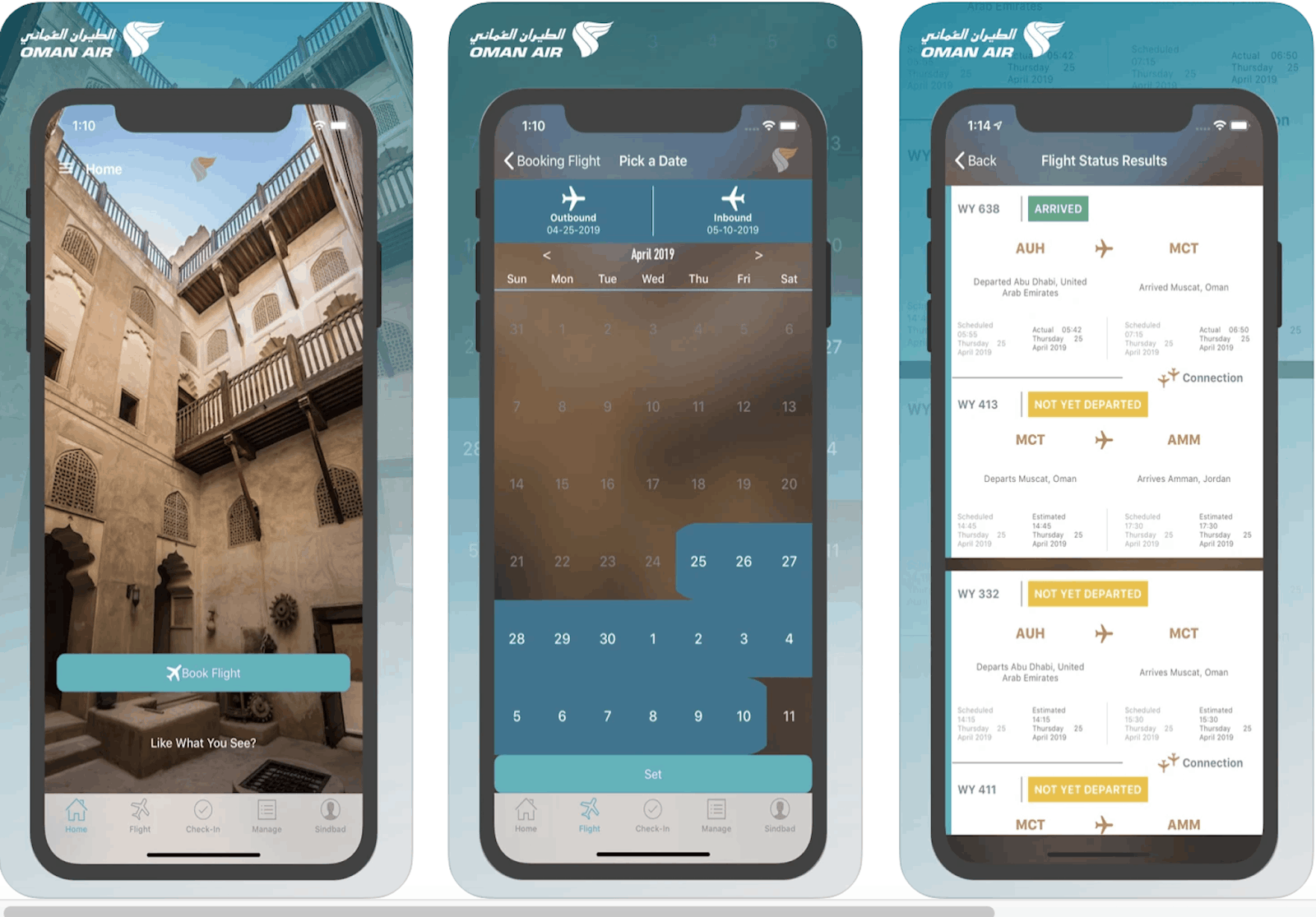 Oman Air – Fly to Oman with Comfort and Ease
Oman Air is one of my most trusted airline companies. That's why I was so psyched that the company developed a mobile app where I can directly book and manage my flights with Oman Air or their partner airlines.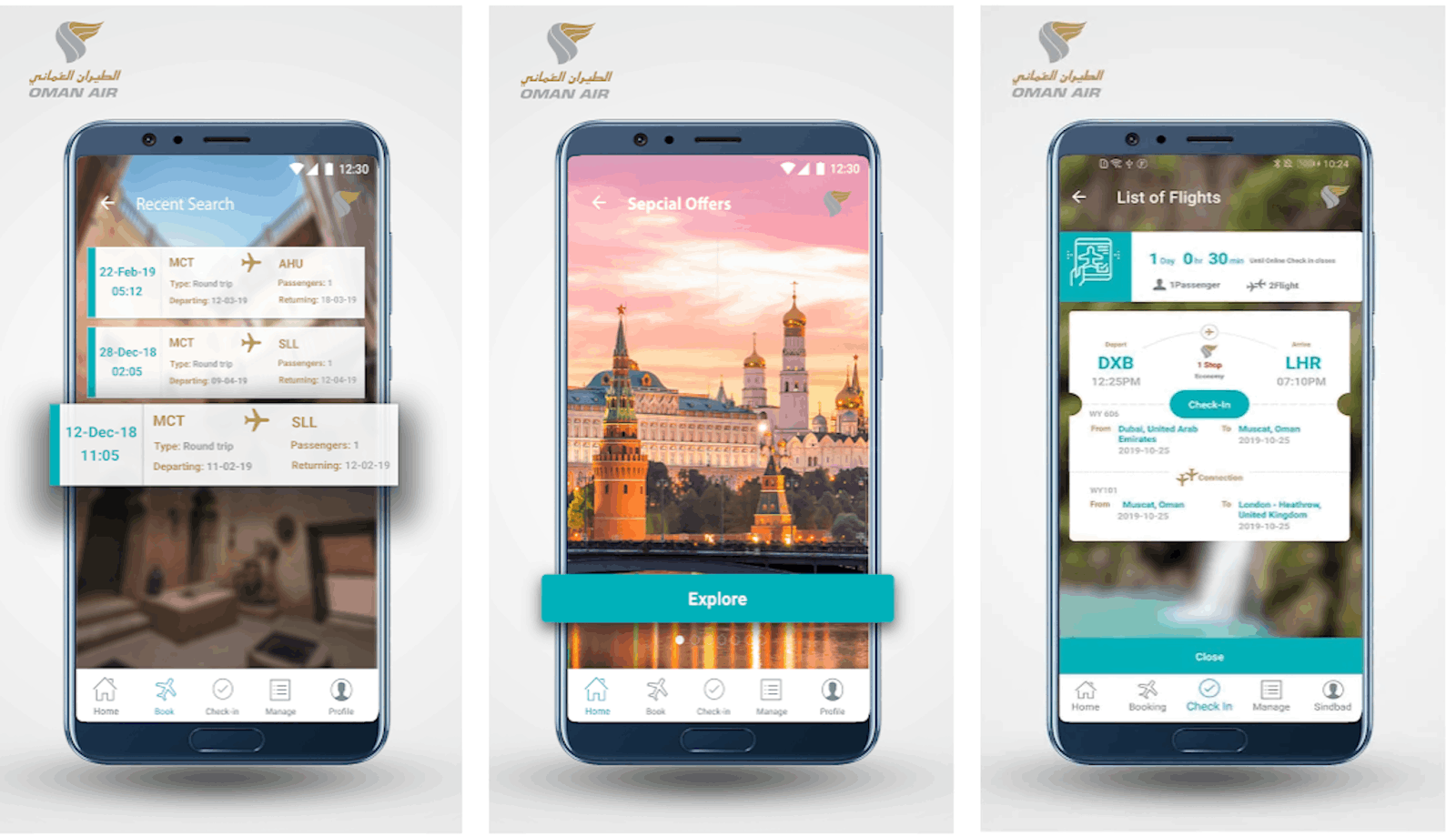 The app's main features include efficient booking for either one-way, returning, or multi-city flights, online check-ins, and viewing flight statuses and schedules.
In addition, since I am a member of Sindbad, the airline's frequent flyer program, using Oman Air's mobile app has made it easier for me to manage my membership.
The app also provides me with the best value for my money by providing me with the lowest possible flight fares and the most beneficial discounts. Of course, anyone can take advantage of this; all you have to do is head over to the Google Play Store or the Apple App Store to get it.
Getting Started with the App
After downloading the app, I was asked to grant the app access to my location. This is to enable the app to find the nearest airport based on my location.
While it is recommended that users create an account with the airline's frequent flyer program, Sindbad, I can also use the app even without an account.
Booking Flights with Oman Air
Booking flights with Oman Air is a simple and efficient process. First, I go to the Flight tab on the lower part of my screen and enter crucial details such as departure and arrival destination, outbound and inbound dates, type of flight—whether one-way, returning, or multi-city—booking class, and the number of passengers.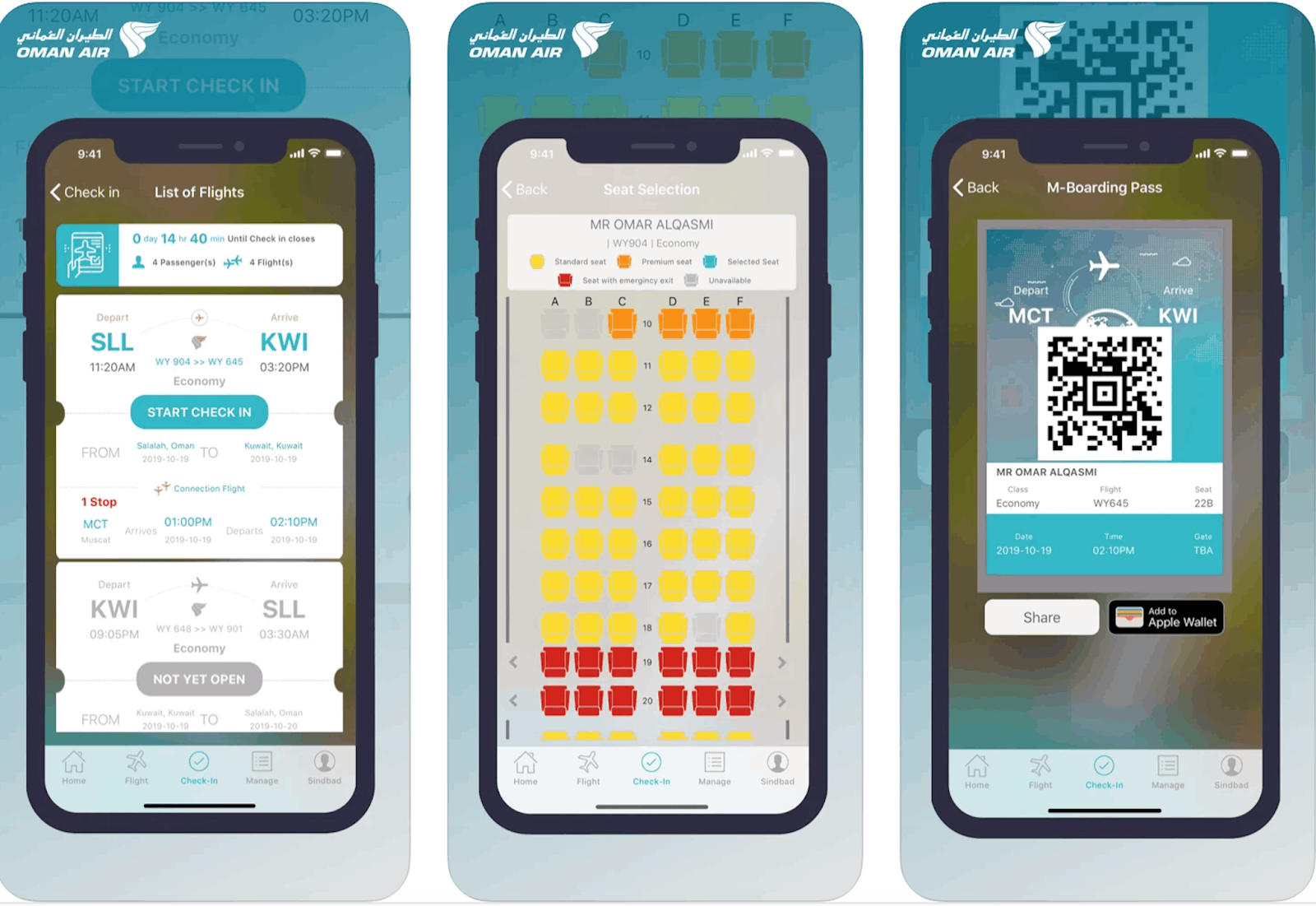 Once I have filled out all the needed information, a calendar shows the dates with available flights for my chosen destination. Available dates have airplane icons, while unavailable dates are shown in a gray box and marked as "None."
After selecting the dates, I was redirected to the available flights for that specific date. Details such as the departure and arrival time, price in USD, aircraft, flight duration in hours, and the number of stops are indicated.
I then select my preferred flight and choose the preferred fare. I can choose between Economy Lite, Economy Smart, and Economy Prime for economy class flights, with the first being the cheaper option between the three.
Economy Options – Which Is Best?
The only real distinction between the three plans is that the Prime plan gives me a free extra bag and better bundles, whereas the Lite plan does not.
However, I usually go for the Economy Lite option because I rarely use the discounts anyway.
Efficient and Inclusive Services
Sindbad members can check out immediately since personal details are already saved in the app. Non-Sindbad users will have to manually enter their details for the itinerary. Needed passenger information includes the preferred salutation, name, and contact information.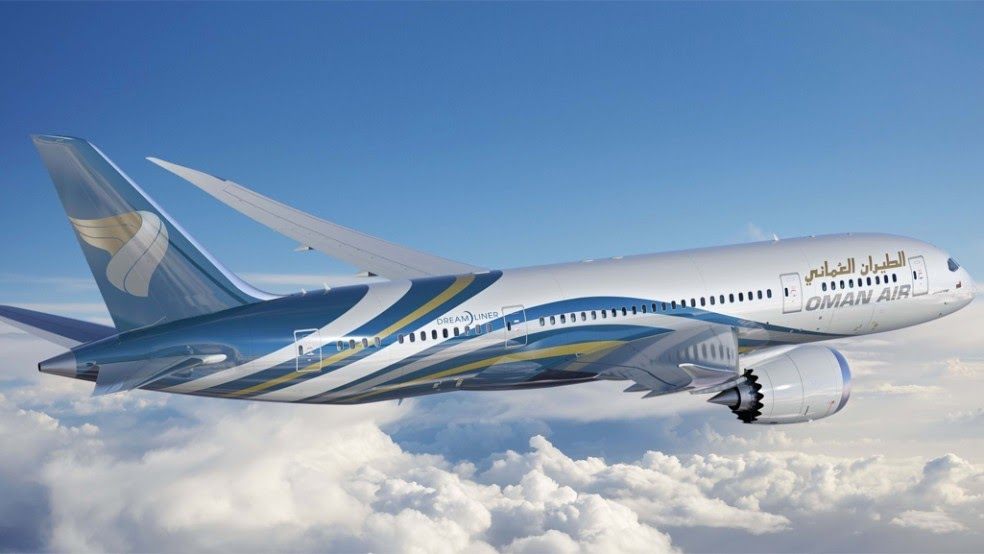 Passengers with meal preferences can also choose among options, such as Asian Vegetarian, Bland, Diabetic, Fruit Platter, Gluten Intolerant, Low Calorie, Low Fat, Seafood, and Vegetarian Lacto-Ovo meals, among others.
I appreciate the comprehensive list in the app, which shows that Oman Air thinks of what's best for their passengers.
Special services for passengers who need wheelchairs and those with disabilities, such as blind and hard-of-hearing passengers, can also be indicated in the Special Services drop-down menu below the Meal Preference menu.
Seat Selection
After providing all the required information, I can then proceed to the selection of my seat. Seat selection fees can range from $10 to $70, depending on the location of the seat.
Once I have chosen my seat and paid for it, it cannot be modified. I usually do not choose my seat to avoid extra charges as any seat is fine with me.
Sindbad – Oman Air's Frequent Flyer Program
To join Sindbad using the Oman Air app, all I had to do was go to the last icon on the lower rightmost side of the screen and tap on the yellow button with the words "Join Sindbad."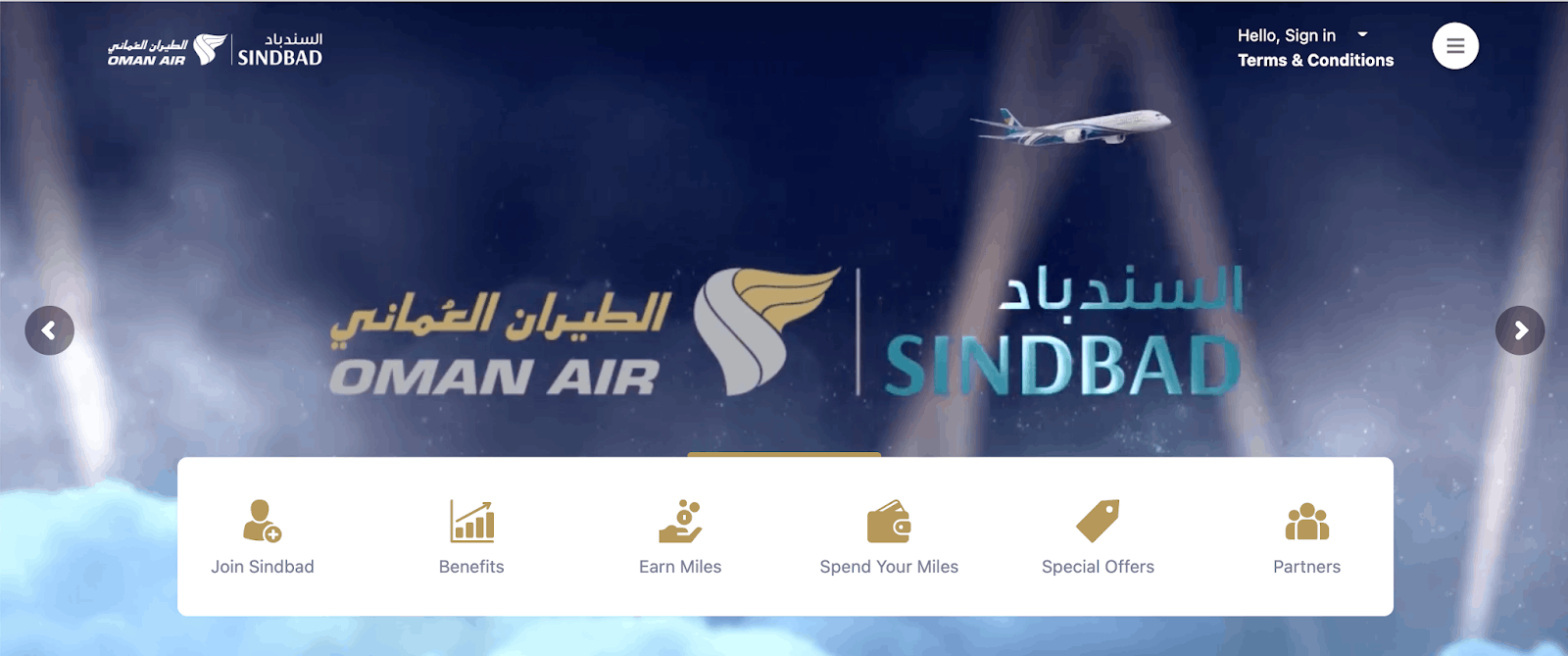 Then they asked for specifics like their preferred form of address, full name, date of birth, country of residence, phone number, citizenship, email address, and password. Before moving on, please make sure you've read and agreed to the Terms & Conditions.
After that is complete, a prompt appears on the screen, which indicates a successful registration. Next, the member number is shown, along with instructions on verifying my account through email verification.
After verifying your email, users can then proceed to log in using the app.
Available Add-On Services
After the seat selection, I am offered several services, such as Security Fast Track ($20.80) to expedite airport security checks, Meet and Greet Arrival ($78), and Delayed Baggage Protection ($6).
One added service that I always use is the Rent A Car service, which starts at $47 a day. I can also avail of this service right in the app as I book my flight ticket, which is convenient for me.
Whenever I need a ride from the airport, I use this service instead of waiting for a taxi outside.
Checking Out and Completing the Booking
The last page before completing my booking is the check-out page, where I am shown a summary of my trip to review before payment. The total amount due is shown in USD.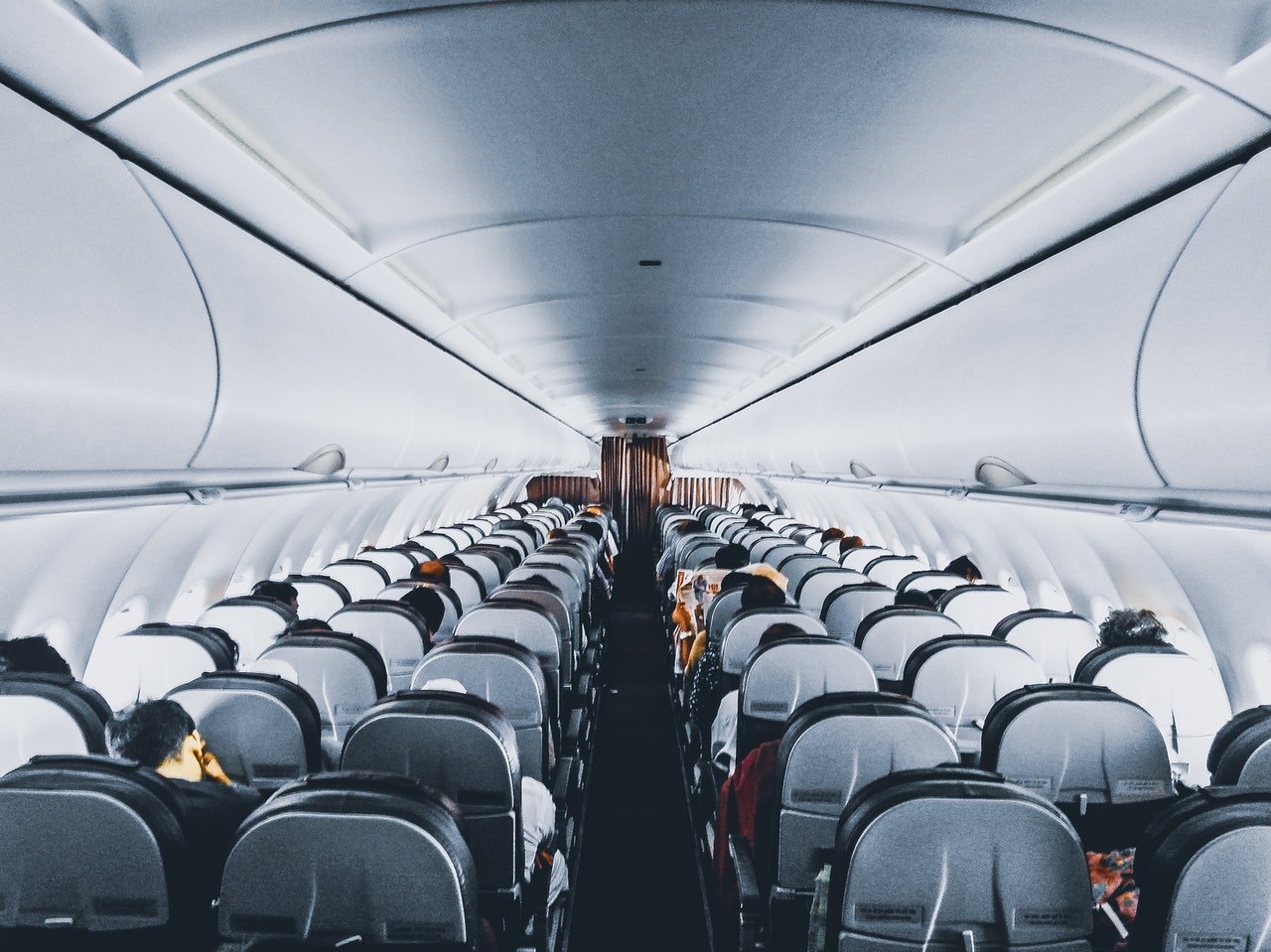 Since I had saved my card details from when I used the app before, I no longer need to input my credit card details.
Visa, American Express, UATP, JCB, Discover, Diners Club, MasterCard, and Maestro are the only accepted cards, so be sure to have one of these cards to proceed with your booking.
After successfully paying for the booking, I was redirected to my itinerary. A copy of the itinerary was also emailed to me.
Holding the Booking
After selecting the fare, the app offered to hold my booking if I was uncertain about the date. I recommend holding the booking to keep the prices low in exchange for a low holding fee.
Holding fees, however, are nonrefundable, so if I do not proceed with the booking, I have no way of getting back my money. In addition, the holding fee is also non-deductible should I proceed with the booking.
Use the Online Check-In to Save Time
Another great feature of the Oman Air mobile is its Online Check-in which I can do straight from the app. All I need is to enter by Booking Reference Number, which can be found on my online itinerary.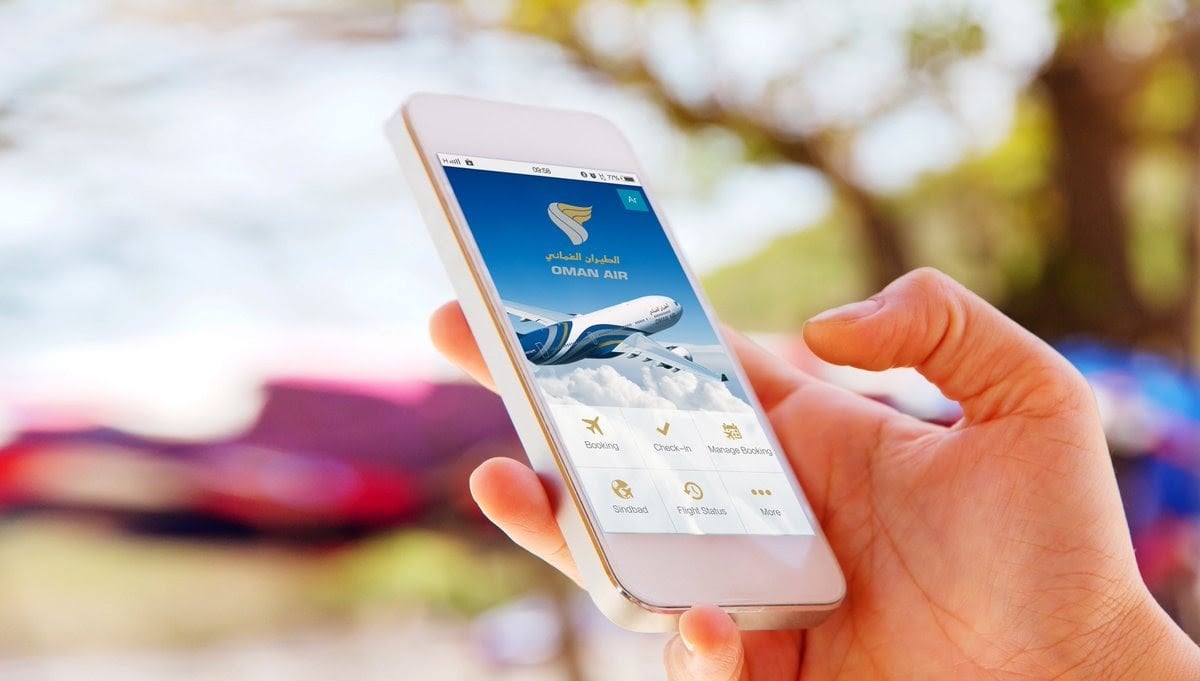 The Online Check-In is crucial for me, especially when I do not have any baggage to handle aside from my carry-ons.
My flight allows me to check in online between 48 and 90 minutes before takeoff. Airport check-in desks close 60 minutes prior to the departure time.
The Online Check-In saves me time from waiting in line and allows me to arrive at the airport much later since I do not have to check-in at the counters.
Organizing My Trips
The Oman Air application also allows me to generate a complete list of my trips to see all of them in one place. Like the Online Check-in process, all I need is to enter my Booking Reference Number to find my trips and add them to the list.
This comes in handy whenever I have to make reservations for more than just myself. When friends and family ask me to plan their vacations, I use this to keep track of all the details.
Other Key Features to Love
Other key features can be found by tapping the icon with three right lines located at the upper leftmost portion of the screen.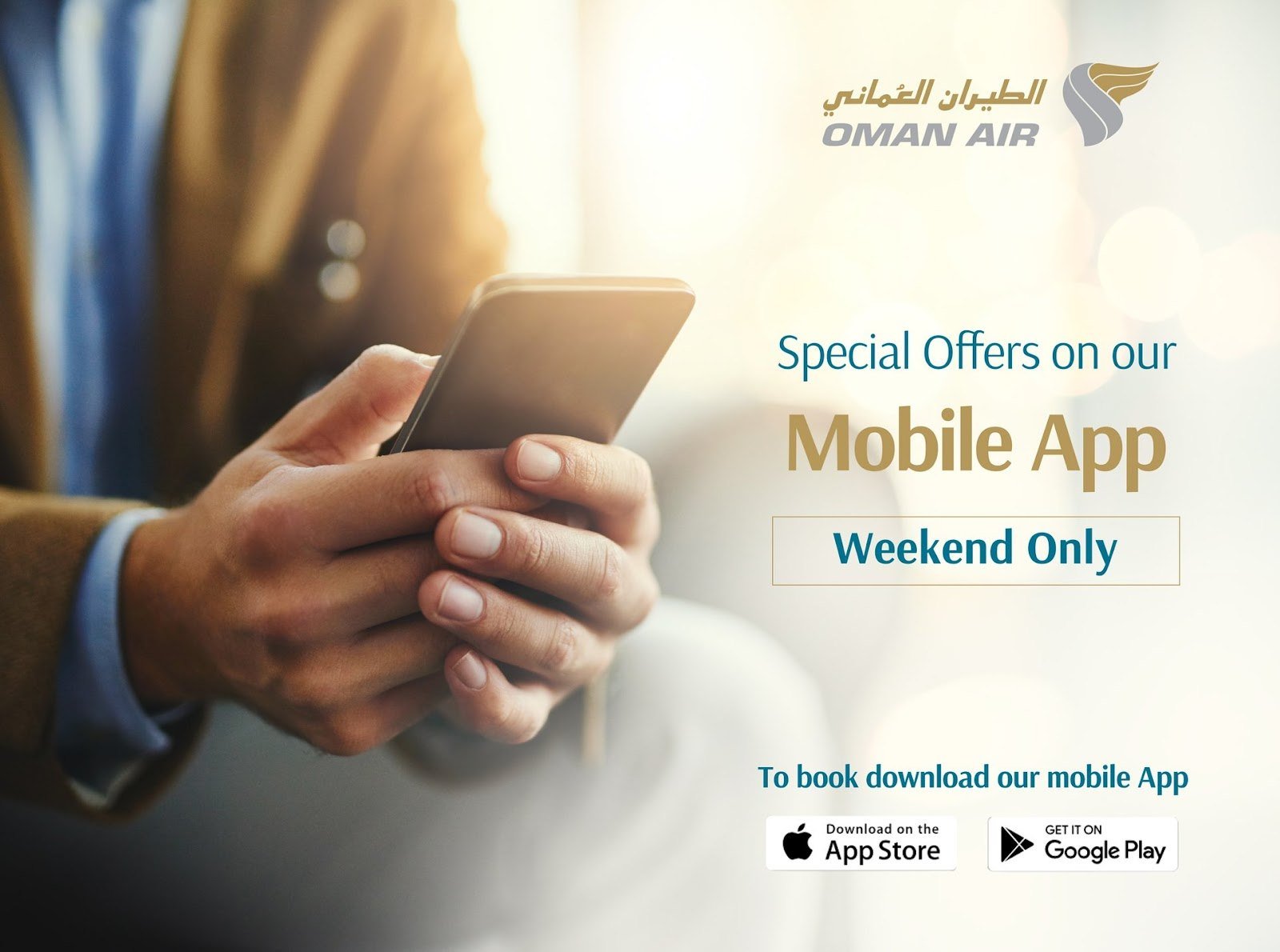 Here, I can upgrade my flights, check my flight status, and check the flight schedules for up to six months.
Another feature that I love is the Best Fares section which shows me the best fares for specific destinations.
The Special Offers section also shows me current offers to help me get the best prices for my money.
The Airport Road section helps me navigate my way to the airport where I am departing. The app automatically opens Google Maps, one of the best GPS apps on the market, market and shows me multiple routes to get to the airport.
Other settings include changing the language and providing feedback to the developers. Currently, the app only supports two languages—Arabic and English.
Conclusion
The Oman Air mobile application is my holy grail and go-to flight booking app because it makes booking tickets easier. The additional services and features it offers also make it a standout from other airline booking apps.
I always look forward to flying with Oman Air, and thanks to its app, traveling has never been this convenient and easy. Every flight I take with Oman Air will surely be a great one because of its fantastic mobile application that makes planning so much easier.